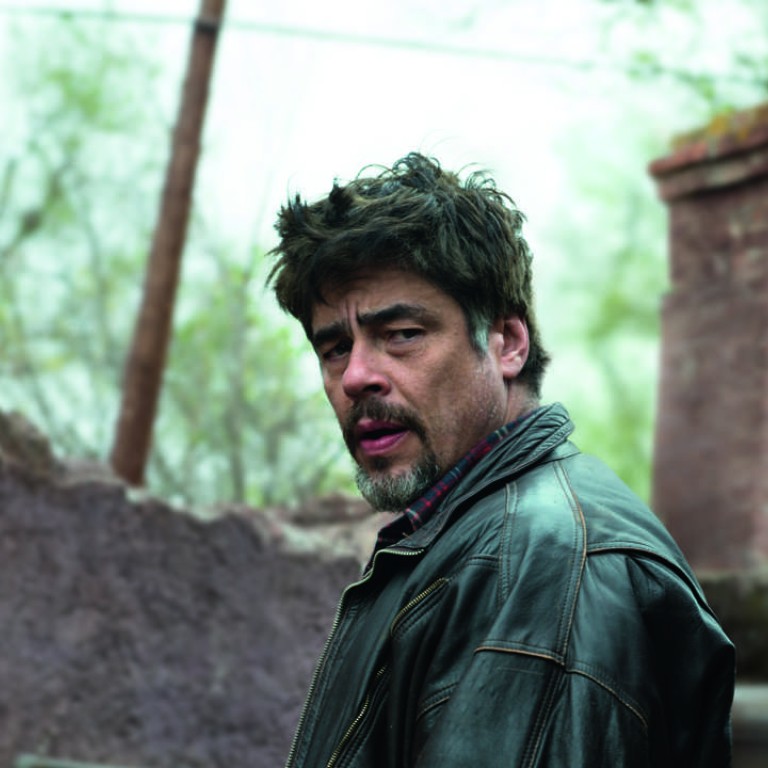 Benicio Del Toro talks fame, Sean Penn's humanitarianism and new film A Perfect Day
Oscar winning actor has appeared in indie films, blockbusters and children's animations. He plays an aid worker in his latest outing and, despite being a father now, says he's not given up baddie roles
Benicio Del Toro squashes his big frame into a chair in front of me. "I like stories that deal with the futility of effort," he says. "I'm attracted to literature that deals with that. Even in music, there are songs that deal with that. The guy who tries to get the girl but doesn't get the girl – I like that guy. The guy who gets the girl – that's easy; it's hard not to get the girl.
"I think it's interesting to fail. You're never going to succeed if you don't fail."
You might think Del Toro, 49, is an actor more used to success. Ever since he appeared in the 1989 James Bond film,
Licence to Kill
, his rise has been seemingly unstoppable. After impressing as a near-unintelligible criminal in
The Usual Suspects
, he won an Oscar for his Mexican border cop in Steven Soderbergh's
Traffic
, before reuniting with the director to play Cuban revolutionary Che Guevara in the two-part
Che
, a performance that won him best actor in Cannes.
He also knows about the flip side. Like his time on Terry Gilliam's Fear and Loathing in Las Vegas, a hallucinogenic take on Hunter S. Thompson's novel in which he played the narcotics-munching Dr Gonzo. The film was destroyed by critics.
"That was a lot of effort from my part, from all of us," he says. "I gained a lot of weight, I did it all on my own, I didn't do it with trainers. And I did it in eight weeks. And there were some reviews that didn't even mention me! You didn't see me in the film? I took up half the screen."
It's difficult to think of Del Toro, a towering man with a heavy-set brow, as being sensitive to reviews. "That doesn't mean I don't go home and lick my wounds," he says. "I just try to keep my short term memory really healthy."
Fortunately, he's rarely faced critical ire in a career that's seen him move between indies such as his new film A Perfect Day and blockbusters like Marvel's Thor: The Dark World and Guardians of the Galaxy, where he played the strangely coiffured character, The Collector. "I started doing independent movies, and I feel like it's my duty to not forget where I come from," he says.
In the case of A Perfect Day, a bone-dry tale about aid workers set in the Balkans in 1995, the reasons were clear. "There's a lot of movies about drug dealers but there are not that many movies about aid workers and I think that there is something refreshing about it."
Co-written and directed by Spanish director Fernando Leon de Aranoa, the film is set across 24 hours at the tail end of the savage Balkans conflict. Del Toro plays Mambru, who works for an NGO called Aid Across Borders, and faces reams of red tape when faced with a bizarre situation: a corpse stuck in a well is contaminating the water.
As the body begins to fester and pollute, the situation deepens – and that futility of effort comes into play as the UN refuses to help. A film with the same satirical bent as Robert Altman's M.A.S.H. (which Del Toro admits they referenced on set), A Perfect Day afforded the actor the chance to meet real aid workers in Spain, where they shot the film.
"What is funny about the aid workers that we met, when they started to tell us about their experiences in the field, there was a lot of humour," says the actor. "The humour is their antidote in order to survive perhaps the horror that's around them or the heaviness that surrounds them. The humour is a way of coping with it."
Has he talked to fellow actors about their humanitarian efforts? "I've talked a little bit to Sean Penn. He's really gone out there and done it. He's really, really done it and my hat goes off to him."
Del Toro's friendship with Penn goes back to the outset of his career, when he featured in the actor's directorial debut The Indian Runner. They've since reunited on Penn's movie The Pledge and Alejandro Gonzalez Inarritu's 2003 drama 21 Grams .
While he has supported various environmental projects, Del Toro admits he has yet to commit body and soul to causes like Penn, who has helped out on the ground during both Hurricane Katrina and the Haiti earthquake. "No, I haven't," he says, "nothing close to what Sean has done. I've met Doctors Without Borders, I've gone to places, but I haven't gone out there and dealt with the suffering of other people."
Born in Puerto Rico, Del Toro was hardly alien to social difficulties. The son of two lawyers, many of his relatives worked in the country's legal system. When his mother died when he was 12, his father took him and his brother to the US, to live in Pennsylvania.
He studied for a business degree, but an interest in acting – spawned after mimicking his father when he was just four – turned his head towards drama. "I still see my dad; it's incredible. When I see me in films, I just see my dad," he says.
But why acting? "Because I couldn't play the guitar, couldn't play the piano, couldn't play soccer ... I played basketball but I was never going to make a living out of that." He was hooked after taking classes. "All I knew was that this was what I wanted to do. It really didn't matter if I got a job. My thought was, 'If I don't make it and all I get is to do some mimes at Sea World, I'll be OK with that'. That was my mentality."
Del Toro has done more than mimes of late; a character actor crossed with a leading man who feels like a throwback to the days of Lon Chaney Jnr and Peter Lorre, he's set to reprise his titular hitman in a sequel to Denis Villeneuve's thunderous
Sicario
. Before that, he's appearing as the villain in the currently filming
Star Wars: Episode VIII
, making him one of the only actors to cross between the George Lucas-created space opera and the Marvel universe.
Somehow, in the middle of all this, he has time for fatherhood (he and Kimberly Stewart, daughter to singer Rod, have a four-year-old daughter, Delilah). Having recently voiced a character in the animated version of the children's classic The Little Prince , has it changed his choice in movie roles?
"I think so. Maybe I'm more interested to do stuff that my daughter would enjoy. Definitely, I'm looking at it like that. But it's not 'Oh I don't want to play the bad guy now I'm a father'."
Hollywood would be a much less interesting place without Del Toro's menace.
A Perfect Day opens on June 2
Want more articles like this? Follow SCMP Film on Facebook