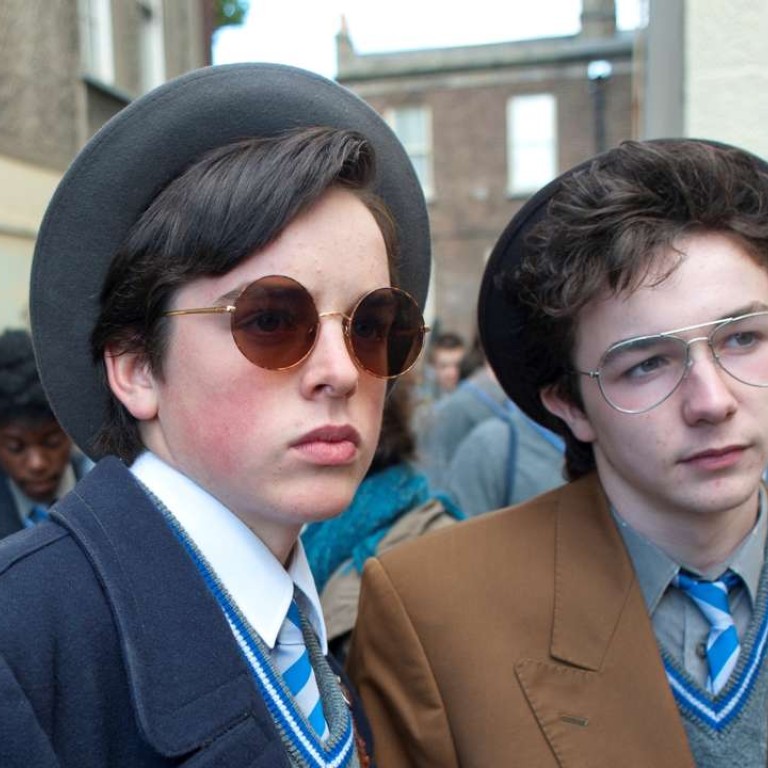 Irish director John Carney adds a personal touch to his latest movie Sing Street
Coming-of-age tale set to song is semi-autobiographical and filmmaker keeps characters flawed and real so it plays more like a drama than a musical
With his films Once and Begin Again, Irish filmmaker John Carney went some way towards revitalising the film musical, giving that classic grace and romance a contemporary spin. His latest film, Sing Street, is something new again, a personal, semi-autobiographical coming-of-age tale set to song.
In Sing Street, a teenage boy named Conor (Ferdia Walsh-Peelo) in mid-1980s Dublin is sent to a new school when his financially strapped parents can no longer afford to send him elsewhere. He soon meets Raphina (Lucy Boynton), an alluringly enigmatic aspiring model who is far too cool for him. To try to impress Raphina, Conor says he has a band and so soon needs to actually form one. Pulling together a likewise group of local misfits, Conor enlists Raphina to star in their videos while finding something within himself as a budding songwriter and performer.
The film, which premiered at this year's Sundance Film Festival, features breakout performances by Walsh-Peelo and Boynton and supporting turns by Aidan Gillen (Game of Thrones) and Maria Doyle Kennedy (Orphan Black) as Conor's parents and rising star Jack Reynor as his brother. The songs in Sing Street were co-written by Carney and Gary Clark, best known for his hit song Mary's Prayer with the band Danny Wilson, first released in 1987. As the young boys in the band in Sing Street pick up new influences with each new record they hear, they slightly alter their music and look – a bit of Duran Duran or The Cure here, Joe Jackson or Hall & Oates there.
Carney, on the phone from Dublin, mentions a review that declared him to be "no Vincente Minnelli", referring to the director of such classic Hollywood musicals as Meet Me in St Louis and An American in Paris. And Carney concurs.
"In a sense I think that's a fair enough thing to say, but in another sense I think my sort of MO is to try to make a musical not seem like a musical," Carney says. "And by definition not like a Vincente Minnelli movie. That's kind of what I'm doing. It's not something I'm doing by accident; it's by design.
"I think the modern audience won't accept a movie musical like a Vincente Minnelli movie any more. So 'How do you make a modern musical?' was my sort of ambition. My ambition in these three movies was to try to make a musical that looks like a drama."
Boynton, who plays Raphina, had seen Once when she first auditioned for the movie. Begin Again was just in cinemas, and the experience only steeled her resolve to win the part.
"I was sitting in the cinema and thinking, I really have to get this role," she says. "I have to work with this guy who creates this kind of movie."
Yet for Boynton "this kind of movie" is one she didn't necessarily think of as a musical, connecting instead to the characters and the emotional drama of the story as something drawn from the real world.
"People keep referring to Sing Street as a musical, but I really never felt it was that. I can't really define it as a musical," she says. "In John's films, he never feels the need to overanalyse the characters. Especially in Sing Street, which has also been described as a coming-of-age film, he doesn't feel the need to iron out any of the characters' flaws or glamourise them or simplify them. He very much presents the characters as flawed people with their rough edges and foul mouths and bad habits."
Carney's three films have explored the power of music to express emotions in a way that words alone can rarely manage – the original title for
Begin Again
was
Can a Song Save Your Life?
– but he also places them in a contemporary world where people do not typically just burst into song.
Once
would triumphantly emerge from the 2007 Sundance Film Festival to go on to
win an Academy Award for original song
and inspire a hit stage musical. Carney followed up
Once
, the tale of a male singer-songwriter in Dublin who forms a musical and personal bond with a Czech woman, with 2013's
Begin Again
. Shot in New York, that film found Mark Ruffalo playing a record producer in a personal and professional tailspin who finds new inspiration in a young singer-songwriter played by Keira Knightley.
Much of the story of
Sing Street
is drawn from Carney's own teen years – "It's a loose memory of a year or two in my school life," he explains – but he was not hung up on the exact details of his own experience. Rather, he was interested in the emotional truths of the characters as opposed to the factual truths of his youth.
"During filming he kept it very separate," Boynton says. "It's only been in post-production and especially the promotion that we realised how much it is him, how much Conor is John when he was a kid.
"He wanted to make these characters individuals," she says, "and he was very interested in collaborating with us on how to create them, how to bring them to life without being influenced by people he knew."
For Carney, Sing Street is rooted in music but also just how far a young boy will go to win over a girl. As with the characters in the movie, he recalled initially forming his first band for just that purpose. "And when you think about it there must have been more reasons for forming that band," he says, "because we were so terrible."
Carney even attended the actual school on Synge Street – where scenes from the film were shot and from where it gets its name – and now lives just a 10-minute drive away.
He jokes: "Everything in Dublin, relative to Los Angeles, is near the other place."
Los Angeles Times
Sing Street opens on June 9