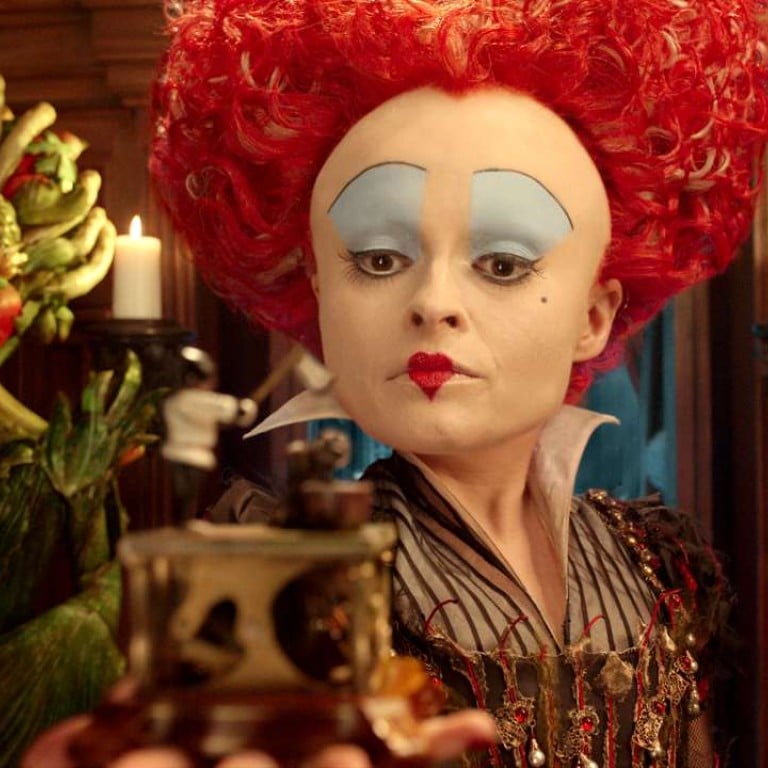 'Kids are quite trepidatious around me': Helena Bonham Carter brings her brand of formal oddity to Alice sequel
Bonham Carter talks about life, love, standing apart from the crowd and turning 50 as she reprises her homicidal Red Queen character
Helena Bonham Carter has never been afraid to let her freak flag fly, either on-screen or off. In Disney's return trip to Lewis Carroll's nonsensical Wonderland, Alice Through the Looking Glass, the two-time Oscar nominee reprises her role as the bombastic, egomaniacal Red Queen, who tries to thwart Alice (Mia Wasikowska) as she travels back in time to try to save Johnny Depp's Mad Hatter.
On a recent afternoon in Los Angeles, we spoke to Bonham Carter about standing apart in homogenised Hollywood, working with frequent collaborator and long-time partner Tim Burton, from whom she separated in 2014, turning 50 and scaring small children.
In Alice Through the Looking Glass , we learn the Red Queen's back story and get some understanding of how she came to be this cruel monster. Did you always have empathy for her from the start?
Of course. When you're taking on somebody, you have to have compassion and work out how they became like that. With bullies, it's always that they have an inferiority complex and they have to put other people down to make themselves feel OK. She had to chop off everyone else's heads because they had normal heads and she had an abnormal-sized head. She's so brutal because she's so vulnerable. It's a protective armour.
How did working with director James Bobin on the sequel differ from working with Tim Burton on the first film?
Tim and I we were a couple back then. We're still great friends now. But I obviously had a very different relationship with James. Tim barely gets a word out. He mimes. He sketches sentences in the air – you have no idea what he's saying, but you know what he wants. And James is very verbal. He's very, very clever.
There's a strong female empowerment message in this film as Alice has to stand firm in who she is. You come off as someone who seems comfortable in your own skin.
Do I? Maybe I project that. But I have to keep losing myself in other people's characters – maybe that's an indication of how comfortable I am in my own skin. [Laughs]
Well, you have a very distinctive sense of personal style, and you're obviously not afraid to stand apart in a business that pressures people to conform.
I'm never going to compete, so why try? There's no point trying to be like everybody else because we can't be, so you might as well be yourself. But it takes years to get there. It took me a long time to get some self-confidence. I mean, I am 50 now. [Shrugs] I'm so bored of the idea that we're all somehow meant to be ashamed of ageing. It's like, big deal. We've got to change our attitude because it's a bit immature.
Early in your career you were known mainly for playing ingenues in period romantic dramas like A Room With a View and Howards End . When you first met Tim and he cast you in Planet of the Apes , did it seem like he saw something in you that no one had before?
I guess so. I remember our very first conversation, he said, "You're the first person I thought of to play this chimpanzee, and I have a feeling you'll take that as a compliment." I was like, "Yeah, you're absolutely right." Not many people had realised I was a bit like Johnny in that I had this envelope I'd been cast for but in fact I wanted to get away from it.
When you two were together, there was a public fascination with you as this sort of eccentric couple who made these quirky movies together and lived in adjoining houses.
Well, we were fun! Still to this day, neither of us pay any attention to any of that. I mean, there lies madness. I have no idea what's out there. That's all up to them. It's nothing to do with me actually. It's none of my business. That's the only way, I think, of navigating fame.
I'm worried about all these young people who are always on social media. It reminds me of what it was like when I was very young and famous. It's very difficult when you have no sense of self yet and now you're reading about yourself. That's what they're inviting in: asking strangers to make opinions and judge them. It's so vulnerable and precarious – and also meaningless.
You've gone back and forth in your career between over-the-top characters like the Red Queen and more grounded roles like the ones you played in Suffragette and The King's Speech . Does one appeal to you more than the other?
It all depends on the writing. People talk to you like you're the architect of your career as an actor, but you're not. The fact is, there is no grand scheme – it's a complete mess. It's just random.
At this point, I just want to be offered some more parts, post-50, that are complex and are not just addendums: mothers or grandmothers. Something that's well written. I want to sing again. I want to do stuff that requires my whole body.
Between the Red Queen and Bellatrix Lestrange in the Harry Potter films, you must frighten a lot of little kids.
Yeah, they're quite trepidatious around me. But then I did the Fairy Godmother (in last year's Cinderella), and that helped bring me in again.
What do your own kids make of seeing you in these roles?
Well, Nell, the way she asks for things is so Red Queen, it's unbelievable. She'll say, "Backie!" – which means she wants a nice massage on the back. She is a queen.
I practise my parts at home – out of sheer terror usually – because I want to make sure I get it down. But my son is now 12, and he's at the age where he's just like, "Please, Mum. Not in public." [Laughs]
Los Angeles Times
Alice Through the Looking Glass opens on June 16