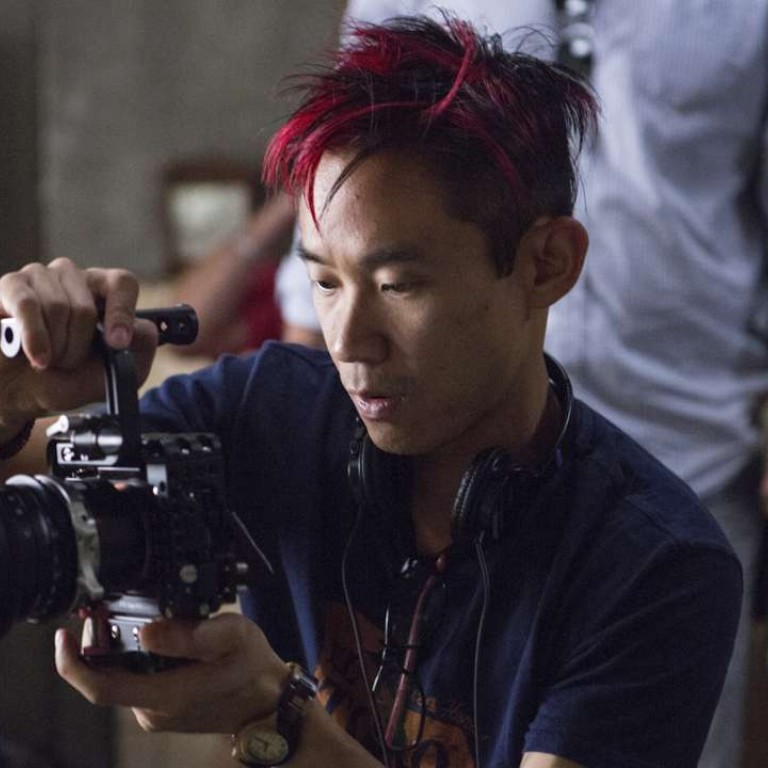 'Poltergeist scarred me for life': James Wan on Saw's torture-porn label and The Conjuring 2
Scary movie maestro James Wan, who returns to the big screen with yet another spine-chilling sequel, talks about his earliest experience with horror films, his seeming obsession with the poltergeist narrative, and his belief that there are greater forces at work that we don't understand
It is a testament to James Wan's diverse accomplishments that his exhilarating direction of Furious 7 – at one point the box-office record holder in China, and currently the sixth highest-grossing film of all time in global receipts – barely constitutes a footnote on his relatively short CV.
Before he pushed the street-racing franchise to new heights with the 2015 instalment, the Malaysian-born, Australian-raised filmmaker of Chinese descent had already written his name into the lore of two cinematic traditions. Wan directed the low-budget psychological thriller Saw (2004) and produced all six sequels in the series, often regarded as the defining franchise in a new breed of shockingly violent horror films half-sarcastically, half-affectionately labelled as "torture porn".
Just as he was pulling strings behind one of the most profitable horror film franchises in history, the Saw creator was also on hand to direct the well-received haunted house potboilers Insidious (2010), The Conjuring and Insidious: Chapter 2 (both 2013), which earned Wan the reputation of a horror maestro with their old-fashioned but exceptionally effective scares.
And if this slate of mostly gore-free stories of good families being haunted in their own homes by demonic forces come to be viewed as his most important contribution to Hollywood studio trends, it would be entirely appropriate: Wan's earliest experience with horror movies was courtesy of his mother, who took him to see Poltergeist (1982) in a cinema when he was far too young.
"I think I was six or seven years old, and that film scared the hell out of me," says Wan, now 39, of the Tobe Hooper-directed, Steven Spielberg-produced classic. "That film really scarred me for life. I was terrified of ghostly stories and creepy clown dolls."
While creepy dolls have become a recurrent feature in his films – from Billy the Puppet in the Saw films, to the myriad ventriloquist dummies in Dead Silence (2007), and the based-on-true-stories Annabelle doll, which made a spine-chilling entrance in The Conjuring before heading a titular spin-off series, again produced by Wan – it is the director's seeming obsession with the poltergeist narrative that has exerted the greatest influence on his own efforts.
On a Twitter post from May 2015, Wan called the first Insidious movie "this generation's Poltergeist".
In his latest film, The Conjuring 2, he is again taking inspiration from the case files of psychic investigators Lorraine and Ed Warren, briefly evoking their most famous case, "The Amityville Horror", in a prologue, before tackling in depth the case of "Enfield Poltergeist", which took place in North London in the late 1970s.
With a clever sleight-of-hand, Wan has also included the sceptics' perspective in his film, at once addressing the hoax claims in reality and preventing the haunted house formula from becoming completely predictable.
"I mean, that case has been around for 40 years now, and there's always speculation for both sides," he says. "There are fans who really believe it and think it's one of the greatest supernatural paranormal cases in history. And then of course there are the sceptics who don't believe in any of that at all. And I think that actually makes for a really interesting backdrop for my movie. For me, it's about trying to find the most cinematic way to tell a story."
It probably helps his conviction that Wan didn't go into the project as a sceptic looking to exploit the scary film tropes. "I was raised religious, and so, me believing in the supernatural and the Holy Spirit and all that stuff – I'm open to ideas like that," he says. "I'd like to think that I'm open-minded enough to understand and maybe believe in things that my eyes may not be able to see. I'd like to think that there are greater forces at work that we don't understand."
There was a time after the first Conjuring's release when Wan readily went on record to say he was retiring from the horror genre altogether. The director now acknowledges that what he needed was "just a break, 'cause I had made three or four horror movies back to back to back. I was getting really tired of it."
Wan lets out a chuckle. "But going off and making Furious 7 really rejuvenated my love for horror; it was fun, really in-your-face, fast-paced action filmmaking. But during the making process of that, I found myself kind of yearning for the slower-paced filmmaking that comes with making thrillers. When I read the script for Conjuring 2, I started getting excited again."
The chance to work with Patrick Wilson and Vera Farmiga, who reprise their roles as the Warrens, as well as New Line Cinema and Warner Brothers, which also produced and distributed The Conjuring, was another deciding factor. "That's because I knew I could come back to a film where I had complete creative control and tell a story that I really wanted to tell. That was very important for me," says Wan.
Now that his enormously profitable Saw franchise has come to a temporary halt, the director, screenwriter and producer is relaxed enough to admit that his torture-porn halo was misplaced: Contrary to popular belief, the first Saw movie – and the only one that Wan directed – showed admirable restraint in its depiction of violence.
"I think when people go back and watch the first Saw film, they're actually shocked at how tame it was. It really is the sequels that give the impression of a more violent movie – and I did not direct any of the Saw sequels at all. It wasn't just the blood and guts that attracted me to the first film; it was more the suspense, the crafting of the tension sequences – those were the things that I was most keen on. And now, with my body of work, people can make their assessment."
Wan's next big challenge will be to flesh out the Aquaman stand-alone film in the DC Entertainment cinematic universe. Aside from the superhero shenanigans, his many other projects as producer will include the second Annabelle film and the fourth instalment of Insidious, both of which are tentatively set for a 2017 release. "Nothing is confirmed for now" for Saw's rumoured eighth instalment, Wan clarifies, but also stops short of shooting down the possibility.
Either way, it's impossible to deny that this filmmaker is excelling in the business model of horror franchise-making, where he directs a hit film instalment (or two) before handing the branded material over to other directors. "I guess it's part of American capitalism," says Wan with a laugh.
"I'm usually cool with [sequels] if I feel like I have more stories to tell. I never did the sequels to the Saw films because I felt like I would just be repeating myself. But with Insidious 2, I felt like I could continue the story of the family [in the first film]. And with Conjuring 2, I felt like I was telling a whole different story by expanding on the world of the first Conjuring. That's why I was cool to come back to it."
Wan adds: "But if it starts to feel too repetitive, then I'm no longer interested."
The Conjuring 2 opens on June 9
Want more articles like this? Follow SCMP Film on Facebook