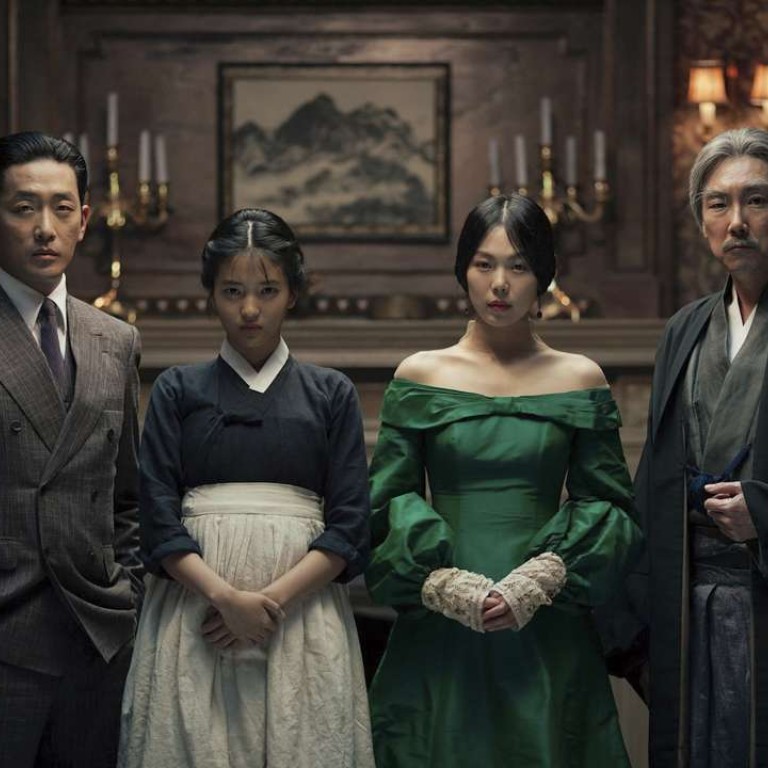 Korea's Park Chan-wook talks violence, lesbian sex scenes and making a feminist film
Director famed for the violent Oldboy returns home to make The Handmaiden, a story of love and deception based on Sarah Waters' literary bestseller that's on course to be his biggest success yet
Dressed in a pinstriped suit and open-necked shirt, Park Chan-wook is recalling the first time he first encountered Fingersmith, the 2002 novel by Sarah Waters that forms the basis for his new film, The Handmaiden. "Even before I got halfway through I thought, 'I would really love to see this story as a film,'" he reflects, when we meet on a hotel rooftop terrace in Cannes, France.
Why? Smiling, he removes his spectacles, clasping them in his hand. "I really loved the scenes where the handmaiden grinds away the lady's teeth."
Fans of 52-year-old Park won't be surprised to hear him pick out such a queasy moment. The South Korean writer-director, famed for the so-called "vengeance" trilogy that included his 2003 international breakthrough
Oldboy
, is fascinated by human desire in all its perversity. Think of the scene, for example, in
2013's
Stoker
, his English-language debut, in which Mia Wasikowska masturbates shortly after assisting in the murder of the man who tried to rape her.
Set in 1930s Korea, far removed from Waters' original Victorian England setting, The Handmaiden is a dense tale of double-crossing that begins when Nam Sook-hee (Kim Tae-ri), an orphaned girl raised as a pickpocket, is plucked from the streets by a Korean (Ha Jung-woo) posing as a Japanese count. His plan is to use Sook-hee to help seduce a Japanese heiress, Hideko (Kim Min-hee), so that he may elope with her, then commit her to an asylum and claim her fortune.
What he didn't count on, as Sook-hee becomes Hideko's handmaiden, are the feelings that blossom between the two women, as symbolised by the aforementioned moment of amateur dental work. With Hideko naked in a bath, complaining of an aching tooth, Sook-hee puts a silver thimble over her thumb and gently places it in her mistress' mouth, filing down the offending molar. It's an erotically charged moment, pregnant with sexual tension.
A director so often associated with violence and eye-watering transgression – remember
the octopus being eaten alive in
Oldboy?
– Park has tackled his first erotic thriller with similar gusto. The love scenes between the two women are beautifully sensuous, though Park readily admits he was concerned with the task of shooting them.
"As a male director, I had no intention to turn them into a mere tantalising spectacle," he says. "I was careful that it wouldn't appear that way."
Has he made a feminist film? "That's what I intended," he nods, before noting that it'd be ill-advised for him to say so outright. "No matter how good that intention is, what it does is it limits the film and defines the film into being one thing. Whereas, as a filmmaker, I would like my film to be open for audience interpretation. That's why – even though I harbour that secret intention to myself that this is a feminist film – I would be careful to verbalise it."
Some critics, seeing the film when it premiered in competition in Cannes in May, were swift to label the lesbian sex scenes as gratuitous and pandering to the male gaze. "Viewers will be sharply divided on whether they're beautifully, liberatingly erotic or a male wet dream," wrote Tim Robey
in British newspaper
The Telegraph
.
"If people say it's a very male-centric point of view, I can't do anything about that," Park sighs, half expecting the film to provoke such a reaction.
He's used to it; his earlier films were similarly vilified in some quarters for their bloody content. Like Quentin Tarantino, who happened to be the jury head in Cannes the year Oldboy claimed the Grand Prix, Park has frequently been forced to defend his use of violence.
Emotion, not excess, is his aim. "I always want to make a comment on the consequence of violence, on the victim and the executor of the violence," he once told me. "I want to convey raw pain to the audience."
Whatever the critical response to The Handmaiden, it hasn't put a dent in the box office. After the failure of Stoker, which took just US$12 million worldwide, the new film is shaping up to be Park's biggest success yet.
Sold to 175 countries, it is South Korea's biggest-selling film of all time. Opening there earlier this month on 1,167 screens, it took an impressive US$15.6 million. With two million tickets sold, it reached that milestone in just six days – faster than any other 19-certificate movie (the equivalent of a Category III in Hong Kong) has done.
Born and raised in Seoul, Park is no stranger to box-office success in his homeland. After making his 1992 debut with gangster drama The Moon is … the Sun's Dream, followed by 1997's suicidal saxophonist tale Saminjo, Park struck gold with J.S.A.: Joint Security Area in 2000. A mystery thriller based around a double murder that takes place within the DMZ, the fortified area that separates North and South Korea, it became the highest-grossing film in Korean history upon release.
The film's success led Park into his more independently made Sympathy for Mr Vengeance and a reputation for fusing genre and art-house sensibilities. A former philosophy student, his influences were wide-ranging: literary titans such as Shakespeare, Balzac and Sophocles; surrealist painters including Magritte and Dali; filmmakers like Alfred Hitchcock. The son of an architect, he frequently accompanied his father to galleries when he was young; his brother is also a painter.
Park briefly toyed with becoming an artist too but realised he didn't have the talent for it (though if you soak up the exquisite framing of The Handmaiden, you may disagree). Specialising in art philosophy at college, he gravitated towards the idea of becoming an art critic instead; but movies took over. He started a cinema club at university, where he also met his wife, and earned money writing film criticism ("so as not to starve").
It was when he saw Hitchcock's Vertigo that a switch flicked in Park's mind, turning on the idea of becoming a film director.
Since then, he's risen to become one of Asia's most in-demand filmmakers. Before he eventually settled on the Hitchcock-inspired Stoker, he'd already been sent "a constant stream of English language scripts", including the remake of Sam Raimi's Evil Dead and the film adaptation of John le Carré's Tinker Tailor Soldier Spy directed by Tomas Alfredson.
"I loved the original Le Carré novel, so much so I was scared I might wreck it," he admits. "When I saw Alfredson's work, I was flabbergasted."
He was less precious when it came to adapting Waters' Fingersmith, not least relocating the setting from Victorian England to a time when Korea was under Japanese rule. Partly, this came after Park read the novel and discovered there was already a period-faithful BBC mini-series, starring Sally Hawkins, based on the book. Initially deflated by the knowledge, Park decided to distance his work from the television drama by moving the story to his homeland and a time when its servant class still existed.
There were other reasons for setting it then, notably the historical significance of Korea itself serving a foreign master. "That period was perhaps the most hopeless period for the Koreans," says Park.
"That was a time when this idea of Japanese colonialism becomes so solidified, the Korean people felt there was no chance that they would escape from the grip of colonial power and be independent again. And as a nation, Korean identity was coming to a certain end and we had to accept our fate and become Japanese."
Like the nation, the film's female characters are trapped – Sook-hee by her poverty and Hideko by men who want her money. But it's only through Park's use of constantly shifting perspectives, a novelistic technique echoing Waters' work, that this becomes clear. "It's like peeling layer upon layer," he says. "It reveals the true character, the true nature of those characters. As you see the story from different points of view, a different story emerges from what you thought you knew."
So what next after this elegantly lurid tale – a return to Hollywood? He hasn't ruled it out, hinting there have been "discussions" about several projects in America, including sci-fi movie Second Born, a tale about black-market body swapping.
While he's already seen Spike Lee's disappointing
remake of
Oldboy
, one thing is for certain: he has no interest in remaking one of his own films in English. "Not even in my wildest dreams," he laughs. "It's probably a last resort, if I've run dry of stories to tell."
The Handmaiden opens on June 30
Want more articles like this? Follow SCMP Film on Facebook