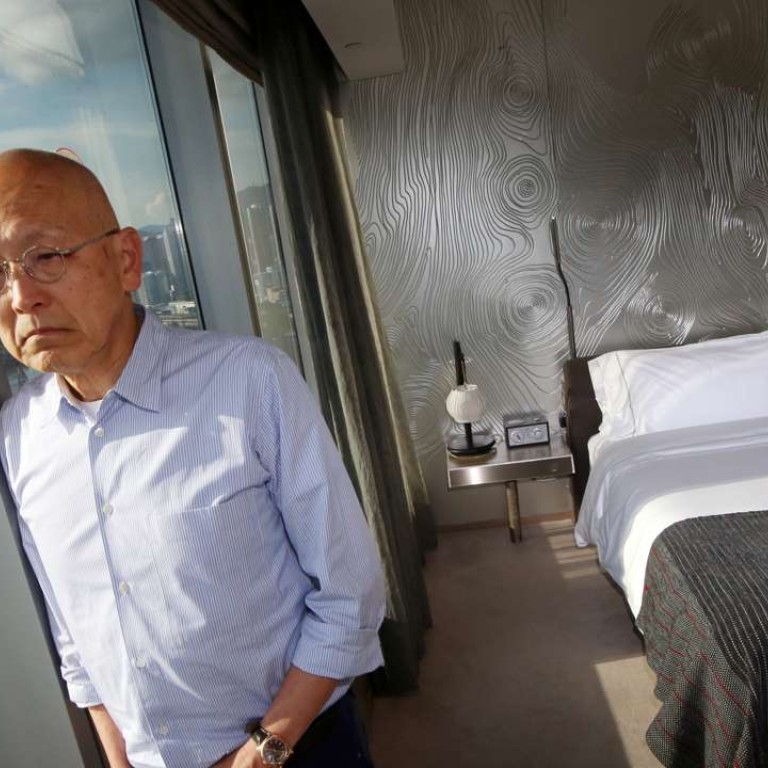 Wayne Wang on his seductive film mystery While the Women Are Sleeping
Hong Kong-born filmmaker talks about working with Japanese screen icon Takeshi Kitano, and a potential TV adaptation of his hit The Joy Luck Club, possibly involving other Hong Kong directors
It had been nearly five years since Wayne Wang last had a fiction feature to promote. But the Chinese-American director of
Chinese Box
(1997) and
Maid in Manhattan
(2002) was certainly in his element when I found him chatting with a small group of journalists at
February's Berlin Film Festival
, where his latest effort,
While the Women Are Sleeping
, received its international premiere.
As Wang's first fiction feature since 2011's
Snow Flower and the Secret Fan
, the new film arrived with heightened expectations: it is his first Japanese production, and features legendary actor-director
Takeshi Kitano's
first starring role in 12 years outside of his own directing efforts.
"Well, Berlin is getting really big," reflects Wang, 67, when we meet up again on a far more relaxing afternoon in Hong Kong last month. "When I went to Berlin before, it was a smaller festival and it was more personal. You could get a more direct feedback [about your film] from everyone."
Wang won the Silver Berlin Bear for the very talky
Smoke
in 1995, and there's a case to be made that
While the Women Are Sleeping
could use some of its director's intellectual candour in its marketing endeavour. In the film's Berlin reviews, the trade papers
Variety
and
Hollywood Reporter
have both described it as an unsatisfying "thriller".
The genre categorisation, which is sure to instil disappointment, troubles Wang. "I don't agree with the label as a thriller," he says. "It's actually more a love story and mystery. It doesn't have the traditional thriller elements."
The film has since been released – and "played well" – in big Japanese cities, but "not in the countryside. They were expecting Takeshi to kill a lot of people and have a lot of sex," Wang says, laughing. "Some critics have said, 'Oh, nothing happens in this film.' The violence is off-screen, and everything is actually off-screen."
To be fair to Wang,
While the Women Are Sleeping
has already shown significantly more than the
eponymous short story by Spanish novelist Javier Marías
, on which the film is tenuously based. The original text consists almost entirely of a late-night conversation between a writer and his fellow hotel guest, an older man who reveals his daily ritual of taping his teenage girlfriend when she sleeps.
In the film, the story is stretched across several days, during which a frustrated writer (played by Hidetoshi Nishijima) sinks deep into the indecipherable relationship between the mysterious guest (Kitano) and his much younger companion (Shiori Kutsuna). The writer's editor wife (Sayuri Oyamada), a neighbourhood izakaya owner (Lily Franky) and a police investigator (Hirofumi Arai) contribute to the puzzle.
While Wang has added several new narrative strands to Marías' enigmatic story, he has also deepened the mystery by further blurring the line between reality and fiction. In fact, much of what happens in the film could be interpreted as a consequence of the writer's fervent mind.
Naturally, Wang cites David Lynch and Alfred Hitchcock as the main cinematic influences on his film. Our discussion would also throw up the names of Vladimir Nabokov, the author of Lolita; Balthus, the artist known for his paintings of adolescent girls in suggestive poses; and Yasunari Kawabata, whose novella House of the Sleeping Beauties provided Wang with his early fascination with the premise.
Above all these literary and artistic lineages, however, Wang says he just wants his viewers "to use their imagination, because that really doesn't exist in cinema anymore. In the first film that I did, Chan Is Missing (1982), the central idea is that what's not there is just as important as what is there, so your imagination of what you don't see is equally important."
He says: "I didn't want to make a film that has a very clear, obvious answer. I think films today have become too clear, too manipulative of what they want you to think."
As it turns out, Kitano has also contributed to an unplanned development in this direction. Before the project found its Japanese producers, Wang was in talks with
Isabelle Huppert
for the French actress to play a lesbian version of the voyeur character. But when the part subsequently found Kitano, who arrived with all the necessary financing, the Japanese screen icon had only one condition.
"The biggest change [to the script] is when Takeshi said, 'I would do this character – I love this character – but I don't want a lot of dialogue'," Wang recalls with a chuckle. "Originally, his character was very philosophical and talked a lot. So in changing it to the Japanese version, I had to take out all the dialogue. That inspired what we talked about: what's unsaid is just as important."
In the years between While the Women Are Sleeping and his last major feature, Snow Flower and the Secret Fan, which he now describes as both "painful" and "difficult on every single level", Wang has only made one documentary, Soul of a Banquet (2014), which is about an old chef who grew up in China, went to America, and subsequently opened a very successful restaurant.
For the Hong Kong-born, San Francisco-based filmmaker, the urge is there to return to the Chinese-American story materials he knows best. "Because nobody else is doing them," adds Wang, who has wanted to adapt two other
Yiyun Li
stories for the screen since making
A Thousand Years of Good Prayers
(2007), but has found it really hard to secure the funds.
Among the projects he's looking forward to are a Hong Kong-China-Taiwan-set love story for Amazon, as well as a TV series update on
The Joy Luck Club
, the 1993 Amy Tan adaptation that is arguably Wang's biggest hit. "Hopefully," he knocks loudly on our wooden table several times.
"It's very close. Not pre-production yet, but we're getting a deal. It's about the millennial generation, [about] the original's mothers, daughters, and then their daughters. I'm directing, probably, the first few [episodes], and then maybe somebody from Hong Kong will direct the others."
Irrespective of how those projects pan out, Wang sounds reasonably content when he says that he's "semi-retired" and "happy not doing anything". Most recently, the director has been spending his days watching a lot of sports – mostly soccer.
"I don't have big ambitions – you know, I get so sick of these big, special-effects films," he says. "They're not even films anymore; they're more like games. The actor isn't even talking to another actor; he's talking to nothing. And then there are ten layers of people doing effects that you have to coordinate. It's a whole different mentality that I'm not interested in.
"I want to make films about people," adds Wang.
While the Women Are Sleeping opens on July 7
Want more articles like this? Follow SCMP Film on Facebook
This article appeared in the South China Morning Post print edition as: Beyond words