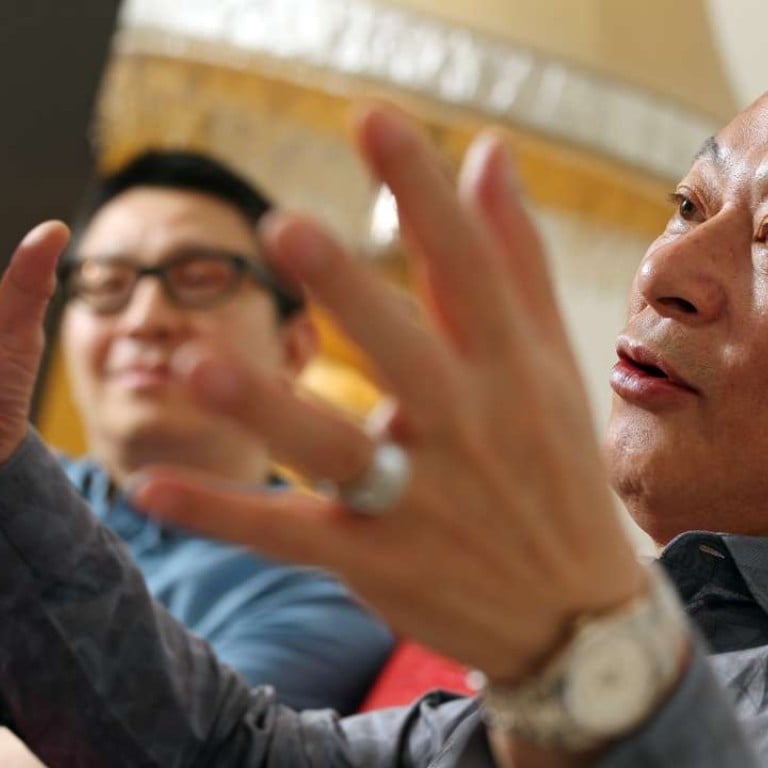 Johnnie To explores the moral maze facing police in crime drama Three
After a detour into comedy and musicals, Hong Kong filmmaker returns to genre where he made his name – but he's ditched car chases and explosions for a new kind of cops and robbers movie
When Johnnie To Kei-fung began conceiving his first crime thriller in three years, he was only thinking about giving the genre a new spin. It could be that the Hong Kong action auteur had refreshed his senses after detours into romantic comedy (2014's Don't Go Breaking My Heart 2 ) and musical (2015's Office ), or it could be that he had simply grown tired of the gangland mayhem that had become his signature motif.
"We've made a lot of cops and robbers films in Hong Kong over the years," says the 61-year-old filmmaker, sitting next to frequent collaborator Yau Nai-hoi, 48, at the Kwun Tong office of their production house, Milkyway Image. "Most of these films involve car chases, gunfights, running on the streets and, sometimes, even chasing on boats. I have a feeling that every movie is like that.
"Whenever there's an explosion scene, there's probably someone taking a somersault at the front or some other people chasing around the back," To continues. "While these shots are indispensable [to action films] – and in a way that's the reason everyone is doing them – I was eager to find a new mode of expression for cops and robbers films when I had the time to slow down and think about this."
There is a simplicity of execution to To's new film, plainly titled Three, that belies its difficult writing process. Not only did the director set the crime story almost exclusively inside a hospital ward, but To also made his screenwriters' lives more difficult by having the chief villain in custody from the outset. "The formula for this film is a little different from the norm. In this restricted setting, we're making the characters' personality flaws our main focus," he says.
Three revolves around a trio of characters who converge in a crowded hospital. Wallace Chung Hon-leung plays a vicious gang leader who already has a bullet lodged in his brain when he's rushed into the emergency unit. Turning down surgery against the stern advice of Zhao Wei's China-born neurosurgeon, the criminal then engages in a battle of wits from his hospital bed with Louis Koo Tin-lok's irate police detective.
As these protagonists negotiate their entitled perspectives amid the stalemate, which could be ended as soon as the ringleader's accomplices at large storm the ward, the stage is set for To and his screenwriters – Yau, Lau Ho-leung and Mak Tin-shu – to evoke topical issues in Hong Kong: from medical scandals to police collusion, as Koo's character readily advocates "breaking the law to enforce the law".
"All three of these characters have made mistakes," says Yau, who was recently confirmed as To's successor to the Milkyway throne. "Their problem is that they think too highly of themselves. The cop thinks he's being righteous; the criminal believes everything is in his control; the doctor thinks she's holding the key to the life and death of others. They can't see their positions clearly enough."
As To's co-producer on
Three
, Yau only joined the film's scriptwriting team 10 days before shooting began, and was eventually tasked with scripting every day during its three-and-a-half-month shoot in Panyu, Guangdong, where a huge hospital set had been built. While he has only one credit respectively as director (2007's
Eye in the Sky
) and producer (
Trivisa
), Yau is widely admired for his more than 30 screenplays in the Milkyway oeuvre.
Without specifying the real-life incidents that have inspired his writing, Yau acknowledges the social turmoil that has coloured Hong Kong in recent years does factor into Three's story. "Creative work is inevitably an extension of the reality we live in," he says. "We can see many people out there who arbitrarily believe that they are in the right. But to do that, they shouldn't have blamed their professions' usual practice for their own mistakes first."
To adds that it's his intention to address moral issues throughout the film, which is populated by characters in different professional capacities. "In this day and age, there are people whose moral principles have gone down the toilet," the director says. "People have lost both self-discipline and respect for others."
Remarkably for a film that's been granted a general release in China (it opened there on June 24), and controversially for a mainstream commercial title in post-Occupy Hong Kong, Three doesn't soft-pedal its depiction of unethical police practices, most noticeably in a scene depicting a team of law enforcement officers conspiring to transfer legal liabilities from a careless but certainly guilty colleague to a wounded criminal handcuffed to a hospital bed.
"This isn't only an issue after the 'umbrella movement'," To says of the notion of the "blue curtain", the unwritten rule among police officers that he memorably addressed in the 2003 film PTU. "It has always been my opinion – and it's something that I've touched on in my previous films – that officers always protect each other's interest. And it's not up to them: if they don't watch each other's back, it'd be very difficult for them to do their job.
"Criminals nowadays are just too smart; there are too many ways that they can put the police in trouble. So if the cops aren't united in covering up their mistakes, there's no way they could function. These things happen – it's not that I go out of my way to portray them negatively. I believe that most Hongkongers know about this all along."
If To hasn't broken new ground with his commentary on the state of law and order, he can at least take applause for a virtuosic shoot-out that has ticked another box on the prolific director's to-do list of highly idiosyncratic cinematic tricks. In the four-minute-long scene late in Three, To's camera glides through rooms and zips past a large ensemble of policemen, assassins, nurses and patients as they waltz around in slow motion.
Incredibly, the scene was captured in one long take – and by having every actor move very, very slowly. The feat was accomplished with two months of training with a theatre movement coach, inventive design by the stunt men, and finally the use of intricate wire work so that characters can float and gracefully rotate in the air after they're supposedly hit by bullets. To likens directing the scene to the art of conducting an orchestra.
"Back in the days of the Shaw Brothers, it was normal for us to use long tracking shots so that characters can keep fighting on and on," says To. "With the diversity of new filming techniques and advancement of technology, filmmakers have abandoned the old-fashioned approach as they don't see the need any more. But I think that really is the most essential part [of filmmaking]: to make a film look good."
Three opens on July 14
Want more articles like this? Follow SCMP Film on Facebook
This article appeared in the South China Morning Post print edition as: Partners in crime