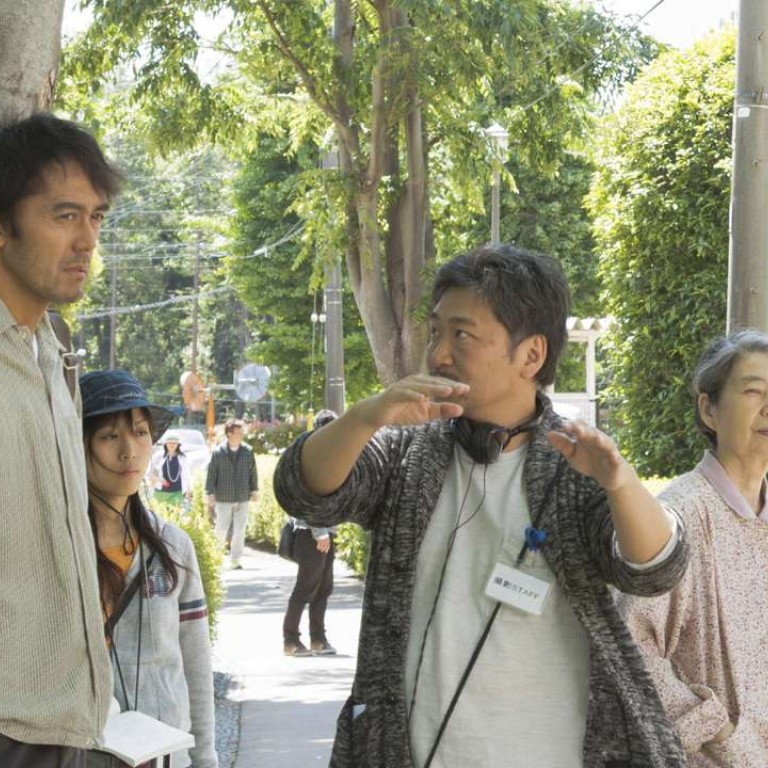 How Japanese director Hirokazu Koreeda cultivates actors' hidden potential
Former Japanese heartthrob Hiroshi Abe's performance as a lonely has-been in After the Storm is the latest example of the filmmaker's ability to dig deep into his actors' psyches to draw intimate performances
Having made his name with films revolving around shifting relationships within families – both real and surrogate ones, with most of them recovering from the departure or death of one of their own – Japanese writer-director Hirokazu Koreeda has inevitably been crowned as a modern-day heir to, say, Yasujiro Ozu or Mikio Naruse. But there's more to Koreeda than merely the typical authoritarian auteur at work.
Unlike some of his more powerful studio-backed forebears, Koreeda – who began his career in documentaries and independent productions – has proved to be more enthusiastic about generating a rapport with his cast and crew. A result of this is his canny eye for spotting and then unearthing the hidden potential within both new faces and established players.
Among the rookies who flourished under Koreeda is Makiko Esumi, an erstwhile model who consolidated her serious acting credentials with an award-winning turn as a young widow in
Maborosi
, the director's first fictional feature from 1995. The young trio of Arata Iura, Erika Oda and Yusuke Iseya, after making their debuts in 1998 with
After Life
, would all break into the mainstream eventually.
There's also Yuya Yagira, who famously beat the likes of Tony Leung Chiu-wai (2046), Choi Min-sik (Oldboy) and Tom Hanks (The Ladykillers) to become, at the age of 14, the youngest winner of the best actor prize at Cannes in 2004 with Nobody Knows .
Koreeda has proved to be just as deft at jolting old-timers from their usual routines. Itsuji Itao, who made his name in comedies and raucous variety shows, surprised many with his turn as a quiet loner in Air Doll; with Like Father, Like Son , Masaharu Fukuyama traded in his full-time A-list heartthrob persona to play a father struggling to engage with a boy who's not his own.
In
last year's
Our Little Sister
, Haruka Ayase defied her melodrama-fuelled past with a powerfully restrained performance as the emotionally suppressed eldest of four sisters.
"He really watches his actors carefully to imagine what they are like," says Hiroshi Abe, whose starring turn in Koreeda's latest film, After the Storm, counts as their fourth collaboration over eight years. "Mr Koreeda looks at people in detail. If people have internal scars, he really digs into it."
In the film, the 52-year-old actor plays Ryota, a broken, divorced private eye struggling to survive the present – gambling debts, unpaid alimony and the like – as he continues to dwell on the transient success he enjoyed from the one and only novel he wrote years ago.
A combination of unkempt hair, unsightly clothes, and unwieldy behaviour, Ryota is a walking car crash drawing sarcasm and sometimes outright scorn from his mother (Kirin Kiki), his ex-wife (Yoko Maki), and his elder sister (Satomi Kobayashi), and a bad model for his son (Taiyo Yoshizawa).
While this role might seem a big leap from Abe's past work – which unfailingly swing between honourable heroes and suave sleuths – the actor says this character cuts very close to the lean period he experienced in the 1990s.
"In my early years as an actor, I became very famous without really making an effort," he tells SCMP.com, referring to his breakthrough in the late 1980s as a tall, photogenic hunk who – as evident from his turn as a holy warrior alongside Yuen Biao and Gloria Yip Wan-yee in Saga of the Phoenix (1990) – couldn't act to save his life.
"But a few years later, I didn't have that many jobs coming my way and I remember how it was, that golden age of my career. So the memories of those days reminded me how I should play Ryota."
Speaking in a separate interview after the film's world premiere at Cannes, Koreeda says he wrote the character of Ryota with Abe's voice and appearance in mind. He doesn't elaborate whether he drew of the actor's personal back story, but the director certainly spotted Abe's vulnerable side.
It was Koreeda who helped Abe break out of his comfort zone with 2008's
Still Walking
, in which the actor plays a befuddled middle-aged man trying to prove his worth in the eyes of his disapproving parents and his steel-willed new wife. Rather than salvaging the situation like any of Abe's previous on-screen alpha male would do, his character there – also called Ryota – fumbles and fails to resolve the bubbling schisms in the family.
Abe proved his versatility with this performance, as he was made to transform his robust physique into a gangly, awkward mess. Without Still Walking, Abe probably wouldn't be considered as possible comedy material, and it would be difficult to imagine him being cast as the comical, time-travelling Roman spa-builder in Thermae Romae .
Speaking to the Post at Cannes last year about Our Little Sister, Koreeda said he preferred his actors to deliver vivid rather than well-prepared performances.
For
After the Storm
, Koreeda says he didn't organise read-throughs for his cast: he only had his actors rehearse their lines and scenes in the small apartment where a bulk of the scenes were set, so that he could figure out the camera work. (The apartment was located at the same housing complex where Koreeda grew up and lived until he was 28; the narrative was drawn from episodes of his own family, as well as his wife's.)
It's an approach seemingly keenly embraced by his cast. In the film's production notes, Maki – who won a best supporting actress prize at the Japanese Academy Awards for her part in Like Father, Like Son – said she feels "a mysterious sense of relief" on Koreeda's set, a place where she can be herself. Kiki, for whom After the Storm is her fifth Koreeda film, described the director as among one of the most observant she has seen in her 55-year career.
"In terms of choosing actors, he's one of the best. So it's very lucky for actors or anybody to encounter him, very lucky people," says the 73-year-old actress, as Abe nods in agreement. "Of course, he's not perfect, but he knows what everyday life is for human beings, or for the Japanese people. He can create this world perfectly."
Koreeda says his modus operandi stems from his documentary-making years, when he was always ready to record and cherish the unexpected. "I never want to be the all-knowing god of the story, manipulating what's to happen or the action," he says.
This unwavering belief in freedom, flexibility and audacious, against type casting will draw stars seeking a challenge into his extended cinematic family for years to come.
After the Storm opens on July 21

Want more articles like this? Follow SCMP Film on Facebook
This article appeared in the South China Morning Post print edition as: shot from the heart