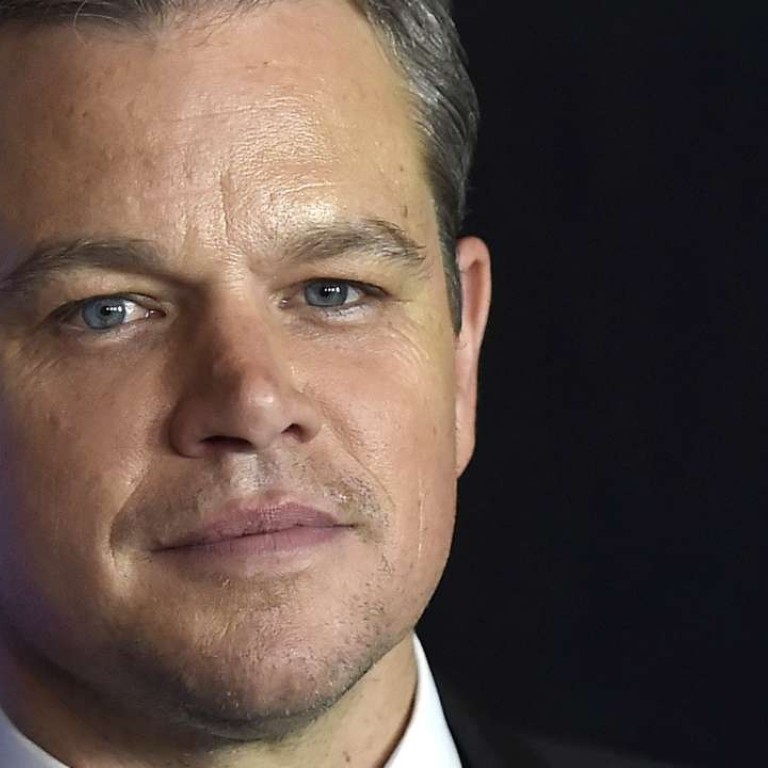 US$1 million a line? Matt Damon a man of few words in new Jason Bourne film
Director Paul Greengrass told Damon to bulk up for his reticent, amnesiac spy role, for which he was previously paid US$26 million in 2007
In the rarefied world of international espionage, where discretion is considered the better part of valour, no one expects you to be the life and soul of the party.
But shadowy former CIA operative "Jason Bourne" is laconic even by a spy's standards, according to US actor Matt Damon, who has revealed his iconic character has just 25 lines in the latest Bourne film.
The amnesiac superspy returns to the big screen next week for the first new instalment of the Robert Ludlum-based thriller series since 2012, and the first starring Damon in nine years.
Jason Bourne, the fifth film in the hit franchise, sees the 45-year-old pitted against Alicia Vikander's Heather Lee, the head of the CIA's Cyber Ops department who is determined to flush out her nemesis.
Paul Greengrass, director of The Bourne Supremacy (2004) and The Bourne Ultimatum (2007), was persuaded to rejoin Damon for the next chapter of the Universal franchise after both men sat out 2012's The Bourne Legacy.
Damon told The Guardian that Greengrass called him after looking at the finished film and told him he only had about 25 lines.
"Well, I've done it three times," says Damon, adding that screenwriter Tony Gilroy made Bourne "a very lonely character" after his girlfriend died in the second film.
"I remember Tony writing me an e-mail saying, 'You do realise what this means? You do realise you're not going to talk in this movie.' I said, 'No, I love that'."
Vanity Fair pointed out in an article published on its website on Monday that, given his limited dialogue, Damon was probably earning at least US$1 million a line for Jason Bourne.
Although his fee for being wooed back to the franchise has not been made public, Damon was paid US$26 million for The Bourne Ultimatum in 2007, according to Forbes magazine, and earned US$25 million for last year's space thriller The Martian.
"The thing about making these films is that they're not like a normal film. With a franchise movie, it's got to turn the wheels of the industry and the studio has to have them," Greengrass told
The
Guardian
, explaining Bourne's lack of dialogue.
"So you start with a release date. They say we're going to make a new Bourne film and it comes out summer of X. Then they start on a script and invariably the script is not ready in time."
Rather than start filming without a script, Greengrass says that he and his fellow screenwriter Christopher Rouse hurried the writing process, and dialogue was not a priority.
Damon is not the first star to command a stratospheric fee per word in an action blockbuster – Arnold Schwarzenegger was reportedly paid US$15 million, or US$21,429 per word, for
Terminator 2: Judgment Day
.
And like the burly Austrian-American, Damon dedicated the energy he might normally have spent on learning his lines to hitting the gym, completing two 90-minute high-intensity sessions every day for 10 weeks.
"I trained a lot more than I had done before because Paul Greengrass said that when we see Bourne in the first frame of the movie and it looks like he hasn't been living well, then we don't have a movie," Damon told Britain's
The Daily Telegraph
.
"He really wanted me to be physically fit and lean, so it was a lot of work for me to get there."
When Jason Bourne opens, the protagonist is given secret information that could lead him to more answers about his past, after living in Greece, where he earned pin money as a bare-knuckle boxer.
Tommy Lee Jones plays CIA director Robert Dewey, who leads the government to believe Bourne intends to reveal the names of covert operatives in a mass data dump.
The film sees Damon reunite after a gap of nine years with Julia Stiles, who first appeared in 2002's The Bourne Identity as rogue CIA analyst Nicky Parsons.
The 35-year-old, who attended the film's glittering US premiere in Las Vegas this week alongside Damon and Vikander, told The Telegraph that Greengrass had a knack of setting his films in a world that was familiar to audiences.
"He can keep the political issues and the environment very timely and relevant," she said.
"He wrote it a year ago, but it feels shockingly familiar given all the protests and violence that we've experienced in the US."
Jason Bourne opens on July 28