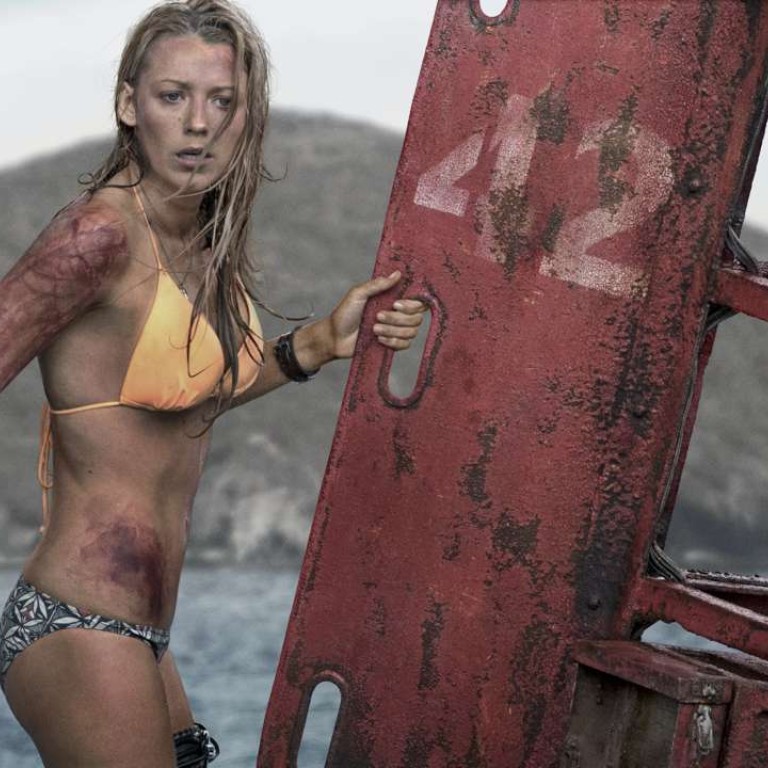 How Blake Lively learned to tolerate the sharks, in and outside The Shallows
It's girl versus shark in 28-year-old's entertaining summer outing – a role inspired by husband Ryan Reynolds' turn in Buried. And buried is what Lively's done to criticism of her acting and sniping about her fortune
In a career that's already seen her star in TV hit Gossip Girl and be directed by the likes of Ben Affleck, Oliver Stone and Rebecca Miller, Blake Lively may well mark 2016 as a red-letter year. If watching her husband, actor Ryan Reynolds, triumph with the R-rated superhero movie Deadpool wasn't enough, she's just seen her new film with Woody Allen, the 1930s Hollywood glamour tale Café Society, open the Cannes Film Festival.
And now she's flying – or should that be swimming? – solo, in one of the summer's most entertaining thrillers, The Shallows.
An "isolation movie", as the 28 year-old Lively dubs it, the film's pitch is as simple as they come: girl versus shark. Lively plays Nancy Adams, a medical student who travels to a Mexico beach shortly after her mother dies to surf the same waves she did years before. Riding her board, she gets trapped just 200 metres from shore by that most forbidding of movie predators, a great white shark. What follows is a pure-blooded, no-frills battle for survival, in what's been called "Jaws meets 127 Hours".
While it's the sort of film that's right in the wheelhouse of The Shallows' Spanish director, Jaume Collet-Serra – famed for action vehicles Non Stop, Unknown and Run All Night with Liam Neeson – it was Lively's husband of four years who first inspired her to take the role. Reynolds' phenomenal turn in 2010's Buried was "one of the reasons why I wanted to do The Shallows," she explains. "If you haven't seen it, you have to see it."
The gutsy tour-de-force thriller is certainly one of Reynolds' finest hours. Playing a truck driver who wakes up to find he's been entombed in a coffin below ground, Reynolds is literally the only actor on screen – all other characters are just voices he speaks to via a cell phone.
"They don't cut out of the box once," she says, lighting up at the thought of it. "It's such great filmmaking and such great acting. And that was also an athletic event. He separated a shoulder shooting that. I don't know how he could separate a shoulder in a coffin. He's the only person able to do that! And he did, he managed it!"
The Shallows wasn't quite so claustrophobic. Lively was located on the "beautiful" Lord Howe Island in Australia, and had a handful of cast members for moral support (at least for the scenes before Nancy heads out into the ocean).
Nor did she have to contend with being anywhere near an actual shark. Instead, a CGI creature was added in digitally with the help of blue-screen backdrop in scenes shot in a water tank. "My co-star was a lot like that," she laughs, pointing at the drapes in our appointed hotel room. Still, try telling any actor shouldering a movie almost entirely on their own that it's not difficult.
"I didn't have a stunt double for the last two weeks," she says. "[I was] having to scream, cry, fight for my life in four-foot waves – going underwater, coming above water – so you're fighting the elements and you're using your imagination and you hope that the director's imagination then lines up with yours.
"[We were] doing 16-minute takes starting from nothing to almost losing your life to crying to sobbing. And that all just has to play out in your head." It took its toll on both her and the crew, she says. "You all feel like you've survived something at the end."
For all the challenges The Shallows threw at her, Lively was ready. Born in Los Angeles, the daughter of an actor and a talent manager, she's been surrounded by the entertainment industry her whole life. "It was just like the family business, it didn't seem like this grand, wonderful Hollywood thing. It was just what my family did," she nods.
Initially, she rejected the idea of acting, instead working towards attending Stanford University. But when her older brother Eric encouraged her to audition, she reluctantly agreed – if only to keep make her folks happy. It didn't take long before Lively won her first role in 2005's teen tale The Sisterhood of the Travelling Pants, followed by six seasons on Gossip Girl, playing Manhattan 'It-Girl' Serena van der Woodsen.
Gossip Girl is probably how a lot of people look back on college. It was an education. It was a bonding experience... we all grew up together." But the gruelling nature of episodic television was difficult, she says. "You're not doing your best acting work, you're not doing any level of artistry. You're part of a pop culture machine."
Perhaps this is why Lively made a beeline for auteur-driven movies, playing a junkie in Ben Affleck's Boston crime tale The Town, a beach babe in a ménage à trois with two marijuana growers in Oliver Stone's drugs drama Savages, and a bohemian exotic dancer in Rebecca Miller's The Private Lives of Pippa Lee. She's recently added Woody Allen to the list, with his Café Society, a badge of honour she was desperate to get. "I didn't care if it was one line, one scene, or playing a janitor," she says.
Nevertheless, Lively has her detractors. A recent think-piece in
The
New York Times
, "
How I Learned to Tolerate Blake Lively
", went for the jugular, claiming: "Her acting hasn't yet caught up to her algorithm-generated beauty."
The actress inspires internet jealousy too: of the US$16 million fortune she's said to have amassed, and her picture-perfect life with Reynolds and their 20-month old daughter James (she's now pregnant with a second child).The snaps of her frolicking in the waves with her celebrity pals at Taylor Swift's Rhode Island 4th of July beach party only serve to exacerbate it all.
Perhaps this is par for the course in Hollywood – a place with far more sharks than The Shallows. But then Lively knows just how difficult it is to succeed there. She can't help but afford a moment of satisfaction when the subject of her husband's passion project Deadpool comes up. Against all odds, the profane Marvel superhero movie grossed US$782 million this year.
"I'm so proud," she beams. "He worked for 11 years on that. It was a movie that everybody said wouldn't, shouldn't, couldn't happen – and it outperformed all of them." She pauses. "Oh that feels so good!"
It was particularly sweet given earlier superhero movie Green Lantern – where Reynolds and Lively first met – absolutely tanked. "We work together so much as a family," she says, noting that she 'unofficially' spent time discussing ideas for Deadpool's viral marketing campaign.
Next up is Marc Forster's All I See Is You, playing a blind woman who regains her eyesight to discover some disturbing details about her husband. But what about a cameo in the upcoming Deadpool sequel?
"Oh God," she chuckles. "Yeah, I'll play the Green Lantern!"
The Shallows opens on August 4
Want more articles like this? Follow SCMP Film on Facebook
This article appeared in the South China Morning Post print edition as: hidden depths