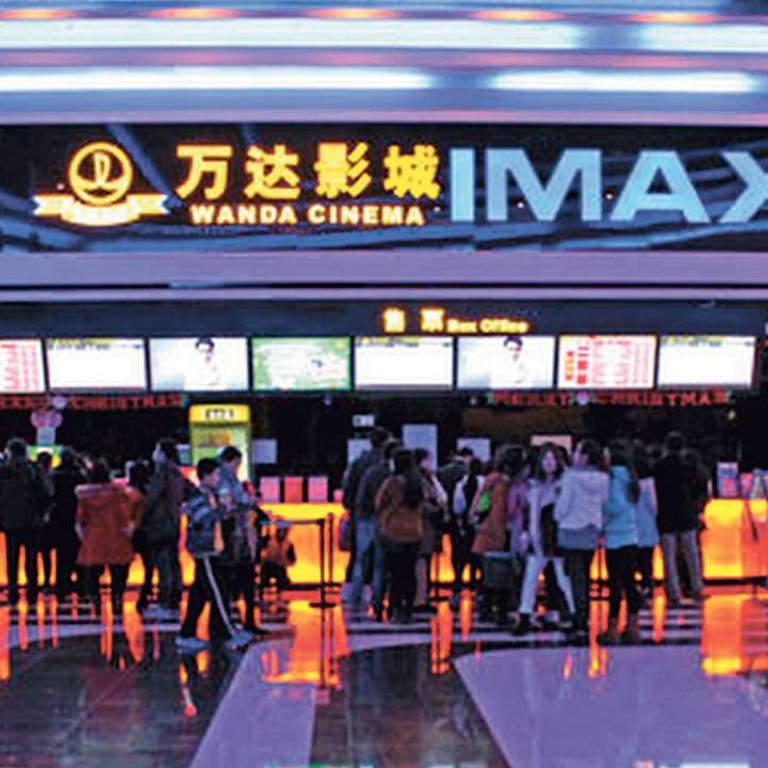 Imax signs deal with Wanda to add 150 China cinemas, its biggest expansion yet
Agreement is another reminder of Chinese market's importance to Hollywood, whose spectacular blockbusters work best on company's giant screens, and will help Imax more than double its presence in country
Big-screen cinema company Imax is taking a major step to expand its footprint in China by deepening its ties with the country's largest cinema operator, Wanda Cinema Line.
Toronto-based Imax said on Tuesday that it had signed an agreement with a subsidiary of conglomerate Dalian Wanda Group to add 150 cinemas to its circuit during the next six years. Currently, Wanda operates about 160 Imax cinemas in the country.
"It's the biggest deal in the company's 50-year history," said Imax chief executive Rich Gelfond in an interview. "The growth is just accelerating."
The pact represents the latest example of Hollywood's push into China, which is expected to surpass the US and Canada as the world's largest film market as soon as 2017. The Chinese film business has exploded in recent years thanks to a rising middle class and substantial government support, growing nearly 50 per cent to US$6.8 billion last year.
Imax has been a major player in China's film business for about a decade, and is investing significantly to grow its presence there. Audiences in China have displayed a healthy appetite for the kinds of big, spectacle-based blockbusters such as Captain America: Civil War that work best in premium Imax format.
Imax was also a beneficiary of a landmark agreement in 2012 when China expanded the number of foreign movies it allows into the country under a revenue sharing agreement. Under the deal, China agreed to allow an additional 14 premium format films in the country, up from 20.
In another recent sign of Imax's bet on the growing market, the company's China subsidiary went public on the Hong Kong Stock Exchange in October. While investors responded tepidly at first, Imax China shares are up about 30 per cent from their initial public offering price.
Wanda Cinema Line was one of Imax's original exhibition partners in China, opening a cinema in Dongguan in 2007. The companies then signed a 75-cinema joint venture deal in 2011, and in 2013 agreed to open additional cinema.
Worldwide, Imax has more than 1,100 cinemas, 335 of which are open in China. With the new deal, Imax now has commitments to add 407 Chinese cinemas in the coming years, including those from Wanda and other Chinese cinema chains.
"Imax is big there and 3D is big there, and that's where a lot of the box-office bump has been coming from," said Stanley Rosen, a University of Southern California political science professor who is an expert on China's ties with Hollywood. "[Imax] certainly sees China as their big market, with the US being flat."
Wanda, the media and real estate giant run by billionaire Wang Jianlin, has been making film industry deals at a brisk pace to bolster its entertainment business and establish itself as a global player.
On Monday, the company signed a deal with Beverly Hills-based technology provider RealD to add 4,000 3D projection systems to its cinema circuit. The additional RealD systems that will be installed during the next four years as part of the deal will grow its Wanda footprint to 5,600 screens.
"Our RealD-equipped theatres have been a significant part of our growth strategy," said Xiaobin Liu, executive president of Wanda Cinema Line.
China's box office surpassed US$4 billion in the first half of this year, up 21 per cent from the same time in 2015, according to film industry consulting firm Artisan Gateway. Though that's a slower pace of growth than in recent years, it's still a sizeable increase at a time when growth in US cinemas is largely stagnant.
Much of the relatively small jump in ticket sales is because of the spectacular grosses for 2015 movies like Furious 7 and Jurassic World. Nonetheless, the numbers have raised concerns about a broader slowdown in China.
"The second quarter of Chinese box office was slow compared to a year ago, and people are concerned about that," Gelfond said. "I still think the Chinese box office is on a very torrid pace."
Imax has been an important partner for Hollywood studios trying to take advantage of the box-office trends in China. The
video game adaptation Warcraft
, which bombed in the US, did huge business there, generating record-breaking first day ticket sales in Imax cinemas.
In addition to standard Hollywood fare, Imax has shown Chinese films such as
Mojin: The Lost Legend
and
Monkey King 2
in its cinemas, and local language movies have become a bigger business for the company. The Chinese Imax subsidiary is co-financing local movies.
The China-Hollywood relationship will face a major test with this year's release of The Great Wall, a big-budget Chinese-American co-production starring Matt Damon that is set to get a big Imax release.
Wanda has been leading a wave of global consolidation of the entertainment industry, having acquired Warcraft and The Great Wall producer Legendary Entertainment earlier this year for US$3.5 billion. Warcraft clearly benefited from the market clout of Wanda, which heavily promoted the movie in the country.
Wanda also owns AMC Entertainment, the second-largest US cinema chain, for which it paid US$2.6 billion in 2012. AMC is trying to buy smaller rival Carmike Cinemas in a deal valued at US$1.2 billion, including debt. AMC is poised to become the world's largest cinema owner once it completes another US$1.2-billion deal to acquire London-based Odeon & UCI Cinemas Group.
In addition, Wanda has recently been in talks to buy 49 per cent of Paramount Pictures from the storied studio's parent company Viacom. Such a transaction, though, would be complicated by the conflict raging between Viacom CEO Philippe Dauman, who is pushing for the transaction, and controlling shareholder Sumner Redstone, who opposes such a deal.