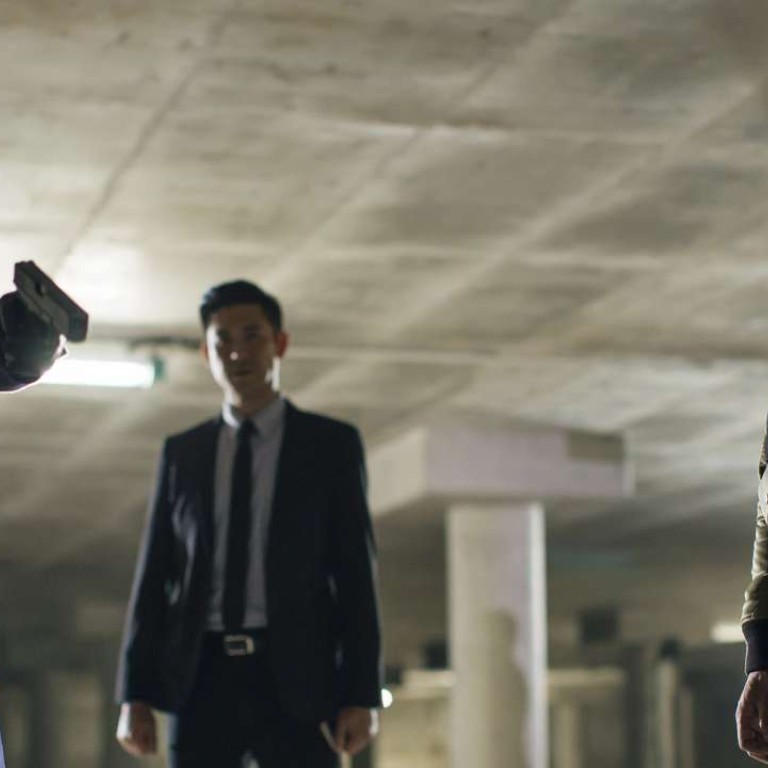 Review
Film review: Line Walker – Nick Cheung, Louis Koo in lame TVB series spin-off
A tense confrontation between a triad henchman and his boss in a half-built Olympic stadium is the centrepiece of this stereotypical and farcical crime thriller
2.5/5 stars
TVB's 2014 hit drama series Line Walker gets an expensive spin-off, adding A-list stars and exotic South American locations around Charmaine Sheh Sze-man's CIB officer Ding, an undercover cop who loses her true identity when her handler is killed in the original series. Beyond the cosmetic additions, however, the big-screen treatment only magnifies the problems in this cliched and ludicrous crime thriller.
Here Ding is contacted by "Blackjack", who claims to be another stranded mole. Flanked by her superior, Inspector Q (Francis Ng Chun-yu in an endearingly playful performance), they arrange a meet-up in Macau, where Blackjack reveals himself to be triad henchman Shiu (Louis Koo Tin-lok). But before he can be brought in, Shiu is tasked with accompanying his boss, Lam (Nick Cheung Ka-fai), on a trip to Rio de Janeiro to oversee a dangerous drug deal.
Much has been made by TVB and co-producers Shaw Brothers of Line Walker's Brazilian location shoot, and the brief yet visually impressive sequence is far and away the film's high point. The addition of veteran cinematographer Kenny Tse Chung-to and editor Azrael Chung Wai-chiu brings a glossy cinematic sheen to the production, while Chin Kar-lok's stunt work ensures the action beats feel ripped from a far grander production.
Line Walker's centrepiece is a tense confrontation between Shiu and Lam in the still-unfinished Olympic Stadium, which echoes the iconic rooftop climax from Infernal Affairs. Blood brothers to the last, Lam and Shiu share affection but also distrust for each other, a complex yet familiar conflict that Koo and Cheung sell effortlessly.
Sheh holds her own admirably opposite her more famous co-stars, but her scenes often feel part of a different movie. The Macau sequence in particular would be better suited to a romantic comedy than a violent gangland thriller. The string of ludicrous twists in its final third also betray the writers' inexperience in writing for cinema's more concise format.
Line Walker opens on August 11
Want more articles like this? Follow SCMP Film on Facebook