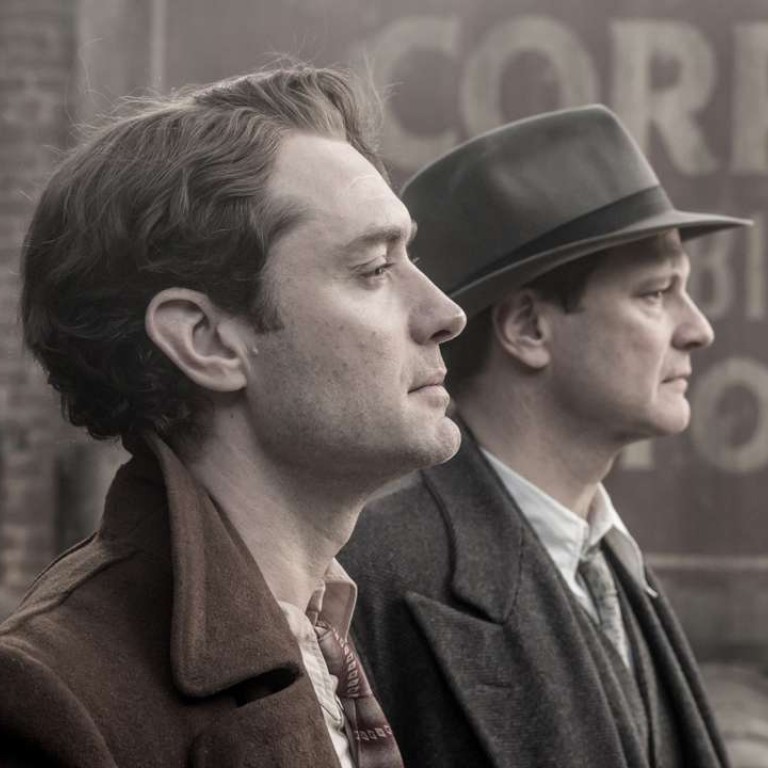 Colin Firth, Jude Law – stars of literary biopic Genius – muse on reading in the digital era
Stars of literary biopic talk about the effect books have had on their lives and how technology is changing the way we express ourselves
If people have become less interested in literature, Colin Firth isn't aware of it. "I don't know if people are reading less. Does anyone have figures on this?" asks the Oscar-winning English actor, looking around the room in which our interview is taking place.
Firth, 55, looking bookish in his Tom Ford spectacles, is told that people have been buying fewer books. "Is that because people aren't reading?" he asks, rhetorically. "People are writing a lot of them," he says, recalling a conversation he had with a publisher, who told him there were more people writing than reading – especially self-help and fiction titles.
It's a good question, though, says Firth, who believes all reading is stimulating. It doesn't have to be classic literature.
The discussion on books and reading is not coincidental. Firth stars in a new literary biopic, Genius, playing American literary editor Max Perkins, who famously played a mentoring role in the writing careers of Ernest Hemingway, F. Scott Fitzgerald and the now largely forgotten Thomas Wolfe.
The film charts the turbulent friendship and working partnership between Perkins and Wolfe, from the time the writer submitted an unwieldy manuscript of what would eventually turn out to be his successful first novel,
Look Homeward, Angel
(1929), all the way up to his premature death in 1938.
Wolfe is played by the English actor Jude Law, 43, who is also intrigued by the question: "Are people reading less literature?"
"I read that, in fact, book sales are doing relatively well. But my sense, with the rise of technology, is exactly that ... we live in a world where people are reading less. It's surely a fact that there are more distractions for young people."
The self-proclaimed book lover reveals he usually carries three or four volumes around with him. They have been a big part of Law's life: he grew up in a house full of books; he remembers going on holidays with cars full of them; and he went through a phase of being engrossed in books by Beat writers Allen Ginsberg, William S. Burroughs and Jack Kerouac. In fact his teenage daughter Iris – now an aspiring model – was named after Iris Murdoch, whose novel The Sea, the Sea has been one of his favourites.
"We're all part of a huge human experiment at the moment," Law says of the omnipresence of mobile technology. "But to my mind, losing yourself in stories, recognising yourself in stories, or learning something from stories is a very important part of being human. You can go right back to the ice age, men and women where sitting around recounting stories or expressing yourself through totem was as important as eating and procreating and keeping warm."
The story of
Genius
, which also stars Nicole Kidman and Laura Linney, is adapted from Pulitzer Prize-winning biographer A. Scott Berg's 1978 book,
Max Perkins: Editor of Genius
, which was the main reference for Firth's research into his part. "Scott's book is so comprehensive," he says. "I did as much research as I could, but Scott's book is so complete that you won't find anything significant that's not in the book."
Perhaps mindful of his well-recognised image for being withdrawn on screen, Firth says he was aware of Perkins' "famous quietness".
"He was not a verbose man. When I read about him – and this might make you laugh – I felt that my performance in the film is not restrained enough. He spoke less than I do. I mean, you've gotta have dialogue somewhere [in the film] … If I'd been absolutely rigorous about how I understood Perkins to be, you wouldn't have heard me speak."
As for his co-star, Firth admits he "didn't know Jude before"
Genius
, but their intense relationship portrayed in the film brought them together. "Jude had a long working relationship with [director] Michael Grandage, so I felt a little like the newcomer," Firth says, and then corrects himself. "But no, it was exhilarating to share that dynamic."
Law has played both Hamlet and Henry V on stage, in 2009 and 2013 respectively, in two Shakespeare plays directed by Grandage, a celebrated theatre veteran making his big-screen debut with Genius. "When you're a director and an actor in the theatre, you work and rehearse together day in and day out for weeks on end – especially with characters like Henry and Hamlet, which require an actor, at least in the rehearsal room, to really bare all," Law says.
"[Directors] know what you're capable of. They know your range, and they know where and how far you'll be willing to go. And so I would like to think he trusted and knew I had it in me: if you wanted Tom [Wolfe] to go berserk, if you wanted him to burst into tears and blub and blow snot all over the place, I would do it."
As a testament to his love of literature, Law says he has read all of Wolfe's books – known for their enormous length and challengingly rhapsodic prose – as preparation for his role.
"There are hundreds of pages out of the thousands where it's incredibly effortless to read. He flows over you and uses such poetic terms and visual references … And then there are chapters that are so broken up and complicated and divergent from what he's been talking about, you get really lost. So you sort of stumble around, bumping into things for a while, and then you get back on."
According to Law, Wolfe's loudmouthed, exuberant persona allowed him to merge two elements of his acting style for the first time: the adult, blustering and bear-like; and the innocent and boyish.
"I don't think I'm going to get away from playing that for much longer – or be able to use it again," Law says of the latter approach. "So it felt like saying goodbye to that quality as well. I remember reading and thinking this sort of vibrancy and youth is something that I played in my 20s and 30s. And suddenly in your 40s, it doesn't sit quite right, but it was an essential part of who Thomas was."
Grandage has made the most of his two protagonists' contrasting personalities in the film, with the introverted Perkins being a portrait of restraint and quietness.
"The idea of this man who listens, who facilitates and who does not want the limelight – his energy is directed entirely towards other people and their creativity," Firth says. "Particularly, [what] we're so aware of now is the urge to broadcast ourselves. It's the need to post pictures. It's the age of the selfie, Instagram, Twitter, Facebook and reality shows. There's this kind of exhibitionism we have."
So did Perkins and Wolfe live in a better time for artistic expression? Law would like to think so. "I'm slightly romantic in that sense ... nostalgic of those times. When you read a book like
A Moveable Feast
, where Hemingway described Paris of that era, you get a sense of the freedom: it's just the economic ease, that you can survive on a couple of bucks a day.
"But at the same time, I guess it's a freedom now because you've got people in their rooms somewhere around the world that are doing art and writing and making music and posting it online, and the rest of the world is sharing it. So there's a freedom there, too. Not quite as romantic as everyone piling into Paris and living on the streets together and drinking wine," Law chuckles. "I know which way I'd rather be."
Firth is not so sure. "I want to be careful not to sound as if I am attacking social media altogether. I think that the tools are wonderful, actually. I do think that it's democratised a lot of expressions … I think it's always dangerous to lament the way things were, because I don't think we're in an era where there's a poverty of expression at all. But we just have to adapt to the fact that the media is changing."
One thing is for sure: despite the film title, it is much harder to proclaim someone a "genius" now that everyone has an opinion that can potentially reach everyone else.
Firth believes the term is "almost abstract now. It's like art, or time, or beauty; they're all in the eye of the beholder. I don't think they exist in the absolute. I think people pursue and aspire to use it as a judgment perhaps, but I don't think it's possible to ever arrive at a final definition of a word like that. I'm not going to give names and say this person is a genius [or not], because I don't want to fall into exactly that trap."
So is Firth one? "Genius? Definitely," he deadpans.
Genius opens on August 11
Want more articles like this? Follow SCMP Film on Facebook
This article appeared in the South China Morning Post print edition as: footnotes in history