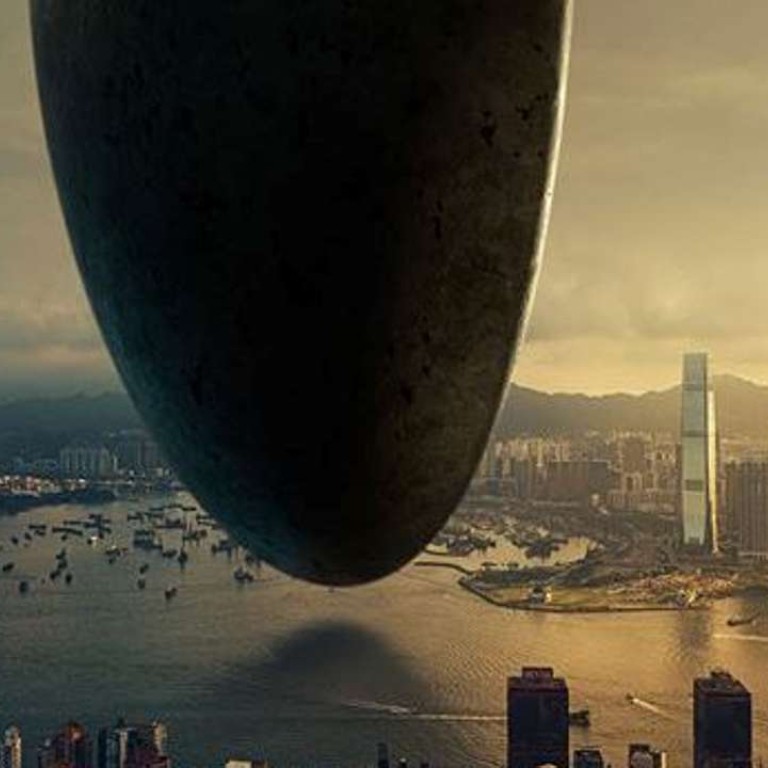 Hong Kong? Shanghai? Mainland landmark ends up on Victoria Harbour for Hollywood film poster
Shanghai's Oriental Pearl Tower becomes part of Hong Kong skyline in poster for upcoming sci-fi movie Arrival, prompting #HongKongisnotChina hashtag on Facebook
Amy Adams is set to star as an expert linguist attempting to communicate with aliens in the upcoming sci-fi drama Arrival, set for a November 11 release in the US, although sharp-eyed Hong Kong audiences have already spotted quite a mysterious intrusion in one of the 12 teaser posters released by studio Paramount Pictures earlier this week.
In a poster that ostensibly shows a gigantic spacecraft hovering above Hong Kong's Victoria Harbour, the Shanghai building of Oriental Pearl Tower is spotted conspicuously superimposed onto Hong Kong Island in the bottom right of the image. Together with the tagline "Why are they here?", which is writ large in the middle, the poster may be viewed as an inadvertent metaphor for the perceived encroaching influence that mainland China has had on Hong Kong in recent times.
A Tuesday
post on the film's official Facebook page
has attracted dozens of commenters, most of whom are taking offence to the insensitive inclusion of the Shanghai architecture in what is otherwise a typical view of Hong Kong. The majority of these Facebook users have also included the hashtag #HongKongisnotChina to highlight the Hollywood studio's seeming obliviousness to the city's volatile political climate.
The alien invasion drama, which is directed by Quebecois filmmaker Denis Villeneuve of Prisoners and Sicario fame, also stars Forest Whitaker, Jeremy Renner and Michael Stuhlbarg. Adapted from a short story by Ted Chiang, the film revolves around the humans' effort to find out if alien spacecraft that have landed around the world represent "friend, foe, or something in between", as the promotional materials put it.