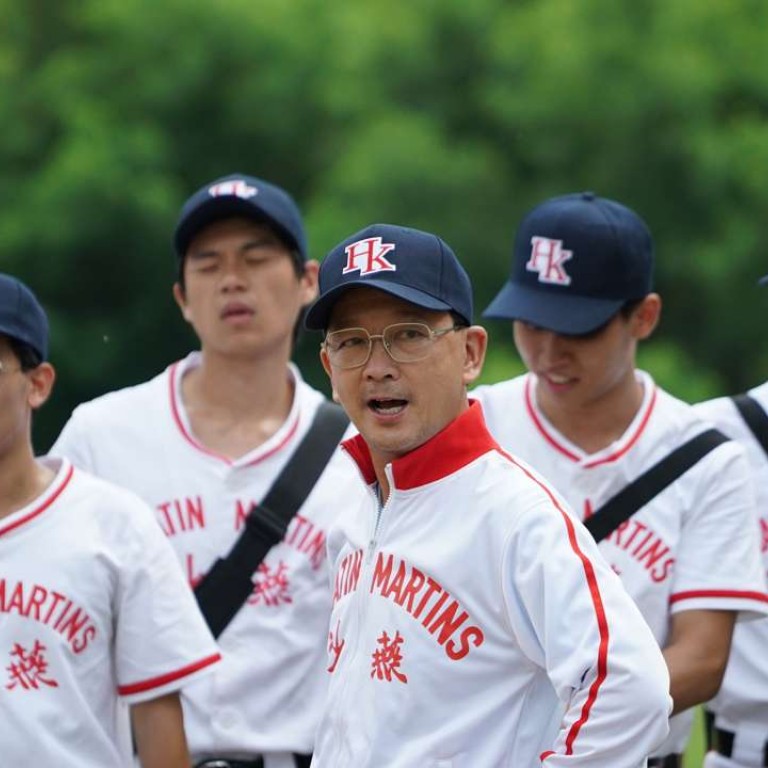 Young Hong Kong director's perseverance pays off as his debut feature hits cinemas
With its shoestring budget and its unconventional coming-of-age story about an underdog baseball team from a Sha Tin school, Weeds on Fire was an endless challenge for Steve Chan but, much like the team, he just kept on pushing
In some ways, the meaning of the title of Weeds on Fire has been lost in translation. Its English title suggests that weeds, though they are considered lowly plants, are also able to bloom; its Chinese counterpart, also a homophone of a Cantonese profanity, directly translates as half a step.
It was meant to signal how close one is to success – only half a step away. But in reality, emerging director Steve Chan Chi-fat had to take more than a few steps to bring his film to cinemas.
The 27-year-old says that even during his days as a film student at Baptist University, he has always wanted to produce a movie about regrets of the young and brotherhood. After graduating in 2012, Chan was directing advertisements when he chanced upon a newspaper clipping about the development of Sha Tin. It touched on the story of local baseball team Shatin Martins, whose members were from a low-ranking secondary school and lived in a public housing estate.
And it immediately struck a chord with Chan, who also came from a humble background. "I also grew up in a public housing estate and have experienced a lot of things there. I have a lot of feelings I want to share," he says.
The coming-of-age film chronicles the lives of two teenage boys with contrasting personalities: Tse Chi-lung (played by Lam Yiu-sing) is quiet and unassuming, while Fan Chun-wai (Tony Wu Tsz-tung) is brash and pompous. Both are recruited into a baseball team formed by secondary school principal Lo (Liu Kai-chi), who sees potential in the rowdy students. But it won't take long before Fan's overbearing ego threatens to tear the team apart, and the two childhood friends eventually go their separate ways.
When I express surprise at the ending (which I decline to lay out here), Chan pumps his fist in the air in delight. "From day one, I wanted to break from traditions. A conventional plot about sports would probably talk about all the obstacles the youngsters have to face with nagging parents who are against them playing sports, worrying that it would affect their academics … and the hero comes back to save the world and helps the team win."
But the writer-director decided that would not be how the story goes.
Chan submitted the script to the government's Film Development Fund in 2013 and his was one of three dramas chosen in the inaugural First Feature Film Initiative. Despite securing the fund, the challenge had only just begun.
While the fund gave Chan an opportunity to direct his first movie, it offered a shoestring budget of only HK$2 million. "We couldn't foresee the path we should take. Traditional blockbusters may have tens of millions to spend … they can find a really good cast, come up with a score for the film and book a solid production company," says Chan.
"But we didn't even know if the movie would ever be shown; the chances of failure are very high," says Chan, recalling how an inexperienced digital imaging technician processed the raw footage in the wrong format, a crisis that took Chan several months to sort out.
Chan barely earned any money from this film and even had to take money out of his own pocket to sponsor the crew. Throughout the entire filmmaking process, from shooting to post-production and distribution, Chan and his crew ran into problem after problem.
He likens it to playing video games. "After finishing one level, there's always another tougher one ahead. The most difficult part is not being able to see the goal."
Fortunately, just like the camaraderie among the players, both in real life and in the film, Chan's crew had his back. For example, a buddy Chan has known since community college helped him edit the film and charged only HK$18,000 for one year of work.
"I feel like the pitcher in a baseball team. There are nine other players backing me up," says Chan.
"Actually, there should be only eight," says Tony Wu Tsz-tung, one of the film's two lead actors.
Interestingly, Wu, a professional baseball player and a member of the Hong Kong baseball team, first caught the director's attention not with his skills, but with his hair. "He caught my eye because his hair was dyed platinum. Then I heard some other people saying that guy is super cocky," says Chan, referring to Wu, "and I immediately knew I had to see him."
Wu turned out to be a perfect match for his character, who shares a similar personality. But unlike Fan, who doesn't take his pitcher role seriously, Wu impressed Chan with his sincere conviction.
Lam Yiu-sing, who plays Wu's buddy, also shows promise as the other young lead. "I didn't even know Hong Kong has a baseball team before this," says Lam, who showed his dedication by picking up baseball in only two months.
And it helps that there are heavyweights on Chan's team such as celebrated cinematographer O Sing-pui and seasoned producer Chan Hing-ka. O, who is best known for filming Ip Man (2008) and Fruit Chan's Made in Hong Kong (1997) and Hollywood Hong Kong (2001), was the architect behind several mesmerising shots in Weeds on Fire, including one that adopts the perspective of a baseball.
Veteran actor Liu Kai-chi is convincing in the role of Principal Lo, etching some memorable lines into the audience's mind. "The principal never demanded that you win the game, but I've told you that you must never give up," he says in one scene – after slapping each player on the face.
With footage of the "umbrella movement" in 2014 and the signing of the Sino-British Joint Declaration in 1984 interwoven into the film, this appeal for perseverance and determination seems to be more than just a message for the players.
Chan responds evasively when he's asked about the political message, if any, behind the sports film. "It's very easy as a creative artist to say who's right or wrong, but a more sophisticated way of storytelling should inspire thoughts in the audience rather than telling them what to think."
There is, however, one point he wants to make. "Even though we cannot obtain the things we are fighting [for] now, we should persevere in our belief and someday we will be able to see the results," he says.
Weeds on Fire opens on August 25
Want more articles like this? Follow SCMP Film on Facebook