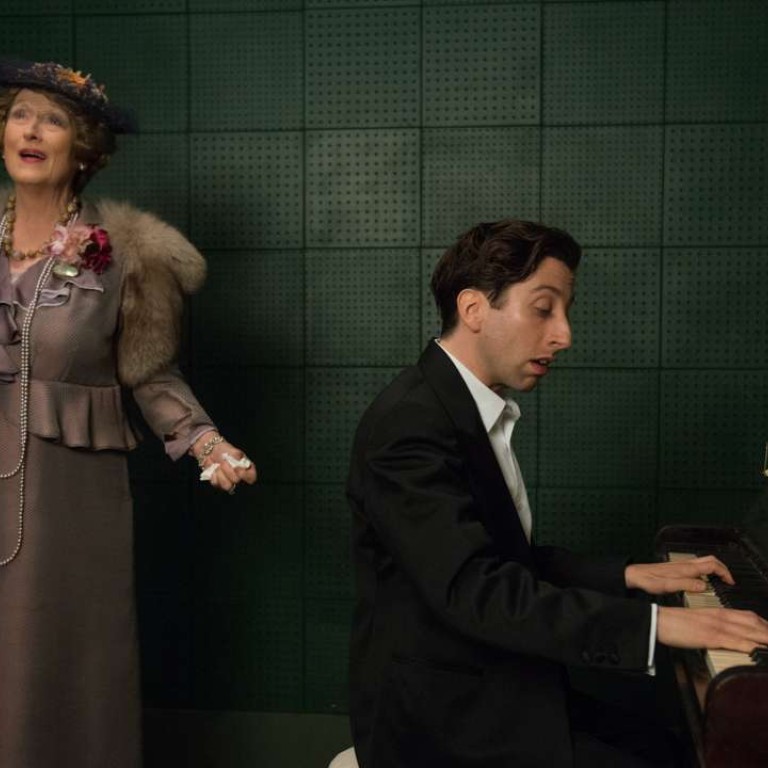 Review
Film review: Florence Foster Jenkins – Meryl Streep hits tragi-comic note as deluded diva
Biopic of socialite and opera singer whose voice could shatter glass and burst eardrums features marvellous performance by Streep and a good turn by Hugh Grant, but suffers from stagey direction by Stephen Frears
3 stars
The Manhattan socialite Florence Foster Jenkins, with a voice that could shatter glass and burst eardrums, had already been the subject of one film. Xavier Giannoli's Marguerite transported her story to Paris, fictionalising it to some degree. Now, courtesy of British director Stephen Frears, we get the official biopic – a rather more sterile, stagey affair.
Meryl Streep, who proved her microphone prowess as a dive-bad rock chick in last year's Ricki and the Flash, plays Florence, a deluded opera buff who became famous for appallingly off-key recitals. Unsurprisingly, Streep hits all the right – or should that be wrong? – notes, with a marvellously tragi-comic turn.
Hugh Grant, in one of his better outings, co-stars as St. Clair Bayfield, Florence's manager and chaperone who shields her from savage reviews and arranges private audiences full of sycophantic well-wishers. That he also keeps a lover tucked away (played by Mission: Impossible – Rogue Nation actress Rebecca Ferguson) adds to the intrigue.
While Ferguson is left with little to do, it's Simon Helberg, star of sitcom The Big Bang Theory, who deserves the real ovation: his turn as Florence's long-suffering pianist is a delight.
Film review: Marguerite – tragicomic drama about a tone-deaf opera singer
With London and Liverpool comfortably standing in for 1940s New York, Frears is equally at ease in this stage-driven milieu (the film bears some comparisons to his earlier work, Mrs. Henderson Presents). Yet next to Marguerite, the film feels featherweight. A caricature rather than character study, deeper issues – Florence's debilitating syphilis, for example – are left unexplored.
Still, only cast-iron hearts will fail to be moved by the quiet poignancy of the finale.
Florence Foster Jenkins opens on September 8
Want more articles like this? Follow SCMP Film on Facebook