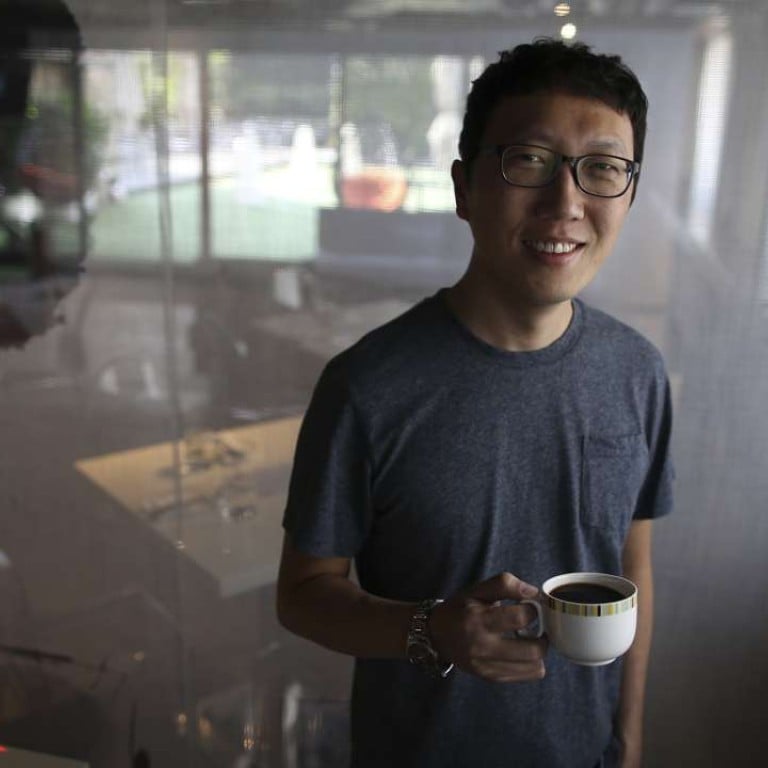 How At Cafe 6's director Neal Wu turned teenage heartbreak into a successful career
Wu went from being just another lovesick student to one of Taiwan's most successful youth romance writers. Now he's released his first feature film
When his heart was broken by a girl in his class in his university days, Neal Wu Tzu-yun found himself holed up in an internet cafe, aimlessly playing computer games by himself. Once he realised that the negative emotions were not going away, he turned to distracting himself by reading fiction online. Before long, Wu began writing and posting his own stories on a BBS message board.
It turned out to be one of the best decisions he has ever made.
The native of Kaohsiung, Taiwan, will turn 40 this weekend. While Wu is still looking every bit like the gentle nerd that he likely once was, the industrial engineering and management graduate from the National Chin-Yi University of Technology has also been one of Taiwan's most popular authors of youth romance in the past decade and a half.
"I had never thought that I was going to write novels – that was simply unimaginable then," Wu reiterates his career's accidental start when we meet in a cafe in Hong Kong's Hung Hom district on a weekday afternoon in late August.
"At first, I was writing online as if I was keeping a diary for myself. I continued to write when I saw that many people had read my stories, and I soon got used to the process. About a year later, a publisher approached me and asked if I wanted to be published – it didn't sound right. After my second novel, I started to wonder: "Is this for real? Or is this all a big lie?' It was not [my goal] to be a novelist."
Wu, also known by his internet nickname "Hiyawu", is no longer just a novelist. The Taiwanese author was recently in town to promote At Cafe 6, a feature film that was adapted by Wu from his eponymous 2007 novel.
Framed as an old memory that a cafe owner (played by Leon Dai Li-jen) recounts to a customer (Sandrine Pinna), the film charts a bygone romance between high school sweethearts Guan Min-lu (Chinese actor Dong Zijian) and Li Xin-rui (Hong Kong actress Cherry Ngan Cheuk-ling), which becomes increasingly untenable once they are enrolled in universities in two different cities. Guan's buddy, Xiao Bo-zhi (Lin Po-hung), bears witness to the tortuous process.
With its deceptively nostalgic portrayal of adolescent love, At Café 6 has been mentioned in the same breath as two recent romantic-comedy blockbusters in Taiwan – You Are the Apple of My Eye (2011) and Our Times (2015) – although audiences without prior knowledge of Wu's coming-of-age novel would be staggered by the grimmer view on love and life in his new film.
"It has always been my intention for this film to tell a realistic story," says Wu. "I didn't want to include the exaggerated, overly romantic, and unrealistic forms of expression [seen in those two films]. This is a film that leans closer to reality [than fantasy]. It was decided even before I started shooting. The other approach simply doesn't fit with my personality or habit."
It's presumably not Wu's way to feign interest in his contemporaries' work, either. When asked how he feels about the movie being compared to the two other successful films, he says: "I don't have any feeling about this."
Wu pauses. "It's a form of encouragement to me. It's an honour. Those are very profitable films at the box office, so it's not bad that my film is mentioned alongside them. At least people were thinking that my film has a chance of achieving similarly good results."
Was You Are the Apple of My Eye – scripted and directed by fellow novelist Giddens Ko Ching-teng – an imaginary target when Wu prepared for his own project?
"I didn't think about that. The focus shouldn't be on this. It's impossible to say that my anticipation would necessarily translate into success. Otherwise, I could just have spent all my time anticipating, and I wouldn't have to put in so much effort to make the film," Wu says with a laugh.
Still, it is inevitable the first-time writer-director will be judged alongside other bestselling authors-turned filmmakers in greater China. While Ko – most recently credited as the writer and producer of
The Tenants Downstairs
– has developed a full-fledged film career over the past few years, the Chinese writer Guo Jingming has made a quartet of profitable, if critically maligned, films based on his
Tiny Times
novel series.
Wu insists that it is a "huge misunderstanding" for people to think that his decision to become a filmmaker was influenced by either Ko or Guo's efforts. "As they made their [feature] films before me, it might look like I was following their lead. But that's not the case," he says.
Wu's previous experiences include sitting in on the 30-day production of a 2003 film, for which he was hired to novelise the screenplay. "Both the film and the novel were awful, because it wasn't my story," he adds. After directing the short film
Poetry of Summer
(2008)
, which he himself financed, Wu has found ample opportunities making music videos for record companies.
"Filmmaking is something that I have wanted to do for more than a decade, but I wasn't given a chance then. It was very hard to pull off: I had to find the investors by myself, and I had neither a manager nor any connections in the business. Giddens Ko has a manager, and that's why he managed to find investors early."
Wu admits that he has watched the films of both novelists. Of Guo's films, he says, "I don't know how to put it; I could only say that they had put a lot of money into making those films." Of Ko's, Wu merely says: "His [box office] results are very good."
And then, he adds without prompting, "I'm confident in my own work. I think mine is better [than either]."
After naming his favourite directors as David Fincher, Christopher Nolan and
Quentin Tarantino
– none of whose filmmaking styles show the slightest resemblance to his own – Wu explains that he's finding it "too difficult to learn from any of them – I'm just doing my best to try out different things".
In a revelation that should come as no surprise to his readers, Wu says the one director he wishes to emulate is Japanese auteur Shunji Iwai: before he switched back to using his real name last year, Wu had published all his previous books under the pseudonym "Itsuki Fujii", the name shared by two characters in Iwai's classic 1995 film Love Letter.
"I think I can make the type of films that Shunji Iwai makes," says Wu, who reveals that he once apologised to the Japanese director in person for stealing his character's name back in 2002. "His films may be regarded as non-commercial films. If I have a chance to make more films and I'm not under anyone's orders then, I'd love to make films like Iwai's."
At Cafe 6 opens on September 8
Want more articles like this? Follow SCMP Film on Facebook
This article appeared in the South China Morning Post print edition as: Angst for sharing