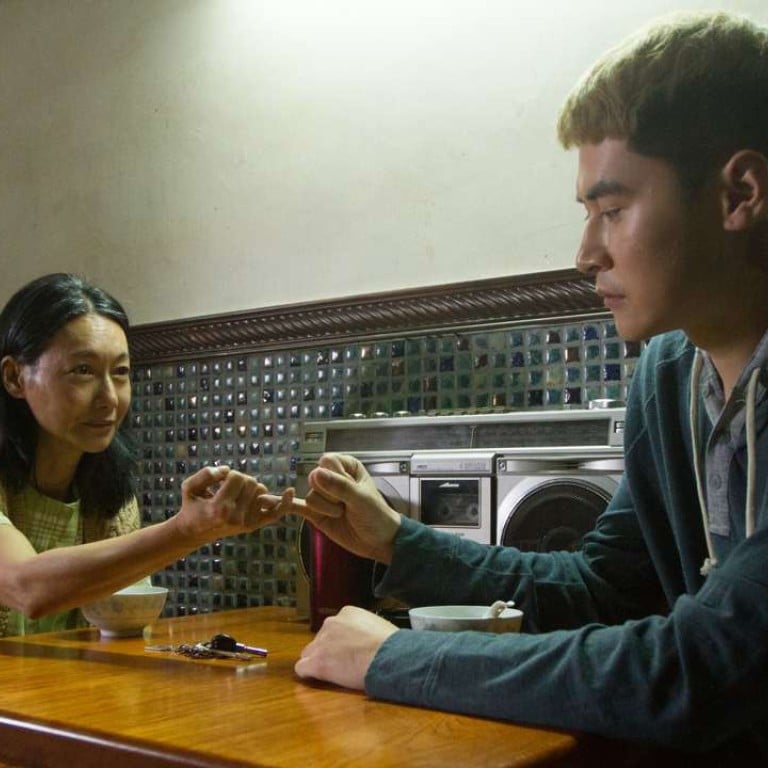 Review

|
Film review: Happiness – Kara Wai, Carlos Chan bond in one of best Hong Kong films of 2016
No angel, a young man's life changes when he takes an elderly stranger's spare room and soon finds himself caring for her as she develops dementia. What follows is a poignant and heart-warming story
4 stars
Kara Wai Ying-hung has a fighting chance to add to her two best-actress wins at the Hong Kong Film Awards with this exquisite dramedy, infused with heart and humour. Playing like a grungier version of Ann Hui On-wah's
A Simple Life
, about a man who performs filial duties to his elderly housekeeper,
Happiness
derives much joy and sorrow from the unlikely bond between a homeless youth and the solitary landlady who takes him in.
After his Chinese mother dies, the temperamental Yuk (Carlos Chan Ka-lok) moves back to Hong Kong to look for the father who abandoned them both years ago. The young man is no angel himself – he loses his cooking job in a tantrum, and is not above stealing money from the girl he sleeps with (and cruelly kicks out) – but it all changes when he begins to live under one roof with Aunt Fanny (Wai), a random stranger with a room to spare.
What follows is a heart-warming drama about learning our responsibilities to other people. As Yuk begins to work in a community centre, which provides him with a nominal love interest (Cya Liu Yase) and a chauvinist buddy (Louis Cheung Kai-chung) to bounce off, the character's transformation from a selfish, heartless p***k to the primary carer of Aunt Fanny – soon diagnosed with dementia – feels at once authentic and very poignant.
An experienced scriptwriter who counts
Crazy N' the City
(2005) and
My Name Is Fame
(2006) among his best screenplays, Andy Lo Yiu-fai stumbled with his first directing gig in 2013 – the segment "Can't Stop the Killing" in the omnibus feature
Hardcore Comedy
– but has apparently saved his best for this full-length feature debut. Bittersweet without resorting to an easy tear,
Happiness
is easily one of 2016's best Hong Kong films.
Happiness opens on September 8
Want more articles like this? Follow SCMP Film on Facebook