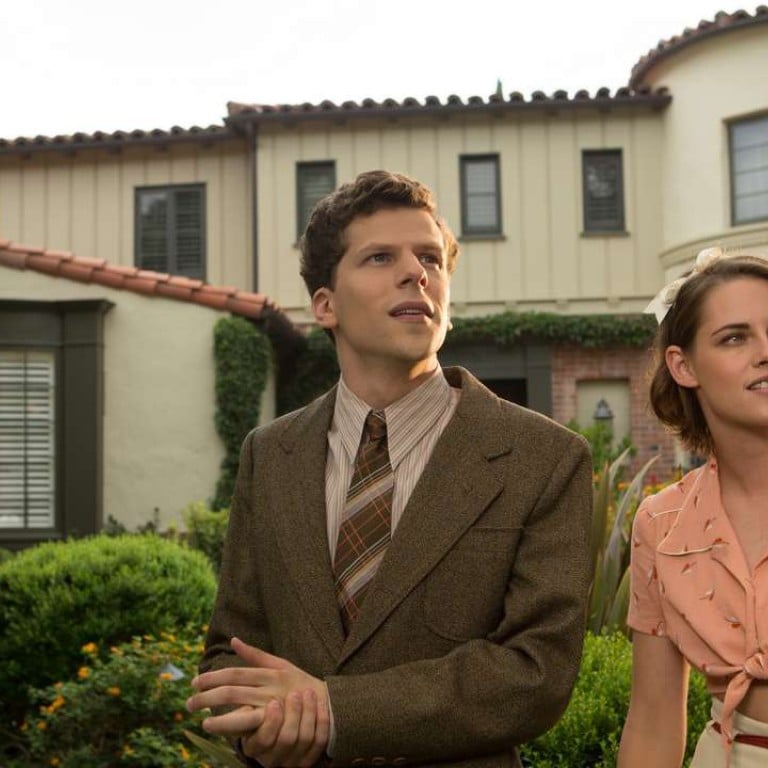 Review

|
Film review: Café Society – Jesse Eisenberg, Kristen Stewart in charming Hollywood romance
The characters in Woody Allen's latest embody the best of the renowned director's own traits – witty, self-aware and averse to Hollywood superficial excess
4/5 stars
Like his heroes in the French New Wave, Woody Allen believes film directors should make at least one film a year, something he has achieved since 1982. Working at that speed necessitates small, lower budget films, and on the strength of his recent offerings, that suits Allen's style perfectly.
Café Society, a parlour piece similar to 2014's elegant Magic in the Moonlight but played out on a larger canvas, is one of the writer-director's better films, and benefits from a slight return to the sardonic, inquisitive young characters that peopled his earlier classics. A fully fledged romance whose characters are analytical rather than passionate, the film's made with the head, not the heart.
In the 1930s, the ambitious young Bobby (Jesse Eisenberg) moves from New York to Los Angeles to get a start in Hollywood as an agent, working for his successful uncle Phil (Steve Carell). Bobby quickly falls in love with Phil's sensitive secretary Vonnie (Kristen Stewart), who shares his distaste for the Hollywood social scene. Bobby asks Vonnie to marry him when her secret boyfriend suddenly leaves her. But unbeknown to Bobby, that boyfriend is actually no stranger to him.
The title reflects the amount of chat, both meaningful and meaningless, that goes on between the characters. The dialogue in this very talky film highlights Allen's genius for wordplay. Eisenberg looks to have studied Allen's acting style, and comes over as a younger, more confident, version of the director.
The clever way that Allen depicts the superficial shenanigans of Hollywood movers and shakers, while instilling them with deep and real feelings, proves very entertaining.
Café Society opens on September 29
Want more articles like this? Follow SCMP Film on Facebook