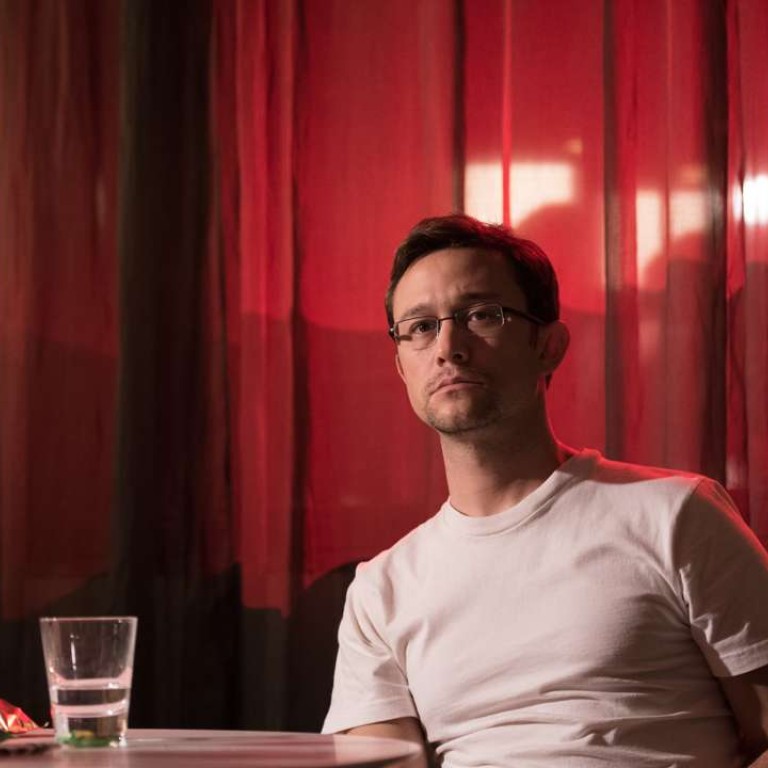 Oliver Stone and Joseph Gordon-Levitt on the challenges of making Snowden
With locations including Hong Kong's Mira hotel where Edward Snowden blew the whistle on unauthorised global spying on citizens, the biopic shunned by many studios shunned is a stirring portrait of a courageous man
When Oliver Stone announced he was working on a film about
Edward Snowden
, eyebrows weren't exactly raised. Stone has made a career out of needling governments, politicians and the media, proffering controversial opinions in films such as
J.F.K
. and
Natural Born Killers
. A film about Snowden, who sent shockwaves around the world with his revelations about mass government surveillance in 2013, is right in his wheelhouse.
"He's the only filmmaker that could've made this story, to be honest," says Joseph Gordon-Levitt, who plays Snowden in the new film.
Stone, who turned 70 last month, modestly disagrees. "I think there are other people who are as concerned as I am with what's going on, and they'd like to know more," he says.
We meet midway through the Zurich Film Festival – thankfully in a room less cramped and shrouded in paranoia than the one in Hong Kong's Mira Hotel, where Snowden met Guardian journalists Glenn Greenwald and Ewan MacAskill and documentarian Laura Poitras to hand over digital documents destined to change his life forever.
For years, Snowden worked at the heart of America's National Security Agency, the highly hush-hush organisation dedicated to gathering foreign intelligence. But gradually, this "Snow White", as one character dubs him in the film, discovers the apple is poisoned, that the US government is using cutting-edge technology to spy not just on terror suspects but on everyone, accessing phone, email and social media accounts without anyone's knowledge. "I was curious," Stone recalls.
The director first met Snowden in January 2014 in Moscow – the Russian capital where the whistle-blower was left stranded after leaving Hong Kong when US authorities revoked his passport. Still, Stone wasn't sure whether he should make a feature around a "volatile" case like Snowden's.
"Usually, you don't follow current affairs. You have to keep a distance. But as I met him and learned more and more, I thought, 'This is a very valuable moment.' The NSA is not talked about."
With Snowden granted temporary residency in Moscow, Stone returned several times, gleaning in-depth information, with Snowden even helping recreate the top-secret NSA interiors from memory.
The production shot in Munich, then travelled to Washington, Hawaii (where Snowden was stationed) and finally Hong Kong, where Snowden made contact with Poitras and others.
"It was incredible to actually be there where it happened," says Gordon-Levitt. "We went to the actual Mira Hotel. It felt like I was on a historical site."
Stone admits they were "lucky" to be allowed to use the Mira. "They let us in at the last second," he says. "They were freaked out. They didn't want any publicity. But they saw the picture of our actors in front of the White House, and that's very Chinese – they said, 'Ah, this is an important film! White House!' They didn't make the connection – or I don't think they did – and all of a sudden, we got the doors open with five days to go. I was surprised."
With the Hong Kong sequence anchoring the film, Gordon-Levitt poured over Citizenfour, Poitras' resulting Oscar-winning documentary, set primarily in the Mira Hotel, listening to the audio track repeatedly on his headphones. But Stone's Snowden covers a far greater arc – spanning the decade leading up to his time in Hong Kong.
"It's less about information, policy, technology," says the actor. "It's more about the subjective, the personal ... it's a coming-of-age story."
Certainly Stone's script, which he co-wrote with Kieran Fitzgerald, sets out to paint a portrait of Snowden, a man vilified by some, celebrated by others.
"This is a guy who, in 2004, enlisted in the US army," notes Gordon-Levitt. "His grandfather was in the Coast Guard. His father was in the FBI. He wanted to fight for his country [Snowden trained for Special Forces, only to sustain a leg injury], right when the war in Iraq was at its most dangerous. So to go from that to, nine years later, blowing the whistle on the NSA – that's what good drama is made of."
The film also documents his 10-year relationship with photographer Lindsay Mills, played in the film by Divergent 's Shailene Woodley. The actress met Mills three months into filming, uncertain what to expect: when Snowden turned whistle-blower, his girlfriend held a dignified silence.
"When I met her, I was trying to be very aware and cautious of that," she says. "To not have her feel like Joe [Gordon-Levitt] and I were trying to exploit her or her story in any way, but let her know we were on the side of [empowering] the people, which ultimately she is and Ed is."
Woodley believes the story is vital, telling how governments can now spy on their own citizens. "A lot of us assume that privacy is something that's still attainable," she says. "But in this day and age, privacy is a privilege, not a human right any more, and it's only a privilege if you're privy to the fact that it's a privilege. Until Ed Snowden did what he did, many of us weren't. I certainly wasn't."
Yet for all its good intent, Snowden has endured a difficult gestation. Even with the support of a strong international cast including Nicolas Cage, Rhys Ifans and Zachary Quinto, it's been a difficult sell in the US.
"Every major studio passed," says Stone. "It was dead. It was basically a fear, a fear of telling that story. Too much controversy. You have to realise in the United States, Snowden was not regarded as positively as he was abroad. Anybody who spills secrets, anybody who blows a whistle was regarded suspiciously. It's a conformist society."
Did it upset him? "Of course, very much so. It bothered me that this is a story that is important to our time, he was an important figure and they said, 'No'. It made our job much more difficult."
In the end, Stone sought German and French financing. "It was a slog, the whole way," he adds, a reference to the film's mixed reviews since its premiere at last month's
Toronto International Film Festival
. "The reception was very tough," the director concedes, "but that's been the story for all my films. Some of these critics, attacking my films from the very beginning, never let up."
Undeniably, the film is a stirring portrait of a courageous man who felt he simply couldn't let this breach of human rights go unnoticed. It's a black mark on the outgoing Obama administration. "He hasn't been very strong as far as curbing these illegal systems of mass surveillance," says Gordon-Levitt. "Even though I still support him as President, I think it's worth holding him accountable for that."
In the meantime, Stone sees Snowden as a man stranded from his homeland, a patriot branded a traitor. "He never wanted to bring attention to himself. But he had to," he says.
Snowden opens on October 6
Want more articles like this? Follow SCMP Film on Facebook
This article appeared in the South China Morning Post print edition as: shooting the messenger