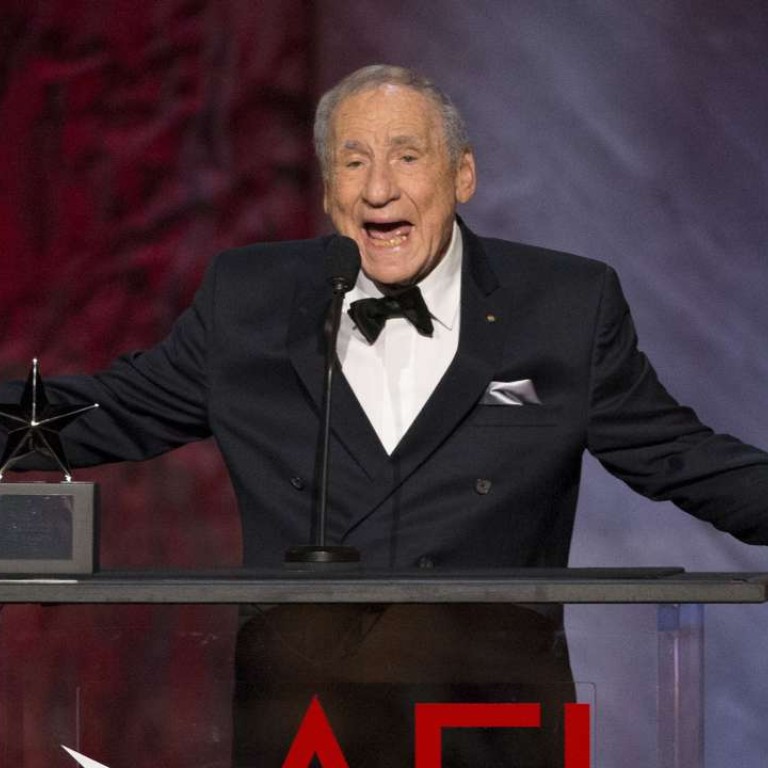 Emotional Mel Brooks remembers Gene Wilder in Young Frankenstein
Director, now 90, can't hold back the tears as he recalls working with late comic actor on 1974 film. 'I've had a few great memories. But I think making Young Frankenstein is my best year,' he says
Mel Brooks introduced one of the funniest movies ever made, Young Frankenstein, to a Hollywood audience on Wednesday night. But the director couldn't hold back the tears.
Brooks paid homage to Gene Wilder, the star and co-writer of his 1974 classic comedy, before showing Young Frankenstein on the 20th Century Fox lot.
The live event was beamed to cinemas around the United States and turned into a tribute to Wilder, who died on August 29 at age 83.
"I get just a little overcome," said Brooks, 90, from the stage, dabbing his eyes as he discussed Wilder. "I've had a few great memories in my life. But, honestly, I think making Young Frankenstein is my best year."
Wilder sparked the genesis of Young Frankenstein while the two were shooting the Old West comedy Blazing Saddles. Brooks noticed his star writing ideas on a yellow legal pad during a set lunch break.
This became the story of Dr Frederick Frankenstein – the respected American descendant of the infamous Dr Victor Frankenstein – who recreates his grandfather's experiments to bring a monster to life.
"It was a lucky accident that I saw him scribbling on that pad in his cowboy outfit," said Brooks, who was immediately floored by the concept. "This idea he had just overtook me. I was so excited about this, I couldn't sleep at night."
The film stars Peter Boyle (as The Monster), Marty Feldman, Madeline Kahn, Cloris Leachman and Teri Garr. Gene Hackman, who played tennis with Wilder, insisted on taking a part for scale wages. "So he lent his prestige," Brooks said.
"I never directed a moment in that movie, but I cast it impeccably," he said.
Brooks and Wilder had "one fight" shooting Young Frankenstein. The disagreement arose when Wilder insisted on a scene in which his Frederick Frankenstein sang and danced to Puttin' on the Ritz with his tuxedo-wearing monster.
Brooks didn't think the scene worked and would "ruin" the film. The two compromised, shooting the scene with the option to leave it out.
"We filmed it and I said, 'Gene, it's the best thing in the movie,' " Brooks recalled, laughing. "I had been so wrong. And I cannot even tell him that now. Of course, I've told him that before. But I'd love to tell him all over again."
The live event included Brooks showing a camera crew around the famed Fox lot and Stage 5, where Young Frankenstein was shot.
Brooks was remarkably spry bounding up stairs during the camera tour, telling old stories and remembering to plug his upcoming book about the movie, Young Frankenstein: The Story of the Making of the Film (out October 18). "It's a coffee-table book, but be careful not to spill coffee on it," he joked.
He was overwhelmed with emotion.
"This movie has been saluted with such love. It's an honour. And the audience is loving it," Brooks said. "I would love to tell Gene all about this night."