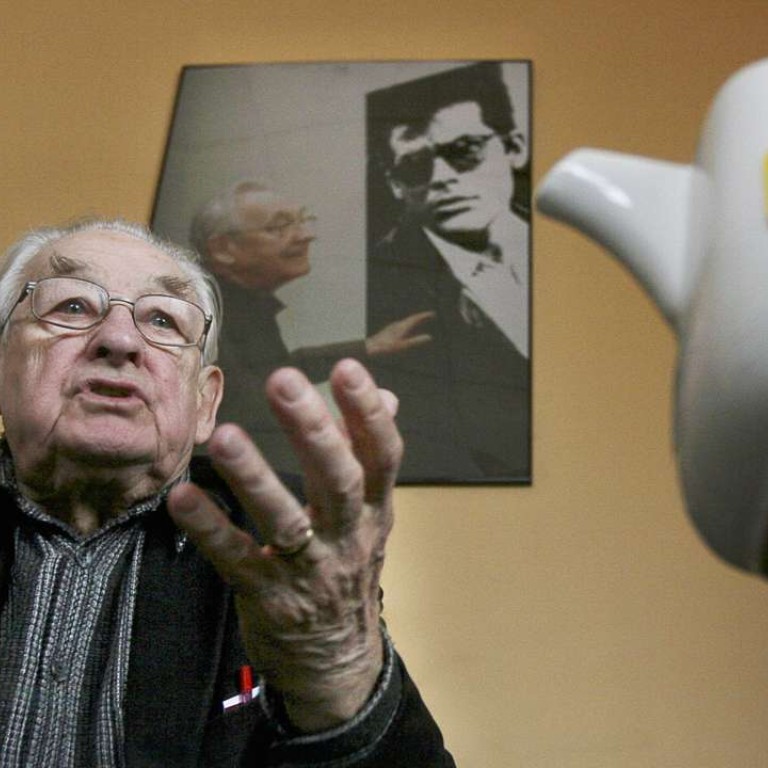 Film world pays tribute to legendary Polish director Andrzej Wajda
Filmmaker who received honorary Oscar has died of lung failure, leaving a legacy of films that tackled Poland's painful wartime experience and the struggle against its communist regime
A legend in the world of cinema, Polish film director Andrzej Wajda has died at the age of 90, leaving behind an opus of acclaimed films inspired by his country's turbulent history.
Polish media broke the news, which was also confirmed by a family friend who did not wish to be named. The source said Wajda had died in hospital of lung failure after being in a medically induced coma for days.
Wajda's first films were marked by the painful experience of the second world war and the Polish resistance against the Nazis, who occupied the country for almost six years.
Krzysztof Piesiewicz, a Polish director and screenwriter, said Wadja, who was awarded an Oscar for lifetime achievement in 2000, brought a political aspect to his films.
"A great artist," said Piesiewicz, "but also one of the founders of Polish freedom, notably through the magnificent painting of our identity."
Film critic Tomasz Raczek said on Twitter: "Polish cinema will be in mourning for a long time."
Born on March 6, 1926 in Suwalki, northeast Poland, he tried to follow in his father's footsteps and become a solder, but was rejected from a military academy in 1939. He later attended Poland's renowned Lodz film school.
Twitter reaction to Wajda's death
His first feature-length film, Pokolenie (A Generation, 1955), a coming-of-age story of young Poles in Nazi-occupied Warsaw, is considered the debut of a "Polish school of cinema" which delves into heroism and romanticism.
In 1957, Wajda won the Jury Special Prize at the Cannes Film Festival in France for Kanal (Canal), his masterpiece on the doomed 1944 Warsaw uprising by Polish partisans against the Nazis.
"That was the beginning of everything," Wajda said in a 2007 interview.
At the 1977 Cannes festival, he screened Czlowiek z marmuru (Man of Marble), a film critical of communist Poland.
It was followed three years later by Czlowiek z zelaza (Man of Iron), focused on the rise of Poland's anti-communist Solidarity trade union. That won the Cannes Palme d'Or in 1981, even as Poland's then-communist regime cracked down on Solidarity and imposed martial law.
"The day of the Palme was a very important day in my life, of course. But I was aware that this prize wasn't just for me. It was also a prize for the Solidarity union," Wajda once said.
The 1981 Palme d'Or saved Wajda from internment by the communist regime during its martial law crackdown, an episode which saw many of Wajda's friends and acquaintances imprisoned – including the Solidarity leader Lech Walesa.
Wajda's opposition to the regime drove him to make films abroad, including Danton (1983) in France, starring that country's famed actor Gerard Depardieu. Eine Liebe in Deutschland (A Love in Germany, 1986) followed in Germany. Wajda's rendering of Dostoyevsky's The Possessed (1998) was also filmed in France.
After the collapse of communism in Poland in 1989, Wajda returned to his country's wartime history, focusing on stories suppressed by the communists. Korczak (1990) details the fate of Janusz Korczak, a pre-war Polish-Jewish children's author and physician who died in the Holocaust.
Another film, Katyn, nominated for an Oscar in 2008, tells the tragic story of Wajda's own father during the second world war. Jakub Wajda was one of 22,500 Polish officers massacred by the Soviets in 1940 in the Katyn forest. A captain of an army infantry regiment, he was shot in the back of the head by the Soviets' dreaded NKVD secret police.
Wajda continued working into his latter years, premiering his most recent film, Powidoki (Afterimage), in September at the Toronto Film Festival. Set in Stalinist-era Poland, it focuses on the struggles of avant-garde artist Wladyslaw Strzeminski and will be Warsaw's Oscar entry for best foreign film this year.