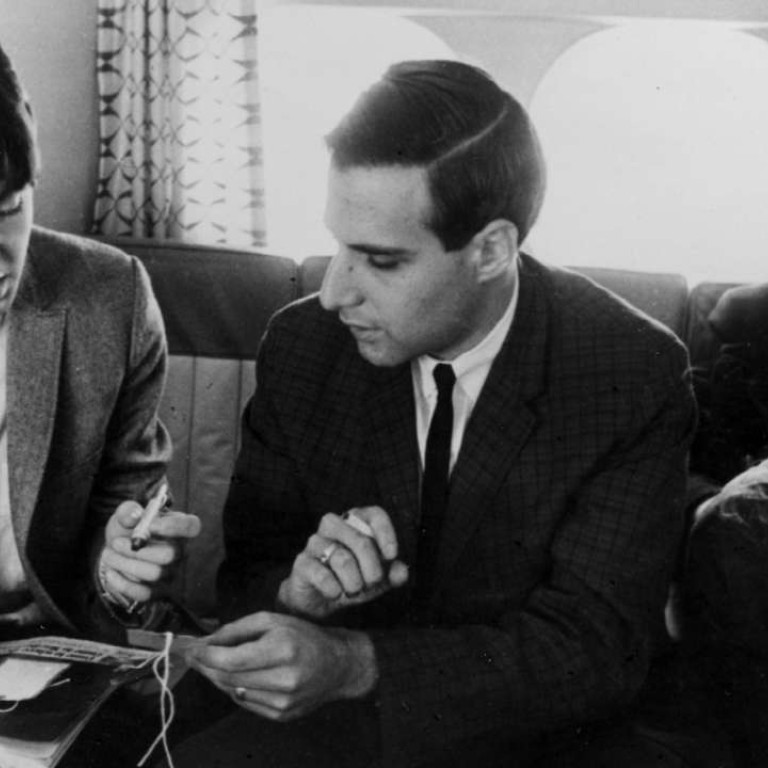 Ron Howard's Beatles film gave me chills, says journalist featured following Fab Four around US
Larry Kane travelled with the band in 1964 and 1965 as a 21-year-old reporter for a local music station and is featured heavily in The Beatles: Eight Days a Week – The Touring Years
Veteran US journalist and author Larry Kane recalls his memories of The Beatles' US tours in 1964 and 1965. "The screams. I'll never forget them, or the amazing chemistry and outpouring of love and emotion from the fans. It was electric – a cultural phenomenon."
Kane, 73, is describing Beatlemania, the term coined in the sixties for the frenzied behaviour of fans of the four mop-topped boys from Liverpool (John Lennon, Paul McCartney, Ringo Starr and George Harrison) who rewrote the pop paradigm.
Kane knows all about Beatlemania. He travelled with The Beatles on their 1964 and 1965 US tours. Then a "very uncool" 21-year-old journalist at a music station in Miami, Kane says he was initially reluctant to join the madness.
"Why would I follow around a band from Britain when there were more important things to cover. There were Cuban refugees in Miami, an escalating war in Vietnam and a racial revolution in America," he recalls.
But on advice from his mother – "she was very smart and told me this band is going to be big" – Kane signed up, a decision leading to one of the most exciting rides of his life, a big call considering his career highs include covering wars in the Middle East and the 1980 eruption of Mount St Helens.
Now fans of The Beatles can take a peek into the tours in a new documentary,
The Beatles: Eight Days a Week – The Touring Years
.
Directed by Ron Howard (
A Beautiful Mind
,
Apollo 13
) the film tracks the group from their early days playing small clubs in Liverpool and Hamburg to their world tours in packed stadiums from New York to Melbourne and Tokyo. Drawing from more than 100 hours of rare and unseen footage collected from fans, news outlets and archives, as well as The Beatles' private collection, the film follows the band's four years on the road, a time that made them and broke them.
It also features Kane – although a little too much if you ask him.
"When I watched the film it gave me chills," says Kane, his voice dropping a few decibels. "I was blown away, transported back to 1964. Ron Howard did an amazing job capturing the time and a place, although I was shocked by the large amount of screen time I received. When I saw Ringo at the premiere he joked that he was proud to co-star in a film about me," he says, chuckling.
It's the sort of anecdote you'd expect from Kane, who formed a close bond with the Fab Four despite a rocky start with Lennon. "When we first met, he said 'so what planet are you from?' referring to my suit and shoes. I was a bit of a nerd, so conservative compared to these boys.
"When I saw them smoking marijuana in the Bahamas in '65 while filming Help! I was shocked."
But it was Kane's sombre side that he believes appealed to The Beatles.
"A lot of journalists were asking them silly questions, you know like what do you have for breakfast and who cuts your hair, but I think they wanted me on tour because I asked serious questions and took their views seriously."
And the film captures their cheeky and serious side.
When Kane lost his mother to multiple sclerosis (MS) aged just 40, he said he received much support from Lennon and McCartney,who had both lost their mothers at a young age. "Lennon even came to visit me in the US in 1975 to support an MS charity fundraiser."
There are many goose bump moments in the film, none more so than when the band talks about race relations in the US. The group took a strong stand on racial segregation when it toured the US South in 1964, and their refusal to play segregated venues forced the Gator Bowl in Jacksonville, Florida, to change its policy of segregated seating.
The Beatles tours were not without controversy. The biggest was after Lennon's comment that the Beatles were "more popular than Jesus" during the group's US tour in 1966. Fears for the band's safety were fuelled by acts such as the Ku Klux Klan nailing a Beatles album to a wooden cross, and conservative groups staging public burnings of Beatles records and memorabilia. And there was a lot to burn. During The Beatles first nine-day visit to the US in 1964, Americans bought more than two million Beatles records and shelled out more than US$2.5 million on Beatles-related goods, including hats, T-shirts and pyjamas. You could even buy Beatles cookies.
But as the shows went on it became obvious that they were taking their toll. It was Starr who coined the phrase "eight days a week" to describe the crazy schedule. Lennon says the four were forced to grow up: "Force grown like rhubarb."
But for the most part, the film is a fun ride, showing the camaraderie between band members, none better than when they recorded in Abbey Road Studios in London.
It shows how they shaped the zeitgeist, influencing a generation with their floppy hair, sharp suits and timeless tunes. The film's most frantic scenes show Beatlemania in full swing – girls screaming, crying and fainting in the stands. Some are handed tissues by bewildered police officers while others are carried out of the stadium, while the men in blue thwart fans' desperate attempts to storm the stage.
The best footage of this was from Shea Stadium in New York where a crowd of more than 55,000 took in the group's 1965 tour. Starr says it was so noisy that he could not hear the music and only knew the beat by following the movement of the bums and guitars of the band members in front of him.
"Those screaming girls, you could see the passion and hysteria in their eyes – each one thought the band was playing that song for them," recalls Kane. "I went to high school in the 1950s and back then there was no way you could show this sort of expression."
One famous face captured in the historical crowd footage is that of Sigourney Weaver. The Alien actress is interviewed for the documentary and recalls how as a 14-year-old she saw The Beatles at the Hollywood Bowl. Other celebrities who share their Beatles stories include Elvis Costello, Richard Curtis, Eddie Izzard and Malcolm Gladwell. None, however, is more poignant than Whoopi Goldberg, whose mother took her on a "mystery tour" that finished at the Shea Stadium gig.
The enduring message of the film is that The Beatles' love of music and experimentation (especially during the making of Sgt Pepper's Lonely Hearts Club Band) is what makes them appeals to all generations.
"Maybe one day, somewhere in outer space, there might be an event such as The Beatles tours," says Kane. "But for now this film is showing what happened back then, that cultural phenomenon, and it's being shown to a new generation. And that's a good thing."


The Beatles: Eight Days a Week – The Touring Years opens on Thursday, October 13
This article appeared in the South China Morning Post print edition as: MAgical history tour