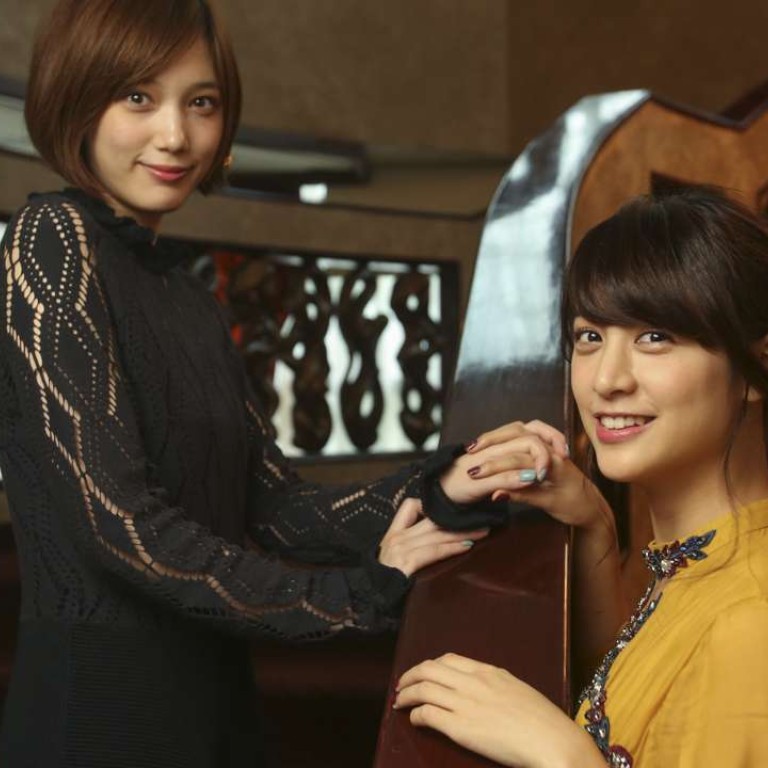 Actresses play against type in macabre Japanese coming-of-age drama
Tsubasa Honda and Mizuki Yamamoto, both former models, are hesitant about the extent to which dark storyline of their new film, Night's Tightrope, reflects realities of Japanese society
Night's Tightrope is not your usual Japanese coming-of-age drama – nor are its stars your usual actresses. Rather than talk up the morally dubious and intermittently grisly film's portrayal of humanity's dark side, in a story about two high-school best friends fascinated with the notion of witnessing the moment a person dies, they flatly downplay it.
"Our characters' urge to see death for themselves probably just stems from the curiosity inherent in all 17-year-old girls," says Tsubasa Honda ( Blue Spring Ride ), 24, as her 25-year-old co-star Mizuki Yamamoto ( Sadako vs Kayako ) nods in agreement. "It could be death that they are eager to see, but it could just as well be something else altogether that they're fascinated with."
Then again, it is perhaps not so surprising that two young model-actresses who value their pristine image are uncomfortable discussing the murderous deceit and cold-blooded revenge that mark the writing of Kanae Minato, from one of whose novels, Girls, the film is adapted. The story involves domestic abuse, compensated dating, gruesome suicides and a violent stabbing by a small child.
A crime-fiction writer, Minato is renowned for her twisted mysteries, which have been turned into such notable films as Tetsuya Nakashima's Confessions (2010), Kiyoshi Kurosawa's Penance (2012) and Yoshihiro Nakamura's The Snow White Murder Case (2014).
"I believe her stories do reflect the state of Japanese society," says Yamamoto. "But ... I also think they have been exaggerated for dramatic effect."
Such is the twisted joy of these Minato adaptations that they have often featured gorgeous actresses with wholesome auras playing characters who explore the ugliest corners of human nature.
While Confessions featured sweet and gentle singer-actress Takako Matsu playing a mother hell-bent on deadly revenge, Penance saw four popular actresses (Yu Aoi, Eiko Koike, Sakura Ando and Chizuru Ikewaki) play women who were psychologically damaged by the murder of an elementary-school mate 15 years ago.
In Night's Tightrope (premiered last week at the Hong Kong Asian Film Festival), Honda plays the 17-year-old Yuki, an aspiring writer who deeply resents her abusive grandmother at home and a devious teacher – he steals Yuki's manuscript and boasts about the literary prize he wins with it – at school.
Yamamoto's character, Atsuko, is barely more fortunate: as a target of schoolyard bullying, the former kendo champion becomes such a withdrawn shadow of herself that she continues to fake a limp long after her leg injury has healed.
In real life, Honda was too preoccupied with school, her part-time jobs (at a café and a sushi shop) and a fledgling career in modelling to feel downhearted when she was 17. Yamamoto, on the other hand, was just another student who didn't bother to take up odd jobs. Both graduated from fashion modelling to acting in TV dramas and feature films – of which Night's Tightrope is easily the most macabre either has been involved with.
Of Minato's novels, Honda has only read Confessions – the author's best known work – while Yamamoto has read a few more titles, including some that haven't been adapted into films. Both are vague when offering their thoughts about Night's Tightrope.
Honda says: "The film is a considerably abbreviated version of the novel, and the novel is more of a mystery than the film. I found it a very exciting read." Yamamoto adds: "When the readers dig into the novel, they have to imagine the scenes in their own mind. That's very different from the film, where everything is shown in front of you. It takes imagination to read the novel, and I feel great excitement whenever I picture the story in my head."
The character Yamamoto plays in Night's Tightrope is a victim of vicious bullying, but she demurs when I suggest this is common in Japan. "I don't think it's that common," she says. "When I was studying in an all-girls high school, I didn't notice it – at least I didn't see it happen to the people around me. But I know that our director, [Yukiko] Mishima [who is a woman and who also wrote the script], researched the subject and talked to female students about how bullying occurs."
Honda adds: "I also didn't see such bullying around me when I was in high school. I think it may simply be that Yamamoto and I were lucky. But it wouldn't surprise me that schoolyard bullying exists."
The film's adult characters are portrayed more as predators than protectors of young people, so could Night's Tightrope be seen as an indictment of the lack of trust between teenagers and their elders? Again, Honda and Yamamoto offer diplomatic answers.
"One of the messages of the film is certainly the distrust between young people and grown-ups," says Honda. "We don't know for sure how common teenage prostitution is, for example, but it does reveal the conflict between different generations. Our characters are 17 in the film, and that's always been regarded as a rebellious age. It's normal that conflicts happen between younger and older people."
Yamamoto says: "Since the teacher in the film steals his student's novel manuscript, I think another message in Night's Tightrope could be that people without talent are sometimes jealous of their more talented peers. In this case, even an adult can be tempted to bully the kids."
In the case of Night's Tightrope and other Minato adaptations, it's encouraging to see pop culture helping Japanese society address its murkier undercurrents. Then again, as Penance director Kurosawa remarked to me several years ago of the immense popularity of Confessions – an utterly amoral film that ended up being Japan's best foreign-language Oscar entry for 2011 – "the fact that so many Japanese viewers turned out to enjoy a film about the depressing state of Japan is, in a way, depressing in itself".
Night's Tightrope opens on October 20
Want more articles like this? Follow SCMP Film on Facebook
This article appeared in the South China Morning Post print edition as: Gruesome twosome