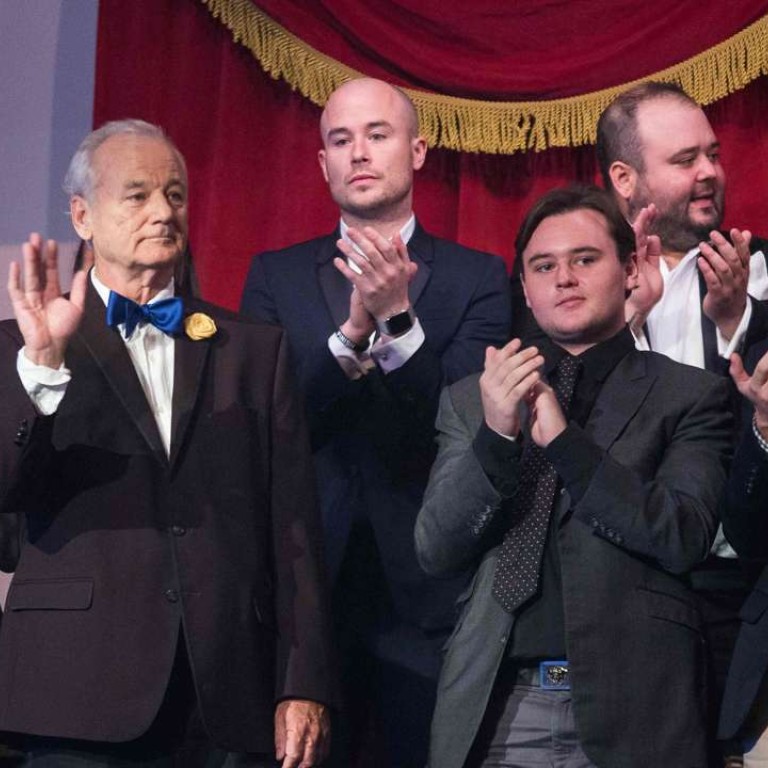 Bill Murray's friends share tales before his Mark Twain Prize ceremony
Comedian actor receives lifetime achievement award from his peers in Washington ceremony
The programme honouring comedian and actor Bill Murray at Washington's Kennedy Centre had been scripted and rehearsed, the jokes and applause lines planned out just so.
But before the curtain rose on Sunday night's ceremony for the Mark Twain Prize for American Humour, there was the red carpet, where Murray's assembled friends (mostly A-list and famously funny) could get loose in front of the cameras.
This involved telling Bill Murray Stories – and it seems everyone who knows the eccentric, elusive star (and a few strangers who happened to be in the right place at the right time) has one of these tales of random acts of Bill Murray-ness.
There was the time he suddenly showed up at a birthday party for his Ghostbusters director Ivan Reitman with a tiny accordion as a gift. "He found out that I had taken lessons as a kid," Reitman says, adding that Murray had inscribed the instrument with something the man he bought it from had told him: "This was once owned by a really nice person."
"It was touching," Reitman says.
Jimmy Kimmel remembered Murray's obsession with making sure he and his friends stay hydrated during long nights out. "For every round of drinks, he would order a round of water," the late-night host says. On one of those nights, when Kimmel and his wife got into their car at about 3am to head home, they heard a knock on the window. His wife opened it, and it was Murray. "He had like four bottles of water, flat and sparkling, and he threw them in the window and ran off."
Saturday Night Live alum Bill Hader didn't have a story, exactly, just a sweet recollection of meeting Murray at a bar, where the veteran comedian offered him advice ("relax and have fun and don't take things too seriously"). Asked what Murray and his memorable Saturday Night Live nightlife-guru character Stefon would do if they hung out for a day, Hader imagines the ultimate adventure: "They would set something on fire, and Bill Murray would end up dead."
The famous folks who know Murray give the sense that he's a blast to be with. Actress Sigourney Weaver confirmed this hunch. "He's such a pro, but he always feels like he's having fun," she said. "If he's not having fun, he's not going to be doing it."
"It" being anything from a movie to a ceremony at the Kennedy Centre, apparently, as Murray had said that he considered ignoring the Kennedy Centre's message informing him of the prize.
And then Murray himself turned up, and before strolling up to the assembled journalists, he stopped to talk to fans who had positioned themselves in the Kennedy Centre lobby hoping for a glimpse. Only then did he make his way down the gauntlet of press, taking time to chat with anyone with a question. So much for elusive.
We finally got a moment with him, and he recapped the highlights of his time in Washington: a glimpse from the Blue Room of the White House out to the Washington Monument ("It actually gives you goosebumps – your heart leaps when you see that representation of the American ideal") and spending time with Supreme Court Justice Sonya Sotomayor (a slightly less strange pairing than Stefon).
Murray confessed that he didn't have a speech prepared for the show, so there would be nothing in those teleprompters, a detail that added a bit of anything-can-happen frisson to the otherwise choreographed proceedings.
But then he offered a titbit that might be the blockbuster of the night. Murray is known for being nearly impossible to contact – he has no publicist, no assistant, just an 800 number that he might or might not answer. But getting the jackpot Murray Callback might be easier than you think. Asked what makes him return a message, his answer surprised. "If they have good manners, that's probably the number one determinative," he says. "If they are calm and relaxed . . . and they're not pushy and intense."
In other words, just be cool.
And though Murray was the evening's reluctant honoree, he was refreshingly humble.
"I'm dreading the niceties, but the people that are going to speak are funny – they're pretty talented and they're not going to disappoint," he said. "The audience is going to be thrilled – I don't think it matters that I'm there."
Murray accepted a bust of Mark Twain for his lifetime achievement in comedy – and immediately handed it to the audience to be passed around.
In his acceptance speech, he thanked his older brother, Brian Doyle-Murray, who was among the many performers in attendance, for helping him get his start in improvisational theatre, saying: "My brother had more guts than anyone I ever knew. He's been waiting a long time to hear that."
Additional reporting by Associated Press