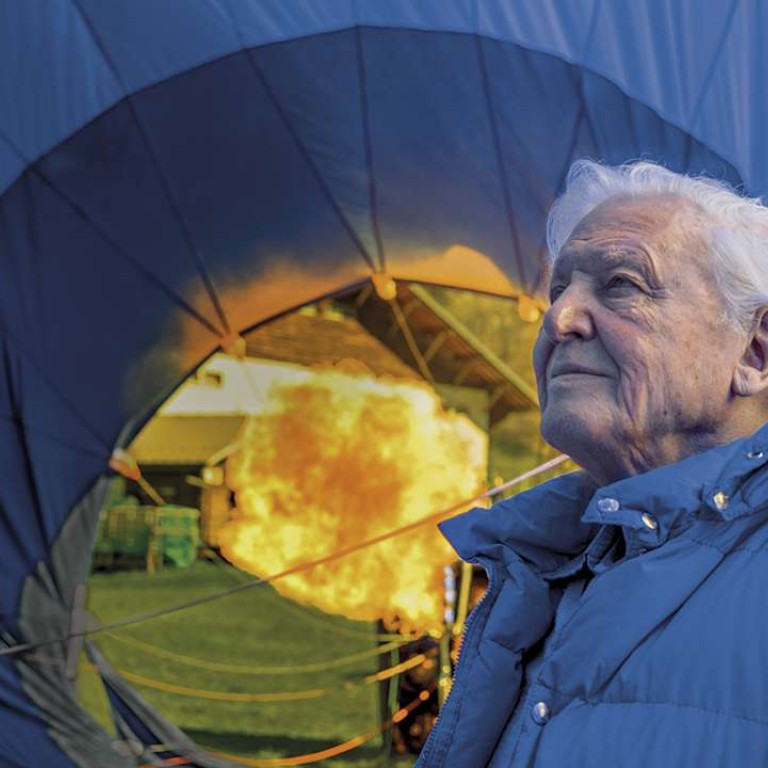 Why Hong Kong features in David Attenborough's new Planet Earth II series
Impact of city's light pollution on wildlife features in wide-ranging follow-up to landmark 2006 series that veteran presenter says is his way of getting people to care about how climate change threatens nature
David Attenborough sinks into a garish orange armchair in a central London hotel alongside his boss, Mike Gunton, the BBC's creative director of factual television. As the broadcaster refuels in the middle of a long day of promotion – wolfing down a bar of Dairy Milk chocolate – Gunton recounts a pivotal meeting.
He recalls the head of the organisation's Natural History Unit explaining that their 61-year-old star had just finished his second landmark series; he would do one more, and then he would retire. "Now who is going to replace Sir David Attenborough?" the executive announced. Gunton was charged with finding his successor.
That was 1987, and he is still searching. Meanwhile, the plainly irreplaceable television titan, now 90, is still at it.
Planet Earth II, the follow-up to the series that redefined natural history filmmaking exactly a decade ago, is punctuated throughout by the honeyed tones of the world's favourite teacher.
Using state-of-the-art drones, remote camera traps and 4K technology across 40 countries and three years of filming, the six episodes get us dizzyingly close to the world's most engaging creatures.
The filmmakers are also documenting an entirely new habitat – alongside islands, deserts and grasslands, for the first time in a landmark wildlife series, they are venturing into the city. And a certain metropolis takes a starring role.
"Hong Kong has an extraordinary skyline, it is extremely picturesque, and it is also known for its streets that are packed full of bright flashing signs," says producer Dr Fredi Devas.
"We were looking for a spectacular location to show just how much light at night can be produced in a city. Some animals benefit, but for most it can create confusion and have devastating consequences."
I have been given a preview of the first episode, "Islands", and if the whole series is anything like it, you are in for a treat. A truly cinematic delight, it has it all – including tragedy and comedy at every turn, and animal characters that will be swiftly seared into the public consciousness.
There is blood and gore with Antarctica's chinstrap penguins, the world's biggest colony of the birds. There is an exquisite moment of rom-com in the form of a pygmy three-toed sloth furiously (for a sloth) swimming to track down his prospective girlfriend. And there is suspense in spades, as newborn marine iguanas make a frantic dash to escape the clutches of racer snakes on the beaches of a Galápagos island.
Attenborough's most beloved creature, though, is strangely absent from the series.
"If I'm asked seriously what my favourite animal is, I say there's one thing that makes me eternally fascinated, that's inclined to actually bring me to tears out of this fascination," he says. "It's a human child of the age of about three and half.
"The speed at which it develops, the skills which it develops, the way it can manipulate you. That is the most remarkable organism on earth."
His great passion, of course, is conservation. Asked about the international ivory trade by a concerned South African journalist at the series' global launch, Attenborough immediately turns his attention to China. He praised the (non-binding) agreement by the Convention on the International Trade in Endangered Species to close legal ivory markets across the globe, but adds: "I'm hoping that China, which is the very big user of ivory, will take note of this and do something about it."
Although Planet Earth II is heavy on the entertainment and light on the campaigning, Attenborough insists that climate change is constantly lurking beneath the surface.
"If the only natural history programmes you ever made started off by saying, 'I'm going to show you something wonderful and now I'm going to show you why you are ruining it', you will lose your audience," he insists.
"They're not going to love something if they don't know anything about it. So this is part of the deal, subtly, about tackling climate change – that people should actually know how wonderful the world is. That is the very first step."
There is, however, precious little sign of a world ready to unite to address the threat. Indeed, US presidential hopeful Donald Trump has described climate change as a hoax "created by and for the Chinese".
US President Barack Obama, meanwhile, is such a huge fan of Attenborough's that last year he invited him to the White House so he could interview the presenter for a BBC documentary. Would he look forward to the prospect of doing a similar programme with a President Trump?, I ask, tongue slightly in cheek.
Gunton erupts into giggles. "I've been in a lot of these interviews – that's the best question," he says between guffaws. "That's a cracker! I love that one." Attenborough – a BBC lifer, impartial to his core – is impassive, his face not betraying the slightest flicker of emotion. He then lets out a whisper: a gruff, half-defeated "No". I don't have the heart to push him for a reason.
Ask him about him and he can be equally reticent – falling over himself to tell you about his insignificance. What is the biggest misconception the public has about you? "That I know anything," he shoots back.
He insists he suffers from what sounds very much like "Imposter Syndrome" – feeling like he is going to be caught out at any minute as inadequate and a fraud. Surely not?
"Oh yes, I do, certainly I do. I mean I'm astonishingly ignorant." The claim is ever so slightly undermined by his exposition, just minutes earlier, on the merits of the "Anthropocene" as a new geological epoch, before going on to expound upon Charles Darwin's books on human emotion and the fertilisation of orchids.
Watching the preview, it occurs to me that an Attenborough series is one of the rare occasions when we embrace sex and violence on prime-time BBC.
His eyes widen and he dramatically pushes his chair back. "I've never had any problems at all about copulation," he contends gleefully. "Not at all. Indeed, even ape copulation."
He is slightly more circumspect on the blood, admitting it is a subject that sparks a mass of letters. "I feel like replying, 'Madam...' – because it's very often a lady – 'If you saw how much we had cut out from reality, you'd thank us.' But we are not telling fairy stories. And if you pretend that it doesn't hurt, you are telling a lie about the natural world."
Any nonagenarian surely spends a significant amount of time pondering their mortality. Has a lifetime spent studying Mother Nature given Attenborough an equally clear-eyed – and healthy – attitude towards death?
"If you're a biologist, you think about these things all the time," he says. "I can absolutely tell you that once you get into your 80s and starting off into your 90s, of course, you know that your time is limited so you think of death quite a lot," he muses. "I will say I think about death every day of the week."
Attenborough – as he is at pains to point out – "only" provided the words for the new television series.
But his shadow looms large. "Although he isn't with us in the field, he is kind of with us, because the genre, the style, was almost invented by David," says Gunton.
Hans Zimmer, who has produced the Planet Earth II score – which is worthy of a Hollywood epic – also admits to being led by the spirit of Attenborough, and his golden vocal cords.
"When I look at nature, I hear David's voice," the Oscar-winning composer of
Gladiator
,
Inception
and
The Lion King
says. "And I think lots of us do because he has led us through finding our place on this world for such a long time that it's very hard to look at nature and not think of David's voice instantly."
It is all the more remarkable when you consider that Attenborough almost didn't make it to the screen at all. A memorandum written by his first BBC boss in the early 1950s declared: "David Attenborough is intelligent and promising and may well be producer material, but he is not to be used again as an interviewer. His teeth are too big."
Nevertheless, Gunton is convinced that his colleague would have been just as successful if he were to have entered the industry in today's image-obsessed times.
"The one thing that we've never been able to find is the combination: someone who can appear on screen but who also can narrate in a way that sounds utterly authentic."
Gunton turns to Attenborough: "And that's why even in today's world, if you rumbled up and did a piece to camera and then did that narration, we'd say" – he clicks his fingers – "'We'll have him.' You're not of that time; you're of this time."
No matter how long in the tooth he is. Or how big they are.
Planet Earth II starts on BBC Earth on November 14