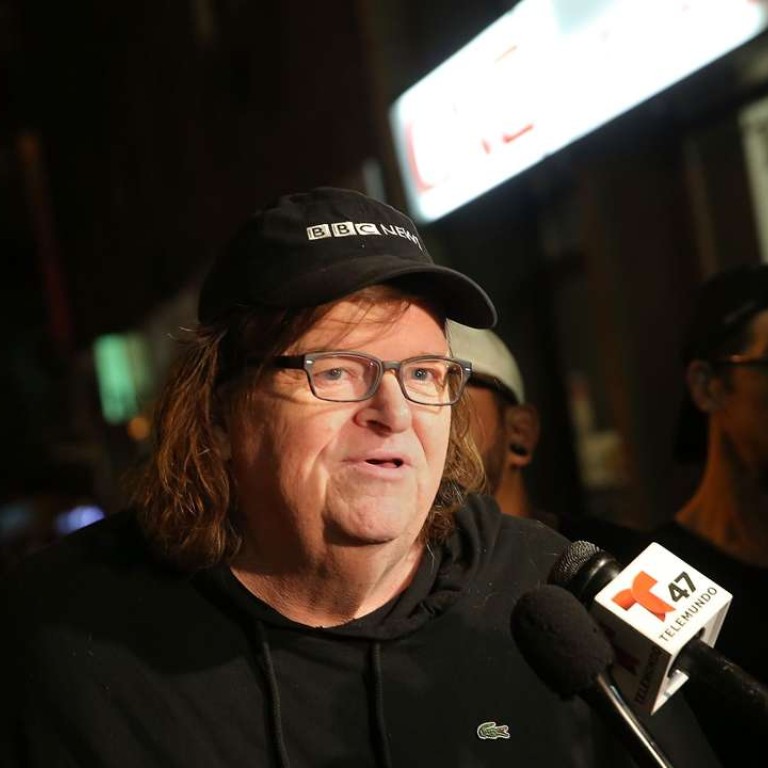 Michael Moore: 'How could I top Trump taking himself down?'
As filmmaker's pro-Clinton documentary goes on wider release across the US, Moore explains why Michael Moore in TrumpLand is not more of a takedown of the Republican US presidential candidate
It's been a bit more than a week since Michael Moore surprise-released his latest, Michael Moore in TrumpLand, and the pro-Hillary Clinton film seems to be having its desired effect.
Judging by responses at screenings and on social media, "a lot of young people, a lot of Bernie [Sanders] supporters, feel better about voting for her," Moore says. "And not just reluctantly, but actually getting out there and doing the work in the next couple weeks."
TrumpLand (available on iTunes; now showing in New York and Los Angeles, and expanding to 51 cities in the US on Friday) was taped over two nights in Wilmington, in the US state of Ohio, earlier this month. Over the course of a roughly hour-long stand-up set, the divisive director unpacks his complicated feelings about the Democratic candidate, but ultimately encourages audience members to rally around her.
We recently caught up with Moore to talk about the new film:
Based on reviews and reactions on Twitter, many people had expected this film to be more of a Donald Trump takedown. Did you ever consider that approach?
I was never interested in making a film taking down Trump, because how could I top Trump taking himself down? What more needs to be said? He's already revealed everything. On some level, he's the most honest candidate we've ever had. There's complete transparency about his misogyny, his racism, his narcissism. Plus, as a filmmaker, I'm not interested in shooting fish in a barrel. What's the challenge there? How do you write satire about a guy who is self-satire? No, I was motivated by listening to Hillary people popping the corks on the champagne bottles way too early and being very concerned about that.
Your respect and admiration for Hillary comes through in the movie, although you initially endorsed Bernie Sanders. When did you come around on her as a candidate?
I haven't come around on her. I have the same respect and admiration for her that I've had since I wrote that chapter ("My Forbidden Love for Hillary") in my [1996 book Downsize This!]. I've always spoken well of her in that regard. I don't think she is a dishonest person; I don't think she's a bad person. In fact, I think just the opposite. She has a lot of decency and love and humanity in her. I've always felt that way.
I have not voted for her because of my political disagreements with her. She voted for the war in Iraq. She's too close to Wall Street. She was against gay marriage until recently. You go down the list of issues and we don't line up very well. So I voted for Obama in the primaries in '08 and I voted for Bernie this year. I still feel the same way about her on some of these political issues, and that's why I think I and other Bernie voters, after we vote for her, need to remain politically active to make sure she does the things she says she's going to do. She's adopted many of [Sanders'] platforms and we need to support her in that.
What are some of your biggest hopes for Clinton, if she is elected?
I hope that she is committed to not getting us into any wars. That's a big hope right there, because she is a bit of a hawk. Certainly more of a hawk than Obama is. You look at that famous photo in the Situation Room, where they're monitoring the killing of [Osama] bin Laden. Obama's got his zip-up jacket, kind of sitting off there almost in the corner. She's looking up at the monitors, ready to go for the kill. I think she might like that a little bit too much, and I and others want to encourage her to do what she knows is the right thing to do and keep us out of war.
Have you heard from either camp about the movie yet?
Nothing from the Clinton camp. I don't expect to hear anything and I don't want to hear anything. Obviously, this is a movie that they can't be anywhere near nor can they endorse, where the main character in the film is [jokingly] congratulating her for killing Vince Foster.