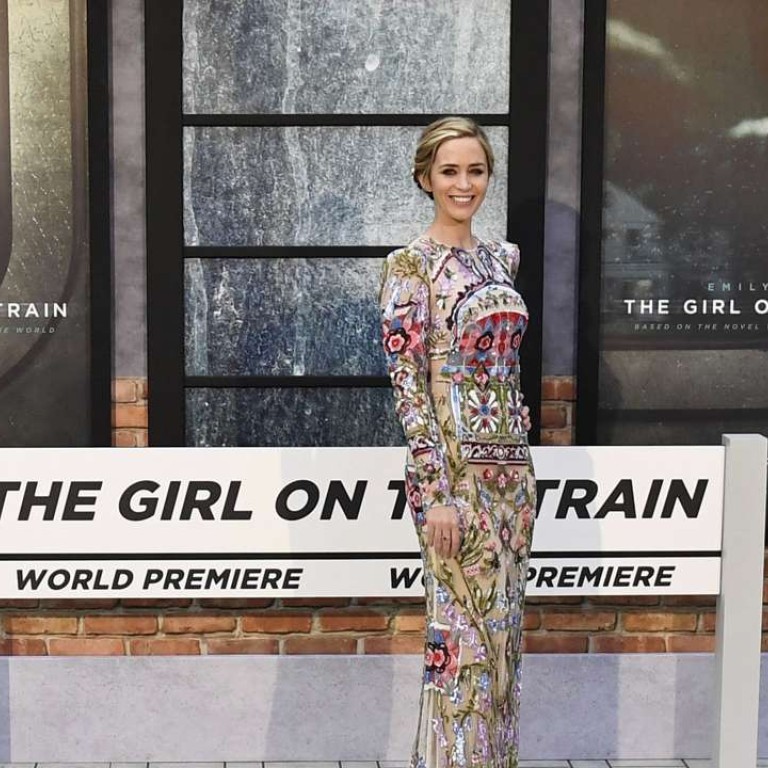 Darker than book it's based on, The Girl on the Train film adds a twist
Emily Blunt, who stars in thriller, says it is brutal viewing that will shock those who have read the book, and will have women applauding in the cinema
It's a thriller, a whodunit, a story of loneliness, alcoholism and voyeurism. But The Girl on the Train, the film version of the bestselling novel, is also a tale of female empowerment, the filmmakers say.
After selling 15 million copies worldwide since its 2015 release, Paula Hawkins' story of murder, betrayal and emotional abuse gets a dark twist in the film, whichi opens on November 10 in Hong Kong.
Emily Blunt plays Rachel Watson, an alcoholic who has lost her job and her marriage and who spies from the train on her cheating ex-husband (Justin Theroux) and his new wife Anna (Rebecca Ferguson). Rachel turns amateur detective when another woman with disturbing secrets, Megan (Haley Bennett), goes missing and turns up dead.
"I feel like this film represents women's right to be bad and flawed and wrong and messed up. I think women around the world are going to applaud that," Blunt says.
"Yes, [the women] are pitted against each other in the beginning, but they do ultimately unite, and they are real," she adds.
All three women are subject to jealousy, controlling behaviour and gaslighting – the term for psychological abuse that makes a victim doubt his or her sanity.
Some previews have had women in the audience cheering at the end as the female characters wreak their revenge.
Director Tate Taylor says he would be glad if the film empowers women. "I didn't intend, on an intellectual level, for it to be a revenge film, but it has struck a nerve."
Taylor, who also directed the female-centric film The Help, attributes his empathy with women to his upbringing.
"I was raised by a single mom. She was pretty much my primary caregiver ... So I had a lot of female energy and I saw a lot of struggle, a lot of determination and a lot of success. I equate women with being survivors because of my mom," he says.
Taylor and Blunt say the film was deliberately darker than the book.
"We agreed that we were really going to reveal the underbelly of domestic life in all its darkness," says Blunt. "It's incredibly brutal to watch at times and unsettling, and I am thrilled that even for lovers of the book, it still shocks."