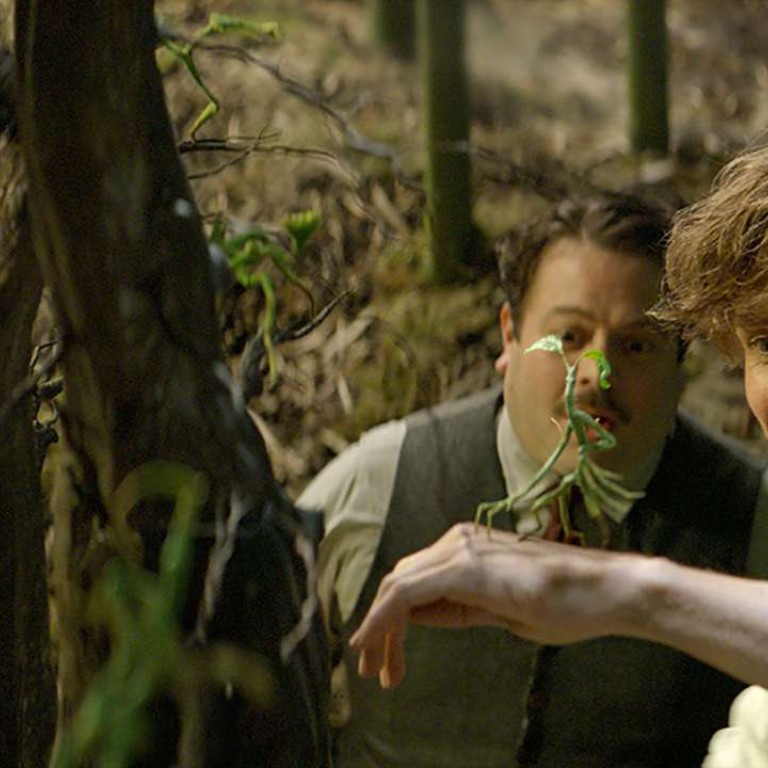 Eddie Redmayne, Colin Farrell enter Harry Potter's world with the Rowling-scripted Fantastic Beasts
Neither a prequel nor spin-off, the new film is the first of five in a series which keeps wizarding alive through a textbook Potter reads at Hogwarts
Fantastic Beasts and Where to Find Them somewhat defies definition: the film is not quite origin story, nor prequel, nor even spin-off, yet is inextricably linked to the billion-dollar Harry Potter franchise.
It has come from the same fertile imagination that created Potter and his universe, and is the first screenplay written by
J.K. Rowling
. The genius of the film, which stars Eddie Redmayne and Colin Farrell, lies in the fact that the author has concocted this second and completely different world based on a textbook by that name that Harry Potter reads in his first year at Hogwarts. The
Fantastic Beasts
series will
consist of five films
.
Redmayne plays Newt Scamander, a 'Magizoologist' who authored Fantastic Beasts, and an expert in odd supernatural creatures. The film takes place about 70 years before Harry Potter goes to Hogwarts, and is set entirely in the US.
The film is helmed by
Potter
veterans, director David Yates and producer David Heyman, who relished the opportunity to even be on the periphery of that world again.
"For all of us, it's hard to leave the wizarding world behind," says Heyman. "We were trying to think of ways to keep it alive." Another producer on the Potter films had an idea to do a faux-documentary about Scamander, and put that notion to Rowling. "She said, 'I've been thinking about this for a quite a while. Of course, what she came up with was immeasurably better. And that's how this started."
The process was aided by the fact that Rowling has, says Heyman, "notebook upon notebook of information about the characters and the world. What you read in the Potter books is just the surface. It's incredible. When you dig deep and ask her about any of it, she's so quick to bring up references and other information."
The story begins with Scamander showing up in New York in the late 1920s, carrying a case holding his odd collection of magical creatures. He soon discovers that the wizarding community around him is hiding from their non-wizarding counterparts (here called the No-Majs, similar to the famed Muggles from the Potter series). He needs to keep his identity secret, as well as the contents of the case (hard to do after some of them escape.)
Along the way, Scamander befriends both No-Majs and other magical types, and encounters Percival Graves (Farrell), an auror who runs the country's magical congress. Like all the
Potter
films, there are surreal special effects, action galore, budding romances and loyalties tested.
For David Yates, who directed four of the Harry Potter films, signing on to do Fantastic was just like coming home. "I stick around because I enjoyed [the Potter films] so much," he says. "They are a lovely bunch of people in front of and behind the camera. There is a real sense of family as you make those films. They were endlessly challenging and stimulating because they are big, complicated things to make."
When Heyman sent him the Fantastic script, Yates was grateful for the opportunity to be in a magical universe again. "It was really charming and beautiful," he says. "It felt fresh and yet very nostalgic. I kind of feel like I'm coming home, but it also feels very different."
Farrell candidly confesses to having read none of the Potter books, although he has seen all the films. The actor was, however, drawn to the powerful Graves whose job "is to keep the lines between the No-Majs and the wizards defined, and make sure there's no crossing over", he says.
"He investigates the dark arts," says Farrell of his character. "He's like a federal agent within this world. It's born of the same imagination that gave life to the Potter series. And although it's set in a different time period, and there are social and environmental differences, there are still references to a world that is familiar to us as cinemagoers."
Both Yates and Heyman say they were surprised by how smoothly Rowling took to doing a screenplay, conceding that not all novelists – even great ones – can cross over into scriptwriting.
"She was a really fast learner," says Yates. "She's prolific in that she learned very quickly, but the great thing is that she has quirks and qualities that a very seasoned, experienced and long-serving screenwriter does not have, because she's J.K. Rowling. Some of those novelistic tendencies we've embraced, they are pure [her]."
"I was so in awe of her – she is so in love with her characters," says Redmayne.
Rowling wrote Scamander, says Redmayne, as a "knotty, slightly spiky" character. "He gets on much better with his creatures than with human beings. There's a slight sense that he's a bit damaged. He goes to be with his creatures because there's a lot of solitude. And through this film, he finds people who are actually outsiders too, and they start making connections."
Fundamentally, says Heyman, that was the crux of this movie, as well as all the
Potter
films: that these are stories revolving around people who seek to connect with others like them.
"The [Harry Potter] books and films are very much about a band of outsiders, people who have been stigmatised in one way or the other," Heyman offers. "They are about community and family. Harry finds his family at Hogwarts. Similarly, Newt has been on his own, and through him, we meet people who are on the outside. And through this journey, he finds a family."
Yates sees a similar parallel between Fantastic Beasts and Harry Potter. "There's a purity about all these characters," says the director. "They are the geeky outsiders in this world. They're not superstars. They are misunderstood and a bit awkward socially. They've all got a burden to carry. One or two of them feel like grown-up kids. But there's no cynicism. They look to the world and believe the best in it."
Fantastic Beasts and Where to Find Them opens on November 17
Want more articles like this? Follow SCMP Film on Facebook
This article appeared in the South China Morning Post print edition as: Next beast thing