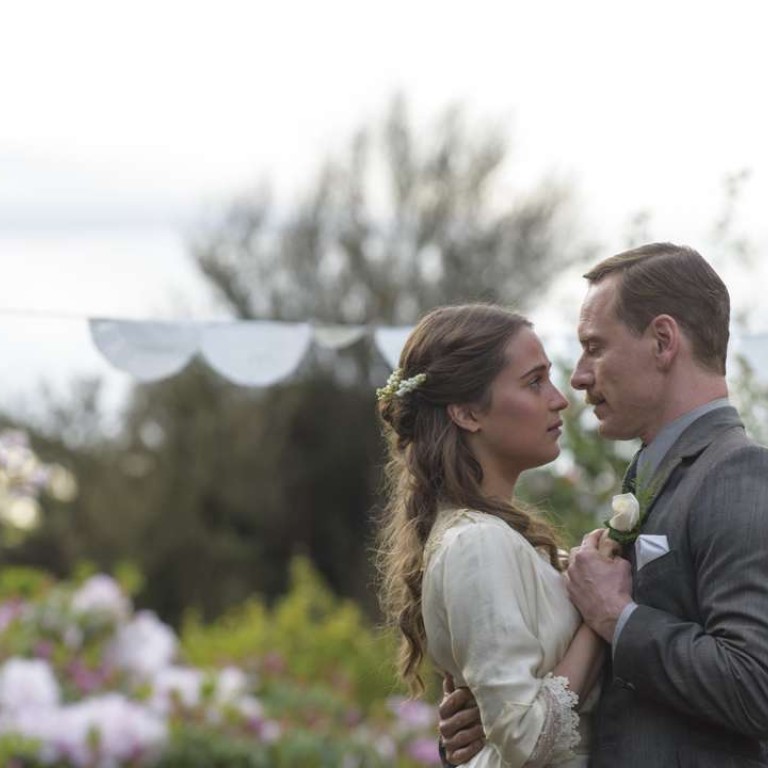 Writer-director Derek Cianfrance pushes his cast 'to a place where acting stops and being begins'
Co-stars Michael Fassbender and Alicia Vikander rise to the challenge in romantic period drama The Light Between Oceans
Full Metal Jacket is not the film that immediately springs to mind when you watch Derek Cianfrance's The Light Between Oceans. Indeed, Stanley Kubrick's intense Vietnam war masterpiece might seem a long way from this sweeping melodrama set in the 1920s on a remote island off the coast of Western Australia.
But Cianfrance, born in the US state of Colorado, admits he feels a kinship with Kubrick's legendary quest for perfection. In particular, he's thinking of the moment Vincent D'Onofrio's grunt blows his brains out during basic training. "D'Onofrio put a squib [fake explosive] on the back of his head, put a shotgun in his mouth and boom," he says. "This went on for like 125 takes until finally D'Onofrio wanted to blow his brains out."
Likewise, the 42 year-old Cianfrance likes to push his actors. "I'm always trying to find a place where acting stops and being begins."
He recalls one critical scene where Michael Fassbender's lighthouse keeper Tom discovers a rowing boat with a dead man. Tom buries the "corpse" – played by actor Leon Ford – in a scene where Fassbender was actually required to dig a makeshift grave. "So 35 minutes later, he's still digging the hole and this poor guy, Leon Ford, who just came to our set, is lying in this canvas bag and all of a sudden he starts getting moved and pulled into a grave."
Fassbender grins at the memory. "Derek is somebody who demands more and more and more. You think you've discovered something and then you go for another 35-minute take."
His screen partner Alicia Vikander, the Oscar-winning actress from The Danish Girl , nods in agreement. "One of the first things that Derek told me: 'I expect my actors to fail and I expect my actors to surprise me'. And that was a challenge."
All of which sounds unusual for a romantic tale between Fassbender's Tom and Vikander's Isabel, who marry shortly after the first world war and retreat to the cottage next to the lighthouse tended by Tom. Based on the 2012 novel by M.L. Stedman, the twist comes after Tom discovers the aforementioned boat. Aside from Leon Ford's corpse, it contains a baby girl. Distraught after two miscarriages, Isabel implores Tom to keep the child, passing her off as their own.
"It's a decision made on emotions," says Cianfrance. "It's a decision you can obviously judge. When I was first reading the book, I was going back and forth, right and wrong. Conflicted. I was reminded of an experience I had on jury duty, where – when the prosecution was speaking – I was absolutely certain the defendant was guilty. Until the defence came up, and started speaking, and then I was certain the guy was innocent."
The film hinges on this moment of madness – one that leads to a chain of catastrophic events. But Fassbender, 39, sympathises with two characters emerging from the shadow of wartime, only to suffer the pain of not one but two miscarriages.
"The fact that they didn't have a chance to talk to somebody [is tragic]," he says. "The decisions that they made, were not made in a healthy way. It's life, though; people do these things, they make decisions but they don't want to hurt anybody."
With
Rachel Weisz
co-starring as the real mother of the child, the film reverberates with pain and sorrow in the wake of Tom and Isabel's foolhardy actions.
"I treasured the fact that it's about real people and about life and about the longing for love, for family, and wanting to have a future," says Vikander. "It's also about loss. I think we all carry a lot of those deep emotions – and have understanding for these characters just through our own life and experiences."
Shot in New Zealand and Australia back in 2014, The Light Between Oceans may well be seen as one of the most significant films of Vikander or Fassbender's careers. Not least because they became a couple for real during the making of it. At the time, the actress was relatively unknown, yet to be seen in films such as Ex Machina , The Man From U.N.C.L.E. or Testament of Youth.
"It was obvious where Alicia was heading," says Fassbender. "When Alicia came [on set], she was so fierce and hungry."
The Swedish-born Vikander, 28, admits it was a turning point for her – one of those moments actresses rarely get. "I knew I had to come in and do my very best," she says. "I was up for the game but I was very nervous."
Meanwhile, after rising to prominence in films such as
Shame
and
Hunger
, Fassbender had just been Oscar-nominated for
12 Years a Slave
(he has since received a second Oscars nod for
Steve Jobs
). "I think he's one of the most brilliant actors out there," Vikander says.
Likewise, Cianfrance was coming off the back of two of the most acclaimed independent films of the past decade: marital breakdown story Blue Valentine and thriller The Place Beyond the Pines .
"I've always tried to write characters that were human and flawed," says the director. "I don't deal with perfection in my movies; I don't deal with game show host teeth. I try to deal with the flaws of humanity. There's a great Andy Warhol line: 'Can you see beauty and ugliness, or is it playing in the dirt?' I'm always trying to find beautiful ugliness or terrible beauty."
That might sound like an easy line to trot out when your stars are as photogenic as his two leads (radiantly shot by Adam Arkapaw, who has since filmed Fassbender in Macbeth and the upcoming Assassin's Creed). But Cianfrance is all about capturing feelings, emotions and humanity in his cinema. "Often in movies, I see pages turning up on the screen," he says, referring to the formulaic way screenplays can be translated. "I like movies that are filled with living moments."
He recalls one particular scene where Isabel shaves Tom's moustache. An idea suggested by Fassbender – Tom doesn't have facial hair in the book – the production initially told Cianfrance that it was against health and safety regulations to give an actor a cutthroat razor.
"We had months and months of conversation about letting Alicia shave his moustache," he says. Thankfully, Fassbender overruled all. "And it's a beautiful take," says Cianfrance. "It's one of my favourite pure moments in the movie."
While both Fassbender (in Assassin's Creed ) and Vikander (in a reboot of Tomb Raider) are now entering the world of video games, Cianfrance is staying in period drama, preparing to shoot Empire of the Summer Moon. The story of Native American Comanche warrior and chief Quanah, "there's an immense scale to that movie", he says.
Perhaps it seems at odds with capturing these "pure moments" of cinema? "I'm not going to resist the machine," he says with a shrug. "It just has to be in service to the movie."
The Light Between Oceans opens on December 1
Want more articles like this? Follow SCMP Film on Facebook
This article appeared in the South China Morning Post print edition as: Imperfect world