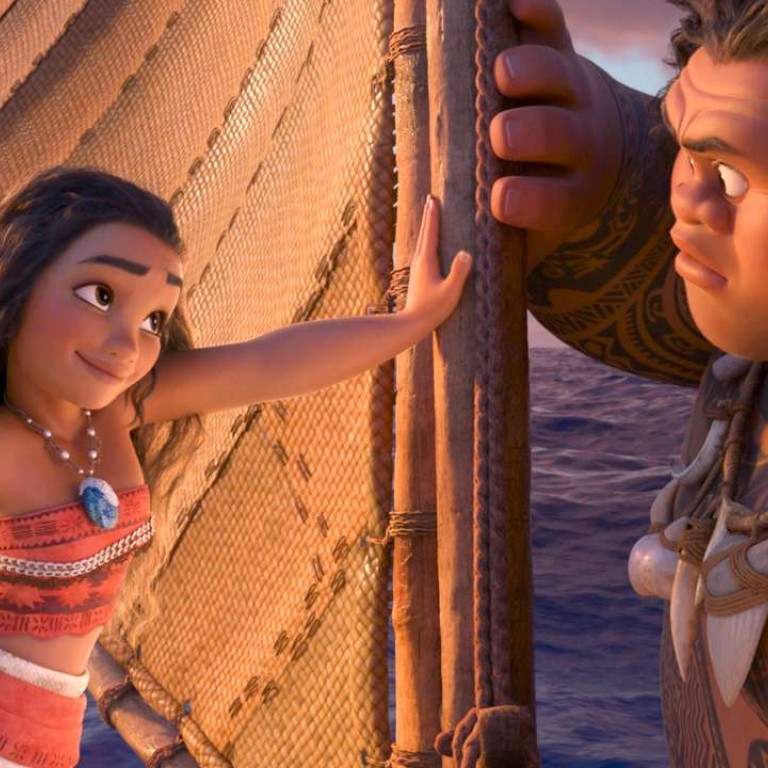 Get happy! Hollywood finds cheerful films offer lucrative sanctuary in troubled times
Uplifting films such as Moana and Trolls are scoring big at the box office while cynical offerings such as Bad Santa 2 flounder, as moviegoers seek refuge from real-world doom and gloom
There's a warm feeling emanating from Hollywood. It's called happiness. And it's racking up wins at the box office.
Dwayne Johnson
led Disney's ebullient
Moana
to a resounding US$81 million Thanksgiving box-office win as the hilarious demigod Maui. Sick of internet trolls? Hug-giving animated
Trolls
are holding strong in their fourth week. Keeping pace are fabulous escapes such as
Fantastic Beasts and Where to Find Them
.
Meanwhile, cynical sequel Bad Santa 2 flopped with a US$9 million opening. The angst-filled Edge of Seventeen, for all its great reviews, is floundering.
Paul Dergarabedian, senior media analyst for comScore, suspects audiences are seeking relief from a turbulent presidential election and its aftermath. The sometimes-struggling 2016 box office made US$900 million between November 4 and 27, up 8 per cent from the same period in 2015 (US$832 million), according to comScore.
"It's difficult to quantify, but there really is something going on here. People are coming to theatres, gravitating to the fantastical and the happy side," says Dergarabedian. "Movie theatres have always provided sanctuary during our hardest periods. The lights go down, you check out of real-world troubles."
Filmmakers are feeling it. Johnson recalls sneaking into pre-release screenings of Moana and watching the audience leave "floating", he says. "And floating is good right now."
"Everything in the news is so scary, so down. The internet is judgmental and negative," says Trolls co-director Mike Mitchell. "I'm happy that people want a film that feels like a party."
This search for movie bliss will continue, says Jeff Bock, senior box-office analyst for Exhibitor Relations.
"People don't want real life, they want true escapism – now more than ever. If you're holding a comedy this winter, you have a big edge," says Bock, who predicts films such as Office Christmas Party and the animated singing-competition comedy Sing will benefit. "Man, Sing is going to make money and have a shelf life."
The happy feeling looks to carry over to awards season. Academy Award voters can have darker years (such as 2008, when No Country for Old Men won best picture) and lighter years (2012, when The Artist won five Oscars, including best picture), says Pete Hammond, awards columnist for the industry site Deadline.com.
Hammond's interactions with Academy voters show a "strong enthusiasm" for the uplifting side – which could negatively impact films such as the "bleak" Manchester by the Sea. But it looks to help inspirational films such as La La Land, featuring Ryan Gosling and Emma Stone singing and dancing.
"People are shifting to the light side and La La Land will benefit, with its look at Hollywood in a lighter time. People are responding the same way they did with The Artist," says Hammond. "After a brutal election, voters want to be transported away from doom and gloom."
Adam Fogelson, chairman of STX Entertainment Motion Picture Group, says these are conversations that studio executives are having about green-lighting future film projects.
"We're all talking about the fact that in tumultuous times, happy, escapist fare – as long as it's quality – is at a premium," says Fogelson, who is developing a Bad Dads sequel to STX's Bad Moms comedy hit, for summer 2017. "That feels like a good idea no matter what time. But the more high-quality, escapist fare we can have, the better."