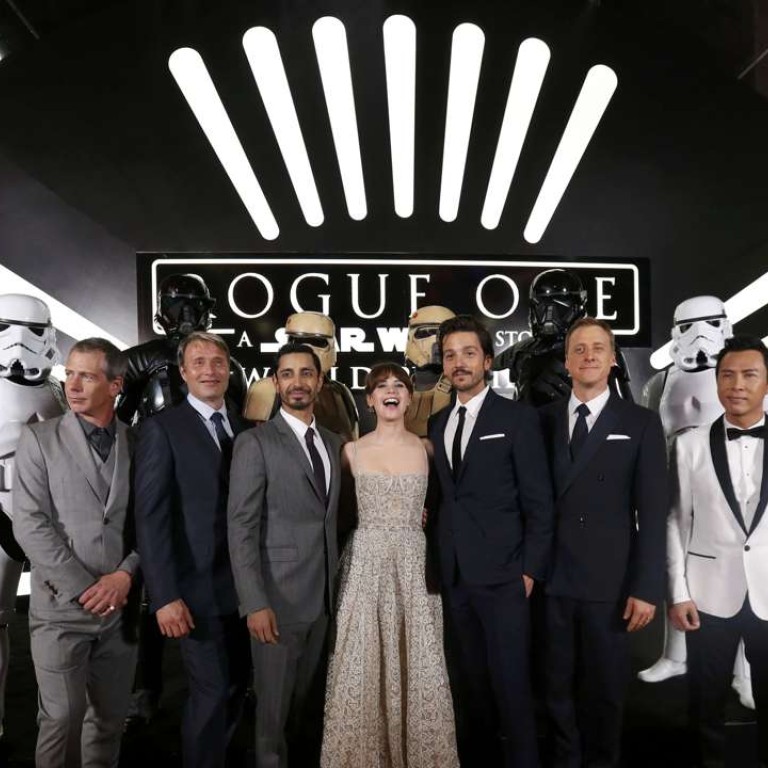 George Lucas says he loves Rogue One. So is his relationship with Disney's Star Wars less awkward now?
Reaction of filmmaker who launched Star Wars is very different to his view a year ago of The Force Awakens, seventh instalment of the the space-opera franchise, which he saw as a 'divorce'
Ahead of each major release, Disney is especially deft at getting the promotional stars to align. And in the case of this week's Rogue One: A Star Wars Story, the studio has even managed to have George Lucas on board.
What a difference a year and a very respectful spin-off make.
In December 2015, Lucas told The Washington Post that he had to let his creative baby go. Lucas, of course, had sired the entire Star Wars franchise. But ahead of the release of The Force Awakens (which Lucas had not yet seen then), it was reported that according to Lucas, "Disney 'decided they didn't like' the stories he'd outlined for the sequels. It became clear to him that his baby was going its own way, and at light speed."
Lucas called it a "divorce", while acknowledging that director J.J. Abrams had his own vision. "You're either the dictator or you're not," said Lucas, adding: "Now I'm faced with this awkward reality, which is fine."
Fast-forward to Rogue One, the first Star Wars spin-off film ever. Upon the impending release of the Gareth Edwards-directed film – the franchise's eighth major live-action release – any awkwardness involving Lucas appears to be in the distant rear view.
Lucas has screened the new film, his representatives confirmed on Thursday. The verdict? "He loved it."
At a press event this month, Edwards shared this enthusiasm.
"We got to show George the movie . . . and I don't want to put words into his mouth, but I can honestly say that I can die happy now," said Edwards, according to Screen Rant. "He really liked the movie. It meant a lot."
"It was the most important review to me . . . ," Edwards added. "He's kind of God. . . . I will take that conversation to my grave. His opinion means the world to me."
So it seems Lucas has had time to adjust to the creative "divorce", as well as accept a film that doesn't play at length with his main characters. Lucas should also be able to take comfort in the fact that the new film's story was co-written by John Knoll, the executive who joined his studio Industrial Light & Magic 30 years ago, also working with Lucas on Willow.