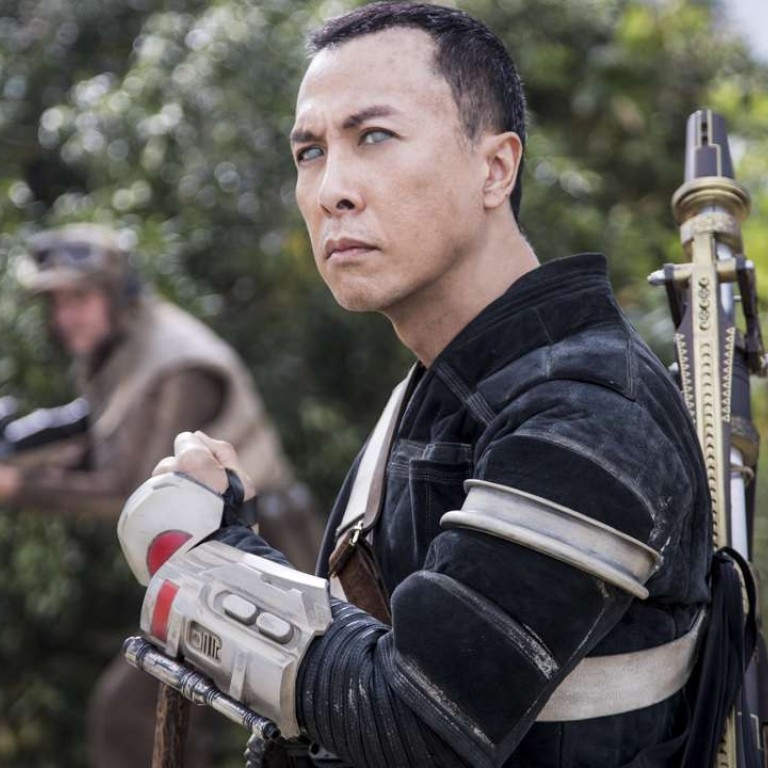 Hong Kong action star Donnie Yen on how he changed Rogue One: a Star Wars story
Yen explains why he hesitated when offered a role in Star Wars, why he suggested his character be blind, and how working in Hollywood has given him a greater appreciation for the local film industry
Donnie Yen Ji-dan was once sarcastically called "the strongest in the universe" by Hong Kong's entertainment press for his presumed overconfidence in himself. But the last laugh is on them.
In Rogue One: A Star Wars Story, the first standalone film from the sci-fi adventure series, the Hong Kong action star more than lives up to his moniker with the crowd-pleasing role of Chirrut Imwe, purportedly the best warrior in the galaxy far, far away. Still, it might be hard for fans to understand that Yen nearly turned down Star Wars – because he didn't want to be kept away from home.
Watch: Stars of 'Rogue One: A Star Wars Story' at London premiere
"It was several months after I was approached for the part that I decided to take it up," says the 53-year-old actor. "Because it would mean that I had to leave Hong Kong – and my children – for months. I couldn't make up my mind at the beginning. But, of course, I feel lucky that I didn't turn it down."
And so, a year after
Ip Man 3
opened opposite the seventh "saga" film,
Star Wars: The Force Awakens
, Yen is starring in a
Star Wars
spin-off as the blind monk who joins the Rebels' mission to steal the plans to the Death Star, the Empire's super weapon. The new film is set right before events of the original
Star Wars
in 1977.
Yen reveals that it was his suggestion to make Chirrut Imwe, who is closely connected to the Force, a blind character. "They asked for my opinions after giving me the script, and I told them I thought the character could use some more distinctive characteristics," he explains.
"It's very much consistent with the story of the film, because when you can't see, you have to feel things with your heart … Martial arts is also about feeling with one's heart," says Yen, who was given the freedom to choreograph most of his own action. Rogue One is not expected to feature light-sabre battles.
After declaring his character "the best fighter" in the film, Yen explains that it was hard to fight blind – because he could still see a little through the foggy contact lenses. "It was harder than if I couldn't see," he says. "If I couldn't see, naturally I would convey the state of being blind. But when you have to play a blind person and you can see, it's very difficult to do because you have visual illusions.
"In the first few weeks of shooting, I had to find a way to convince myself that the surroundings are pitch black. I had to find that sensation. Before each take, I closed my eyes to find that sensation, and then I opened my eyes and tried to replicate it. That was the most difficult part of the shoot."
When asked if he identifies with Imwe, Yen says he doesn't think that a character has to share his personality. "But it's a big coincidence that this character does resemble me in that he's very righteous, has strong principles, is very patriotic, is very loyal to his friends, and is also a great fighter. It's hard to avoid these characteristics when you watch my films," he chuckles.
After reiterating that he feels "a great sense of achievement" to be celebrated as part of Star Wars lore, Yen recalls his initial hesitation.
"When the director [Gareth Edwards] approached me, I began by asking, quite frankly, if it's a real character, or if he's only casting me based on commercial considerations for the [Chinese] market. Once he told me what my character was going to be like, and some of my lines, including the iconic 'May the Force be with you', I recognised the importance of my character."
The Chinese actor-director Jiang Wen, who co-starred with Yen in the period action film The Lost Bladesman (2011), was subsequently cast to play his closest friend, the soldier Baze Malbus. According to Edwards, Imwe and Malbus – like C-3PO and R2-D2 before them – were inspired by two slave characters in Akira Kurosawa's 1958 film The Hidden Fortress.
"Of course I'm feeling a sense of achievement," Yen says again. "For a Hong Kong actor, and a Chinese actor, to be able to play such a significant role that is consistent with the spirit of the series – with the Force – it's a very precious opportunity."
The opening of Rogue One, expected to be big, will usher in what will likely turn out to be the biggest couple of months in Yen's Hollywood career: in mid-January, the actor will star in the action blockbuster xXx: Return of Xander Cage, opposite Vin Diesel who plays the title role.
It might now be hard to remember Yen's brief run in Hollywood in the early 2000s, when he featured in minor parts in Highlander: Endgame (2000), Blade II (2002) and Shanghai Knights (2003). Since then, the actor's steady rise to the top of Chinese language cinema has coincided with China's emergence as an economic superpower to push Yen into Hollywood filmmaking.
"When compared to the so-called Hollywood films that I made at that time, Chinese actors including myself are enjoying completely different status now," Yen reflects.
"And it's not just about actors; nowadays, Chinese people are standing taller in the world than they did before – but this is another subject, as to which ethnicity is leading the world. I think it's impossible to compare the past with the present; everyone has to look at our market now."
That market incentive certainly explains why Yen is following up his Star Wars and xXx commitments with a Wong Jing movie: Yen is currently filming Chasing the Dragon, a remake of 1991's To Be Number One that will see him play the gangster Crippled Ho opposite Andy Lau Tak-wah's Lee Rock. Yen's recent experience in Tinseltown has only renewed his passion for projects at home.
"After making Star Wars, I learned to appreciate our film industry even more," he says. "First, although we're working in an environment that doesn't provide us with the same resources as in Hollywood, we are still managing to produce good movies. This is something that we should treasure and continue to advocate."
"Second, this is my home," Yen continues. "Here, I can go home to have dinner after a day of filming. No films [shot outside China] could give me that. Actually, it'd be perfect if the shoot of a film could take place in my backyard."
Consider Rogue One a minor inconvenience.
Rogue One: A Star Wars Story opens on December 15
Want more articles like this? Follow SCMP Film on Facebook
This article appeared in the South China Morning Post print edition as: A driving force