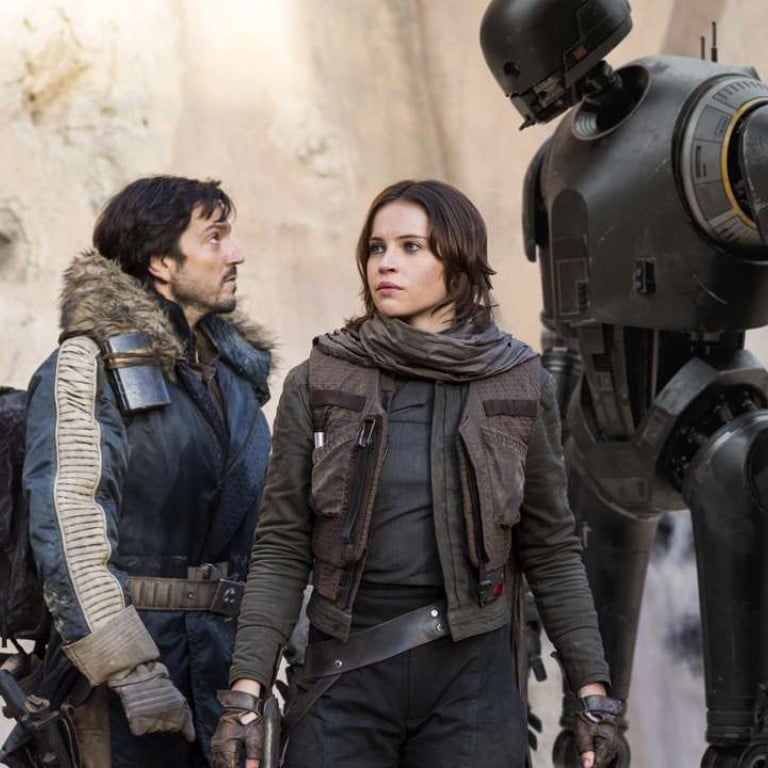 Review
Film review – Rogue One: A Star Wars Story is a superb sci-fi war movie
Spin-off film gives a soldier's-eye view of battle between Rebels and evil Empire, and features new characters but enough nods to Star Wars universe to keep space franchise's fans happy
4/5 stars
A year after The Force Awakens revitalised the Star Wars franchise – not least by replicating some major plot lines from the original 1977 film by George Lucas – British director Gareth Edwards tries a different tack with Rogue One. Subtitled A Star Wars Story, this first in a series of spin-offs may not begin with the familiar back story in yellow text or with John Williams' score, but its tale of Rebel "spies, saboteurs [and] assassins" is tightly bound to Lucas' mythological universe.
Telling the story of the battle between the Rebel Alliance and the evil Empire from the view of a lowly soldier, Rogue One is set shortly before that first film – now called Star Wars, Episode IV – when Luke Skywalker, Princess Leia and Han Solo conspire to blow up the Death Star. In Edwards' film, this moon-sized, planet-destroying super-weapon is nearing completion when the Rebels get word of its existence via an Imperial pilot, Bodhi Rock (Riz Ahmed).
Having rescued the troublemaking Jyn Erso (Felicity Jones) from an Imperial labour camp, the Alliance pins its hopes on her to make contact with her estranged father Galen (Mads Mikkelsen). Under the watchful eye of ruthless and ambitious Imperial officer Orson Krennic (Ben Mendelsohn), Galen has become a significant figure in the Death Star's construction, but Jyn remains convinced he's still a good man at heart.
Joining her on this mission – one that will ultimately see them attempt to steal the battle station's blueprints – is Rebel intelligence officer Cassian Andor (Diego Luna) and K-2SO (Alan Tudyk), a re-programmed Imperial droid with a neat line in backchat. Also present: a Force-believing blind swordsman, Chirrut Imwe (Donnie Yen Ji-dan) and Baze Malbus (Jiang Wen), who prefers the feel of a heavy-duty blaster.
While the principal characters are new, Edwards ensures there are enough significant nods to the Star Wars universe to enchant fans. From the sight of an AT-AT Walker aflame to a return to the Rebel base on Yavin 4 to some delicious cameo appearances too good to spoil, Rogue One feels like a Star Wars film should – albeit one that's grittier and more battle-charred. Intergalactic war has never seemed so rain-sodden.
Jones provides the emotional heart in yet another story about fathers and children, a theme that remains so central to the Star Wars universe. But whether it's the marvellously menacing Mendelsohn or Hong Kong's own Yen, quite superb as the film's spiritual figure (with his mantra "I am one with the Force, the Force is with me"), the performances throughout are superb. Rogue One is most impressive.
Rogue One: A Star Wars Story opens on December 15
Want more articles like this? Follow SCMP Film on Facebook