Pixar
Get more with myNEWS
A personalised news feed of stories that matter to you
Learn more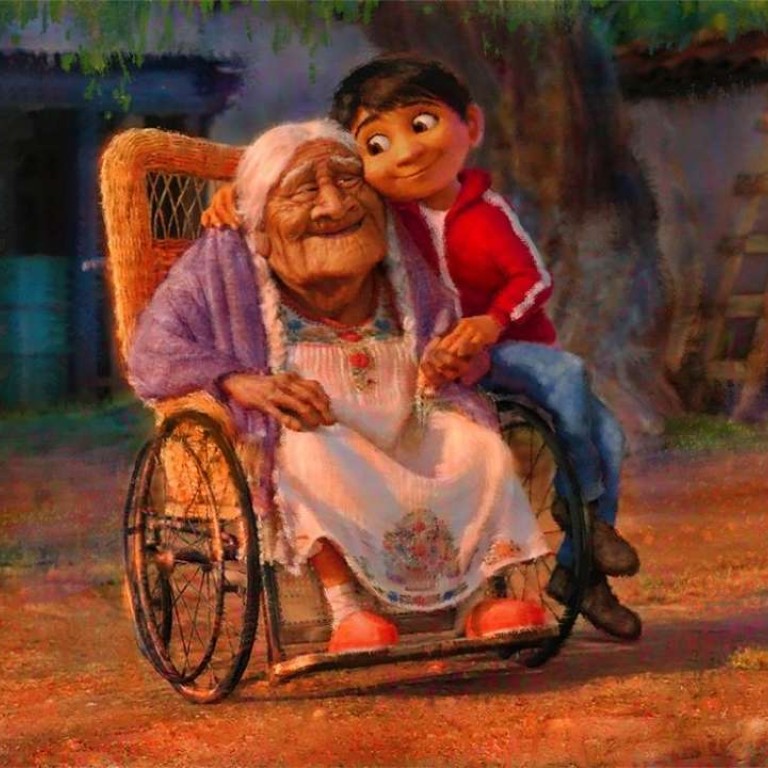 Pixar's first movie of the Trump years to be a 'love letter to Mexico', says its director
Animation giant's next film, scheduled for November 2017, is a tribute to America's southern neighbour, a country president-elect Donald Trump antagonised during his election campaign
It is known for movies about monsters, insects and children's toys but Pixar's latest, very human story is "a love letter to Mexico" at a time of tension between the US and its southern neighbour.
Taking the country's Day of the Dead festival as its theme, Coco will hit US cinemas some 12 months after Donald Trump's election victory on an anti-immigration ticket that enflamed Hispanic communities across America.
It has been described as a welcome corrective after a divisive presidential campaign in which Trump called many illegal Mexican immigrants rapists and vowed to build a wall between the two countries.
"We're creating it for the world and it's going to hopefully have a great positive influence around the world," said Coco director Lee Unkrich, who has been at Pixar since 1995's Toy Story, directing its two sequels.
"But for Mexico particularly, we're trying to create on some level a love letter to Mexico and I hope people embrace it that way."
Pixar showcased early artwork for the movie as it opened the doors of its secluded headquarters in the Bay Area of San Francisco to the news media.
Starring newcomer Anthony Gonzalez, Gael Garcia Bernal (Amazon's Mozart in the Jungle ) and Benjamin Bratt ( Doctor Strange ), Coco tells the story of a 12-year-old Mexican musician who journeys to the Land of the Dead in search of his ancestors.
Pixar's 19th feature-length movie follows 21 years of unparalleled success marked by US$11 billion in box office receipts and 13 Oscars since Toy Story blazed a trail as the world's first computer-generated feature film.
The company began life in 1979 as the Graphics Group, the computer division for Lucasfilm, charged by George Lucas with developing a digital film and sound editing system and advancing computer graphics.
John Lasseter, the founding director of the division's feature output, came on board in 1983, and three years later it was bought by Apple guru Steve Jobs and given its now-famous name.
After winning plaudits for a series of pioneering shorts, the studio turned its attention to full-length movies, joining with Disney to produce Toy Story, which went on to become the highest-grossing film of 1995, making US$374 million worldwide.
"Of course we were completely buoyed by how well it did, critically and commercially, I knew at that point I wanted to continue to be a part of what we were doing at Pixar and luckily they wanted me to continue helping them," Unkrich said.
Jobs relocated the company in 2000 to a 22-acre campus in Emeryville, near San Francisco, where every detail was carefully designed to encourage creativity among its 600-strong workforce, which has since doubled.
Employees can swim in a heated outdoor saltwater pool, play soccer or beach volleyball, or enjoy picnics in an amphitheatre. The main building is designed with the same modernist architectural vision as the Apple Store.
Pixar had already won best animated picture Oscars for Finding Nemo and The Incredibles by the time Disney bought the company for US$7.4 billion in 2006, in a deal that made Jobs Disney's largest single shareholder.
A hatful of further statuettes followed as Ratatouille, WALL-E and Up saw Pixar's reputation transformed from new kid on the block to animation's king of the castle.
It has not all been plain sailing – Cars 2 was seen as a creative misstep and panned by critics while the domestic box office receipts for The Good Dinosaur came in below its production budget.
Unkrich recalls Toy Story 2 being plunged into crisis when the production team realised with the deadline looming that the story was not working.
The crew got back on course after Jobs – who died in 2011 – took Unkrich aside and advised him that the achievements he was most proud of were always when "there wasn't enough time and there weren't enough resources but somehow people came together and got the work done".
Coco
is leading a new wave of original Pixar films under development following the studio's recent announcement that it was putting sequels on the back burner after
2019's
Toy Story 4
.
"With each new one we make, there's never any guarantee that they're going to work or be accepted," says Unkrich. "We try our best every time to make engaging films that we're interested in and we just hope the rest of the world likes them."