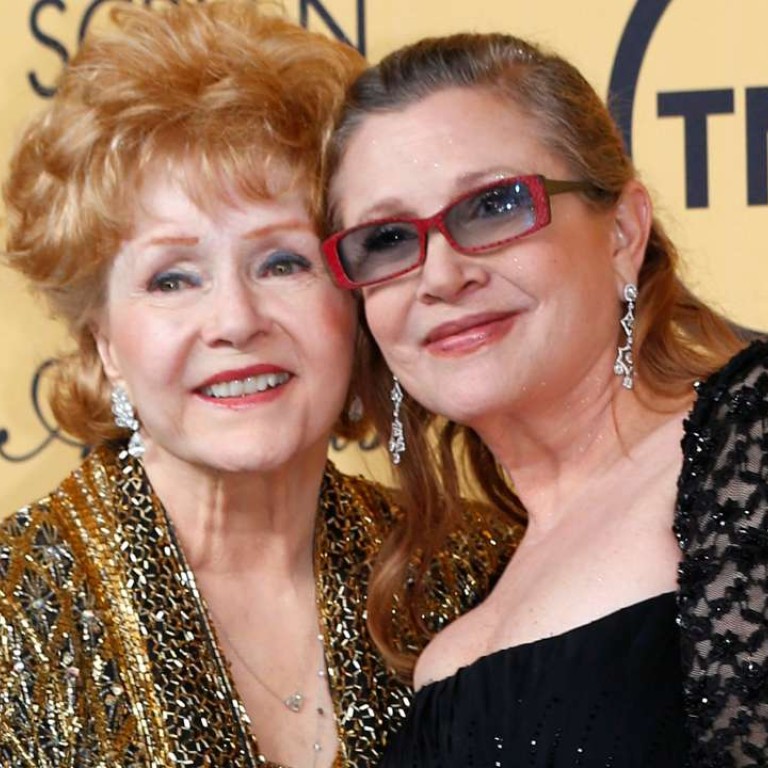 Debbie Reynolds and Carrie Fisher die just before HBO film on their 'loving interdependence' was due for broadcast
At the centre of documentary about the lives of once estranged mother and daughter is 'their relationship and their love', one of filmmakers behind it said recently. Its TV premiere is likely next spring
The deaths of actress and writer Carrie Fisher and her Hollywood legend mother, Debbie Reynolds, on successive days this week lend a special poignancy to an upcoming HBO film about their relationship.
The film, Bright Lights: Starring Debbie Reynolds and Carrie Fisher, is expected to premiere on the pay cable network sometime this spring. HBO representatives did not respond to questions on Thursday about whether the stars' deaths would change plans for the premiere, or whether the documentary would be changed to reflect what happened.
Although it hasn't been on television, Bright Lights was shown earlier this year at film festivals in New York and in France at Cannes. The filmmaking couple Fisher Stevens and Alexis Bloom of New York made it. A representative said they weren't available for interviews.
Fisher died on Tuesday at the age of 60 after being stricken on an aeroplane flight last week. Her mother was rushed to the hospital and died the next day. "She said, 'I want to be with Carrie,'" her son, Todd, said. "And then she was gone."
In appearances at the festivals, the filmmakers described the project as Fisher's initial idea. Her mother was about to give her final live performances in Las Vegas two years ago at age 82, and Fisher wanted to document them.
Bright Lights became an examination of the lives of two women, once estranged, who were living in their final years next door to each other in a compound in Beverly Hills, California. "Their loving interdependence seems unbreakable," the Hollywood Reporter wrote in a review.
Fisher was dealing with the mental illness that fuelled some of her memorable writing through the years, and both women were dealing with the toll that increased frailty was taking on Reynolds. A key part of the film was about whether Reynolds would be well enough to accept a lifetime achievement award.
"The axis on which the film turned was their relationship and their love, even though show biz warps the best of people and warps the best of relationships, and I'm sure to some degree they would agree it's warped their family," Bloom told The Los Angeles Times recently. "But at the centre of it is love, and that's sort of undiminished."
Fisher and the filmmakers said it was initially difficult for Reynolds to get used to the idea of a documentary on their lives. She was comfortable with cameras, but expected to have a script.
"The film is as disorderly in its structure as the messy family history it surveys," the Hollywood Reporter wrote in its review. "Time spent with these wonderful subjects makes that seem sweetly appropriate."
The affection that the filmmakers have for their subjects "is quite contagious", the publication said.
Although HBO hasn't made clear when Bright Lights will air, the network said it is repeating its previous film about Fisher's life, Wishful Drinking, on Sunday in the United States.