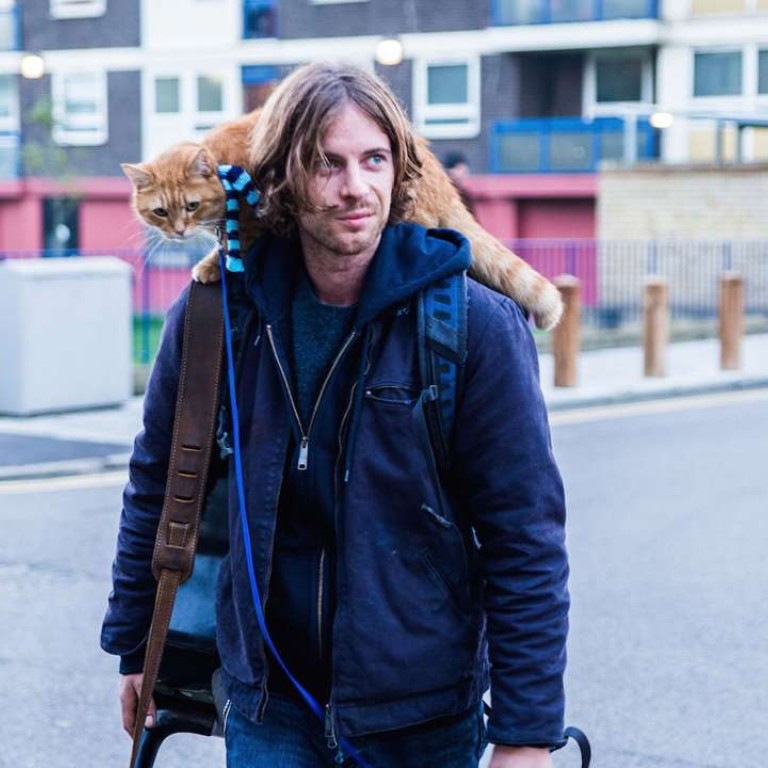 Review

|
Film review: A Street Cat Named Bob – true story of addict and feline will warm the heart
James Bowen was a heroin addict at his lowest point when Bob, a street cat, came through his window. The encounter transformed his life, and the movie made of his recovery and return to life is stirring stuff
3.5/5 stars
A heart-warming true story, A Street Cat Named Bob is adapted from the real-life memoirs of James Bowen, a former heroin addict and busker who was at his lowest ebb when he met Bob, a stray ginger cat who walked through his window one day and refused to leave. Played by Luke Treadaway, Bowen finds a reason to live – and to go cold turkey from his vicious narcotics habit – when this furry friend starts depending on him.
Bob – who plays himself here – is the most placid puss you could ever wish to see, sitting on Treadaway's shoulder as he busks in London's Covent Garden. Depending on your feeling towards felines, this is the sort of film that you'll either find dangerously mawkish or utterly charming. It is, at least, far more entertaining than all those cat videos on YouTube.
Still, veteran director Roger Spottiswoode (who once upon a time directed Tom Hanks and a dog in 1989's Turner & Hooch) keeps the sentiment on lockdown. This may not be Trainspotting, but the fallout from Bowen's addiction is vividly shown. Likewise, his relationships with the humans – his old druggie pal (Darren Evans), his estranged father (Anthony Head), his new neighbour (Ruta Gedmintas) – are just as well-drawn.
Some may take issue with some elements – not least Spottiswoode's portrayal of London as an almost Dickensian inferno where drug dealers and attack dogs lurk menacingly on every corner. But Treadaway's down-at-heel turn underlines just what a circle of hell it is to be homeless. By the end, heartstrings get twanged more than Bowen's guitar.
A Street Cat Named Bob opens on January 5
Want more articles like this? Follow SCMP Film on Facebook