Netflix
Get more with myNEWS
A personalised news feed of stories that matter to you
Learn more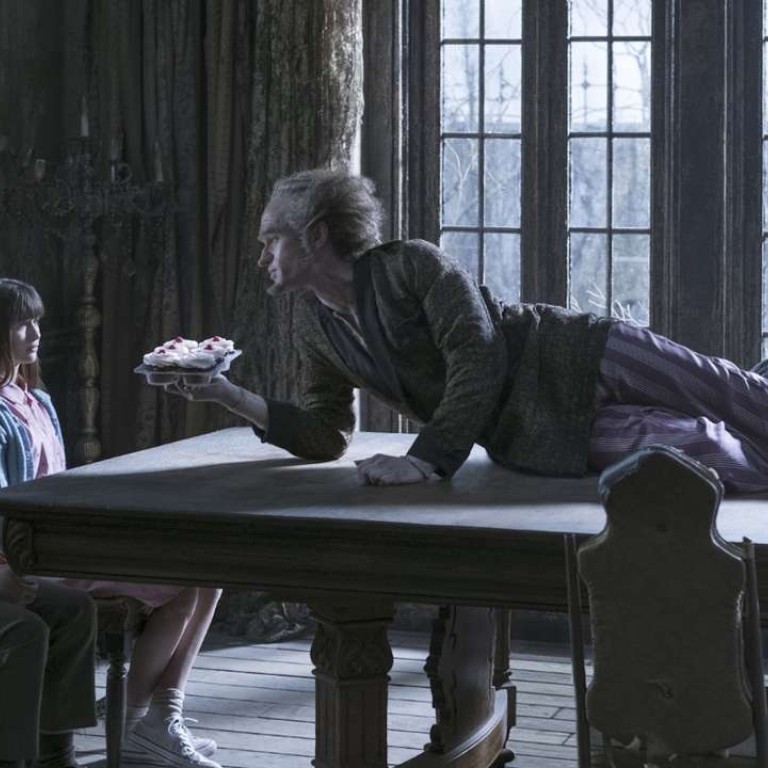 Team behind Lemony Snicket's Netflix series spurred on by Hollywood rejection
Daniel Handler, author of beloved children's book on which TV series is based, and director Barry Sonnenfeld, both fired from movie version, determined to succeed with cast led by Neil Patrick Harris as wicked uncle Olaf
There are many reasons for making a television show. In the case of Lemony Snicket's A Series of Unfortunate Events, Barry Sonnenfeld is quite clear about his motivations.
"It was revenge, to be honest with you," he says with a chuckle. Sonnenfeld and Daniel Handler, the author of the source novels, had originally been involved with the feature film version – released in 2004 and starring Jim Carrey. "We were both on the movie until we both got fired."
With Brad Silberling replacing Sonnenfeld, the film wound up making US$209 million around the globe – good, but not enough for Hollywood to consider adapting any more of Handler's 13-book series, the last of which was published in 2006 and has sold more than 65 million copies.
When Sonnenfeld heard that streaming giant Netflix was considering adapting Handler's books, he campaigned to get the gig. "I worked very, very hard … and Daniel worked very hard to get me into Netflix. I very much wanted to do it."
Certainly, it's right in the wheelhouse of a director who neatly blends comedy and the macabre, as he did on The Addams Family movies and the Men in Black franchise.
For those unaware of the books or the earlier film, Lemony Snicket – the pen name of Handler, played in Sonnenfeld's show by Patrick Warburton – is the narrator who follows the lives of the Baudelaire children, Violet, Klaus and Sunny Baudelaire, after their parents die in a fire and they're adopted by their mysterious relative, Count Olaf.
A hammy actor by trade, and obsessed by getting his hands on his new charges' inheritance, Olaf is played by Neil Patrick Harris, whose work ranges from sitcoms (How I Met Your Mother) to stylish movies (Gone Girl) to presenting the Oscars.
With Olaf frequently donning disguises and playing lunatic characters, it was an irresistible project. "It's a rare opportunity that an actor gets to do that once, much less for eight episodes," he says.
Harris remembers Sonnenfeld first pitching him the project at his house in New York, showing him a look-book of the proposed sets.
"It was so dark and fully realised and almost Cirque du Soleil," he says. "He had such a vision and one of his visions was darkness, and it had to stem from Olaf. I think he had a hunger to make sure that the darkness was intentional … [the original movie] I don't think had the tone that he was looking for."
While the Carrey-as-Olaf version was more "zany", says Harris, Sonnenfeld's take was more ominous. "It all needs to stem from Olaf being truly mean, because these kids are terrified of him. If there's any sense of redemption in him, then you wonder why they don't just leave. They have to be terrified of him. And so when he slaps Klaus and knocks him to the ground with no remorse and just indifference, then he's terrifying enough to be a true villain. So I was happy to dive into that."
Sonnenfeld, who first fell in love with the books when he was reading them to his daughter, concurs. "I think all children have a sense of fear of being an orphan. And I think we did a very good job in balancing out comedy with real threat," he says. "What I loved about the books was that they basically posit that all children are capable and wonderful and all adults are ineffectual and don't mean well, even the ones [who] do mean well!"
With each of the eight episodes covering roughly half of one of Handler's books, the first season will depict the first four in the series: The Bad Beginning, The Reptile Room, The Wide Window and The Miserable Mill.
While there could be up to 26 hours of shows, if all the books are made, Harris is happy to stop there. "I've signed up under the assumption that it's a finite piece of material, because it's a lot of red-eyes back and forth," he says, referring to the frequent flights he'd take from New York to Vancouver, where the show is shot.
Every day, Harris, 43, spent hours in make-up as prosthetics were applied to transform him into the balding, grey-haired Olaf – not to mention the myriad "characters" Olaf plays.
"It was freeing in a weird way, mainly because I didn't look like myself," he says. "I think I would've had more self-doubt if I was trying to be a real asshole that looked like myself. I would want to not come across too overtly bad as Neil, but when I looked as garish as Olaf did, it was certainly very easy to go there and to embrace it."
While Sonnenfeld urged him to go further with each take "and be more ridiculous", promising he'd modulate the performance in the edit, Harris couldn't resist playing such an old ham. "He's a legitimately bad actor and thinks he's really talented," he says. "That allowed me the freedom to be really bad … I wasn't playing [like] Mark Rylance [in] Shakespeare, where I had to be really good. I can do ridiculous, awful acting, and it made even more sense."
Largely, Harris took inspiration for his performance not from Rylance but another British actor. "I was trying to channel Alan Rickman a lot."
The late actor, who played Professor Snape in the Harry Potter movies, said his "lines with such disdain and such disgust" that it was perfect for Olaf. "I'm more Rickman than I think Daniel intended in the books. He talks a lot in the books about Olaf's wheezing, high-pitched voice. I've never figured out how to wrap my head around that."
Despite the punishing flights and make-up sessions, it wasn't all bad, says Harris, with typical off-kilter humour. "I didn't have to tape my wiener to my butt – so that was easier. That made going to the bathroom much, much simpler."
He is, of course, referring to his time on Broadway in Hedwig and the Angry Inch, which won him a Tony for playing the gender-fluid East German rock singer of the show's title. It was Harris' stage experience that excited Sonnenfeld. "What theatre backgrounds let you do is to act in a bigger theatrical style and yet still remain totally real."
In a way, this rather sums up the style of Lemony Snicket – which falls somewhere between artifice and realism, as though the Gothic gene of Tim Burton's Edward Scissorhands had been spliced with the paintings of Edward Hopper. Sonnenfeld was insistent on shooting on a soundstage, so he could exert total control over the heightened feel of the show. Running contrary to this are the performances. "The acting is very real," he says. "No one is camping it up. Even Neil is real within his character."
With Handler writing the scripts – and supervising the screenplays for the second season, should Netflix decide to renew the series – the author hasn't been afraid to shake things up, adding in an "intriguing subplot" about the Baudelaire parents, says Sonnenfeld.
But how will devoted readers react? "We've filmed these for the fans, as much as for people who've never seen it before," says Harris, who waves away any concerns about expectations. "If I was concerned about the pressure, I probably wouldn't have taken the gig."
Lemony Snicket's A Series of Unfortunate Events is available on Netflix from January 13
This article appeared in the South China Morning Post print edition as: something sinister