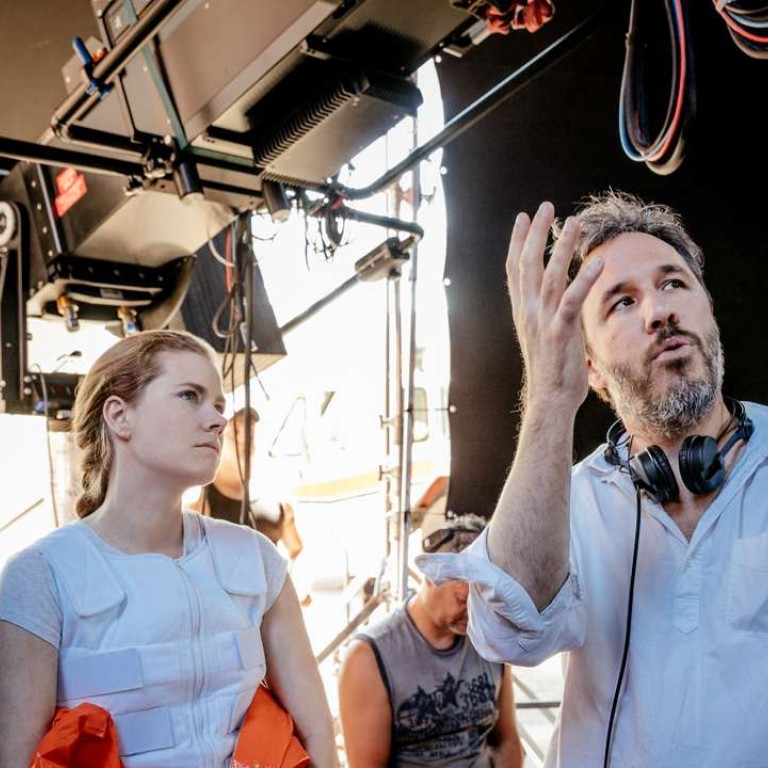 Arrival's Denis Villeneuve and Amy Adams on the challenges of filming sci-fi drama
One of the most original science fiction movies in years, Arrival had Amy Adams, nominated for a Golden Globe for her performance, dreaming in Chinese as she prepared for a vital scene
Growing up in the Canadian province of Quebec, director Denis Villeneuve was a bit of an outsider. "As a teenager, I had not a lot of social abilities," he admits. "Bad hockey player, bad with girls ... so I had science fiction [novels]! I was in love with the exaggeration of reality or exploration of the world from a different point of view, which is science fiction. I love that. I was dreaming to do sci-fi for a long time."
With urban thrillers ( Prisoners , Sicario ), psychological horrors (Enemy) and family dramas (the Oscar-nominated Incendies ) dominating his slate, it's been a genre that's eluded him until now.
When we meet, the 49-year-old Villeneuve is dealing with not one but two science-fiction films – having jetted in to promote his much-admired Arrival from the Budapest set of Blade Runner 2049, the hugely anticipated sequel to Ridley Scott's seminal 1982 sci-fi that's due later this year.
The reality behind this long-held dream is not quite what he expected. "It's tough to find good science fiction material," he admits.
"And the truth is, it's tough to make science fiction. It's expensive most of the time. Now I'm able to have a bit more money to make films, I can approach this genre. But making two sci-fi movies in a row – I must say it's exhausting. I thought it will be like a game and it's a bit of a nightmare to create worlds. So many decisions you have to make!"
True as this may be, there can be no doubt Villeneuve's work on
Arrival
positions it as one of the most original science fiction films in years. Adapted by Eric Heisserer from
Ted Chiang
's novella
Story of Your Life
, it's a unique twist on the classic aliens-landing-on-Earth trope – a subject Hollywood has covered in everything from
Close Encounters of the Third Kind
to
Contact
over past decades: 12 giant spacecraft descend into our atmosphere, everywhere from Shanghai to Siberia, Sierra Leone and the Sudan – black, shell-like monoliths hovering in the air, silent and still.
"The premise is that aliens are landing in places that make no sense, and nothing is happening, and the world is freaking out," says Villeneuve. "The opposite of alien [films] where they land at capital cities."
With one of the dozen craft landing in rural Montana, the US military recruits linguistics professor Dr Louise Banks (played by Amy Adams) to make first contact. Joined by mathematician Dr Ian Donnelly (Jeremy Renner), Banks dons an orange Hazmat suit and heads into the vessel – an entrance hatch opening at its base every 18 hours. Inside, hidden behind a fog-shrouded screen, are the "heptapods", seven-legged, squid-like creatures that communicate in a highly advanced manner.
As various nations – notably Russia and China – react aggressively to the alien arrival, it becomes clear that they have a message for the inhabitants of Earth. But what is it?
"That's what I like about this film," says Villeneuve. "Characters that are in front of the unknown trying to go with very rudimentary tools to try to understand something that is 10,000 times more intelligent. I like this idea. It becomes like little kids at school working with tremendously intelligent beings. I thought it was quite poetic."
Yet there is much more to Arrival than geopolitics and alien linguistics. We learn early on that Banks has lost a child to cancer – a fact that drives the drama.
"When I met Denis, he really zeroed in on the fact that this was a very emotional story," says Adams, who was nominated for a Golden Globe for her performance. "All of this other stuff will be happening but at the end of the day it's a story about a woman and her child, and the choices she makes. That's really interesting to play in a sci-fi movie about communication and global war."
To prepare, Adams spent time with a real linguistics expert. She also had to take a crash course in Putonghua for one brief but vital scene.
"I thought, 'Two weeks to learn four lines – that's fine!' No, it wasn't. It was not fine. I was really stressed out and I ended up taping things so I could phonetically break it down. It was tricky – it doesn't have any relationship to the English language, so really I started dreaming in Mandarin. I was seeing the characters dance [in front of me]."
Given the Chinese are portrayed in a rather negative light, at least initially, how does she feel they will react? "That's above my pay grade," she laughs. "I have no idea! I hope they're OK."
Villeneuve has, however, given it thought. "In the world today, China is a massive market so I think someone would double-check to see if what I was saying would be Chinese-friendly or not. I'm making jokes but seriously... what we see in the movie is that everybody has their own share of problems."
Impressively, one of Arrival's most distinctive features is its very tactile sets. Not a fan of green screen, the process whereby computer-generated backdrops are inserted into films, Villeneuve got his production team to build the innards of the alien spaceship – a vast black chamber with a rock-like surface.
"Basically we took all our money and put it on that," says the director. "It was a huge, huge set. And that for the actors was very important. You had the feeling to enter in a kind of town or cathedral – something sacred."
It certainly bodes well for Blade Runner 2049, which will see Harrison Ford return to his role as the Replicant-hunter Rick Deckard.
The original was "a very important movie to me", Villeneuve admits, "but a lot of directors can say that". Even now he can't quite believe that, with Ridley Scott's blessing, he's making the sequel to one of the most revered sci-fi films of all time. "It's beyond my dreams and it's something I have difficulty to explain."
Whatever the success of Blade Runner, reports are also circulating that Villeneuve will make it three sci-fi films in a row – entering talks to adapt Frank Herbert's classic novel Dune. Already brought to the screen by David Lynch, in a rather reviled 1984 version, taking on this near-unfilmable novel might represent Villeneuve's greatest challenge yet.
If only his teenage self, reading those novels back in Quebec, could see him now.
Arrival opens on January 12
Want more articles like this? Follow SCMP Film on Facebook
This article appeared in the South China Morning Post print edition as: out of orbit