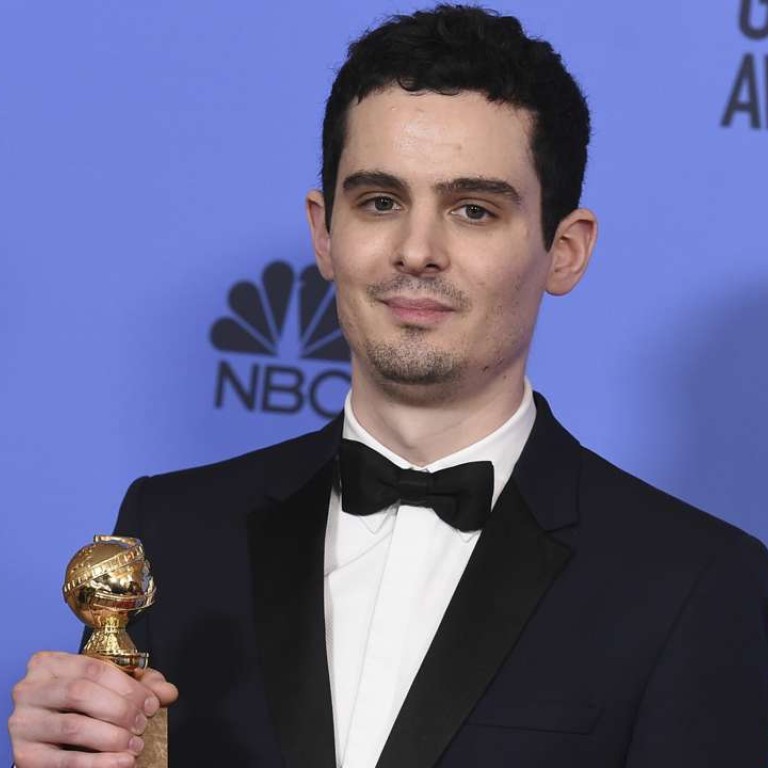 La La Land director Damien Chazelle: the shy musician who's become a Hollywood darling
Described by one veteran critic as 'a gifted film nerd, super smart' in the mould of Scorsese and Tarantino, man behind red-hot film awards favourite that took seven Golden Globes was once a jazz drummer crippled by stage fright
For a man whose movies burst with bravado and swagger, Damien Chazelle is disarmingly shy, but the filmmaker is finding himself increasingly in the spotlight as the awards pile up.
The 31-year-old director's latest movie,
La La Land
, a sumptuous musical throwback to the halcyon days of Old Hollywood, came away with seven statuettes at
Sunday's Golden Globes
, more than any other film in the awards' history.
Veteran film critic Anne Thompson, awards editor for movie blog IndieWire, describes the youngest ever recipient of the best director award as the kind of filmmaker who is respected not just by reviewers but also by his peers in the industry.
"Damien Chazelle is a young version of Quentin Tarantino or Martin Scorsese – a gifted film nerd, super smart, who knows the classics well enough to deconstruct them and put them back together again in fresh new ways," said Thompson. "He's not pretentious. He's had to struggle to get where he is."
It is likely to be a memorable year for Chazelle, as every Golden Globes best director over the last decade – with the lone exception of Ben Affleck in 2013 – has gone on to win the Oscar.
"It took six years to get the movie going. All of this is just so surreal. The dream come true was literally the first day of shooting. All of this is even more surreal," he told journalists backstage at the Globes.
A native of the American east coast state of Rhode Island, Chazelle was born to Celia Martin, a writer, and French-American Bernard Chazelle, a pioneering computer scientist and a huge jazz and blues fan.
Inspired at a very young age by Edward Zwick's epic civil war film Glory (1989), Chazelle had always planned to become a filmmaker but took up jazz drumming in high school, becoming obsessed and practicing up to eight hours a day. It wasn't until he started reading visual studies at Harvard that he realised his true calling was filmmaking.
Chazelle wrote, produced, co-shot and directed the lion's share of his first feature, jazz musical Guy and Madeline on a Park Bench, while he was still an undergraduate.
He continued playing the drums at Harvard, where he was in a band with Justin Hurwitz, who would eventually join the crew of La La Land, winning the best original song Golden Globe for penning the infectious City of Stars.
But Chazelle had always suffered from crippling stage fright before performances and came to accept that his nerves would continue to be an obstacle to a career in music.
"I couldn't handle the particular kind of terror that came from performing on a stage, or performing in front of people, or performing period," he said at a recent roundtable discussion for directors arranged by the Hollywood Reporter.
Chazelle said he still gets nervous directing, or even watching screenings, and is "in awe of actors", who are "better at handling it than I am".
Nevertheless, his experiences as an aspiring drummer were the inspiration for his darkly comic second feature Whiplash (2014) – the intense story of the stormy relationship between a bullying teacher and his jazz drumming student.
The movie swept up trophies on the film festival circuit and won three Oscars, including for best supporting actor for J.K. Simmons, and nominations for best picture and for Chazelle's screenplay.
All the while Chazelle, who has writing credits for The Last Exorcism Part II, Grand Piano (both 2013) and last year's hit sci-fi thriller 10 Cloverfield Lane , harboured the ambition to make a musical.
He talked in an interview in 2014 of his nostalgia for the golden age of cinema and musical comedies, performed by the likes of Jacques Demy, Ginger Rogers, Fred Astaire, and Gene Kelly.
"It was the last generation who danced to jazz, just before rock. The 1930s to the 1960s is an era which means a lot to me, not only cinematically but musically," he said.
Next up for Chazelle is First Man, a biopic on Neil Armstrong, with shooting expected to begin early this year and La La Land star Ryan Gosling due to play the astronaut.
La La Land opens in Hong Kong on January 26