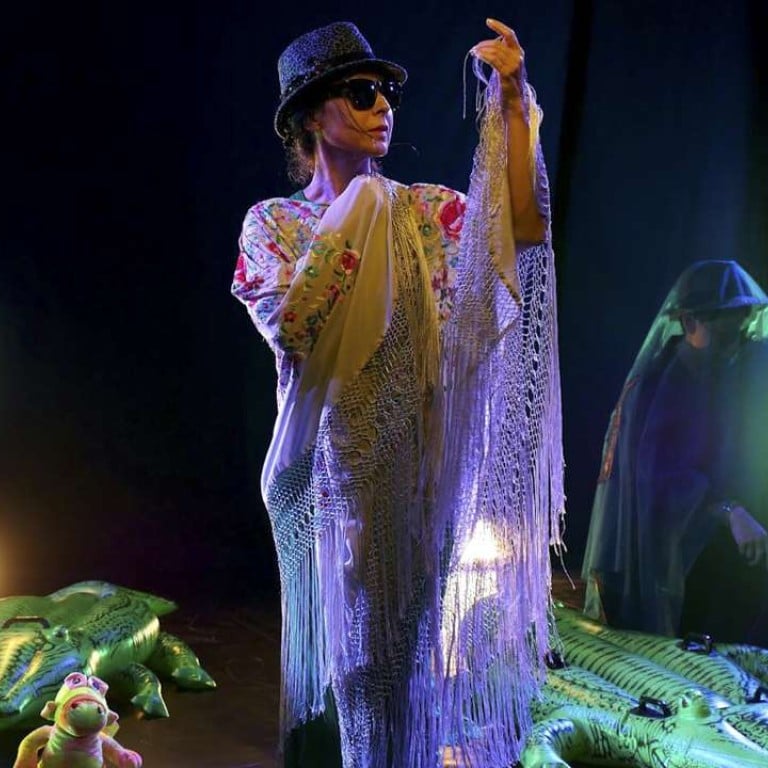 Taiwanese novelist who killed herself in Paris at 26, Qiu Miaojin, remembered and reassessed in RTHK film
Lesbian writer whose death is credited with seeding LGBT movement in Taiwan is the subject of Hong Kong filmmaker Evans Chan's documentary, which comes amid renewed interest in her books
Think of Qiu Miaojin, and the first thing that comes to mind is the Taiwanese writer's melodramatic death; the second, perhaps, is her sexuality. In June 1995, the lesbian novelist killed herself in Paris shortly after completing Last Words from Montmartre, a semi-autobiographical novel in which the protagonist decides to commit suicide. She was 26.
A Chinese-language RTHK television documentary about her was broadcast this month as a precursor to a longer version in English that will be released later in the year by director Evans Chan Yiu-shing. It should encourage viewers to look past the tabloid sensationalism and to focus on her literary talent, Chan says.
"I am not interested in ... personalities," the director says. " I became convinced by her books as soon as I read them. She had a forceful personality that shines through her powerful writing. There is also a strong intuitiveness in her writing," he adds.
The documentary doesn't quite accomplish what it set out to do, with the director deciding to inject a heavy dose of histrionics. There were scenes of interviewees crying, revelations about her love life and her history of self-harm, as well as some rather superfluous dramatisation of her books. In one bizarre scene, Qiu's alter ego – a crocodile – is seen stroking Anthony Gormley's nude male sculpture that stood in Queen's Road Central last year while declaring her inability to desire a man.
It would have made Qiu wince, since she was particularly piqued by local media's obsession with Taipei's then largely underground lesbian community. But to be fair, it would not be possible to discuss Qiu's books without some acknowledgment of her personal struggles since they are largely autobiographical.
The decision to include Qiu in the series was based on the impact of her work rather than her biography, says producer Lo Chi-wa. "Our series has always taken a very open approach. We cast the net wide and end up finding some really interesting writers," he says.
It was Chan who pitched the idea to RTHK. The Hong Kong director behind the highly acclaimed film To Liv(e) and, more recently, Raise the Umbrellas – documentary of the Occupy Central protests and the birth of localism in Hong Kong – first heard of Qiu while making a 2014 film about Hong Kong writer Dung Kai-cheung for the same television series.
"I was interviewing the Taiwanese novelist Lo Yi-chin about Dung and he brought up the fact that Qiu was one of the contemporaries he most admired. That was the first time I came across her name," says Chan, now based in New York.
Serendipitously, it was at that moment that the first English translations of Qiu's novels started to appear. Last Words from Montmartre, translated by Ari Larissa Heinrich, was published by the New York Review of Books in 2014, while the English version of Notes of a Crocodile is expected in 2017. There is a revival of interest in Taiwan, too, where Qiu's life inspired composer Yen Ming-hsiu to create an orchestral work in 2015 as the island considers becoming the first Asian territory to allow same-sex marriages.
Broader recognition of Qiu's literary talent is long overdue, Chan says.
"I am not interested in ... personalities. The personality of a writer is only interesting to me if the works are substantial. I became convinced by her books as soon as I read them. She had a forceful personality that shines through her powerful writing. There is also a strong intuitiveness in her writing," the director says.
Qiu started writing when she was studying psychology at National Taiwan University, and won the Central Daily News literary award for her short story Prisoner in 1988. She worked for a few years as a counsellor and journalist in Taipei and, in 1994, enrolled as a postgraduate student at the University of Paris 8. She attended Helene Cixous' seminars and worshipped the feminist theorist, who appears in Chan's documentary, referring to her as "the light of my art, the light of my life" in Last Words from Montmartre.
Cixous' concept of feminine writing, the idea that women can use the act of writing to shake loose the yoke of patriarchal values, has few better examples in Chinese than Qiu's works. In both her novels, which adopt a non-linear narrative, Qiu's alter egos unflinchingly dissect their feelings about their attraction to women, their constant fear of being found out, and the pressure to conform.
Notes of a Crocodile (first published in 1994) is the easier read. Light-hearted chapters about a crocodile (a pseudonym for lesbians in the book) intersperse with the central character's cynical, coruscating observations from a Taipei university campus. The character's nickname in the book, Lazi, is one that's since been widely adopted by Mandarin-speaking lesbian communities.
In the epistolary Last Words from Montmartre (first published posthumously in 1996), the protagonist, Zoe, obsessively picks at the emotional scab left behind by a lost love. It is a distressing portrayal of a troubled soul's descent into hell, violently passionate and an unsettlingly honest reflection on the human condition by a writer resigned to death.
The only solace that Zoe - a name Qiu used in Paris - found was in art. Qiu described an intellectual universe richly populated by Theo Angelopoulos' films, the sculptures of Constantin Brancusi, the books by Japanese writers, wonderfully evoklng a cosmopolitan world view.
Her death became a cause célèbre in Taiwan and, some say, helped give birth to the lesbian, gay, bisexual, and transgender rights movement there. "Taiwan is the vanguard in the Chinese world when it comes to LGBT equality. Chi Ta-wei, an activist I interviewed, says Qiu is seen as a 'martyr' in Taiwan's gay rights movement," Chan says.
The self-disgust exhibited by Qiu's characters and their conviction that being a lesbian would only bring a life of misery, not to mention Qiu's own suicide, hardly make her a good role model, however.
"We invited a number of local lesbians to a private screening and they all said they couldn't relate to the books," says Lo.
Qiu died too soon to see views about homosexuality changing, and the benefits brought by the internet. Experiences and literature are now shared freely online and, for many lesbians in Hong Kong, Qiu's sense of isolation seems as remote as the experiences described in the now notorious Well of Loneliness, British author Radclyffe Hall's lesbian novel of 1928.
Chan says: "She had a tremendous impact on Taiwan and we should recognise that she did her best to challenge Chinese society. At the end of the day, she should be remembered for being a true genius. I am delighted that a writer of such calibre has emerged from the Chinese speaking world."