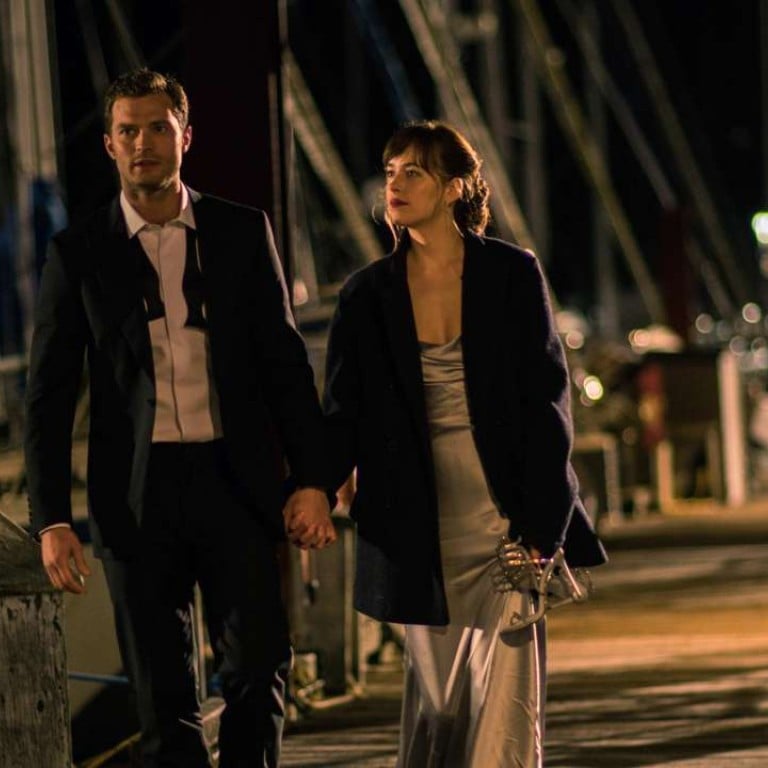 Director James Foley talks S&M and shooting Fifty Shades Darker
Foley returns to the big screen after 10 years directing for TV, with the sequel that could prove to be even bigger than Fifty Shades of Grey
"Oh, yes!" cries James Foley. "Yes, yes, yes and yes!" The director almost sounds like he might be dubbing one of the more orgasmic cries to be heard in Fifty Shades Darker, his follow-up to the smash-hit Fifty Shades of Grey .
In fact, we're talking about his excitement returning to cinema after years in television. "There's something about the big screen," he says. "Something projected in the theatre with a lot of people present is still for me the gold standard."
Back in the day, the Brooklyn-born Foley worked with the likes of Sean Penn (At Close Range), Al Pacino (Glengarry Glen Ross) and even Madonna (Who's That Girl). But his last film – the poorly-received Perfect Stranger, with Bruce Willis – was almost a decade ago. Since then, he's done what most directors who prefer adult drama do: turned to television, directing episodes of House of Cards, Billions and Wayward Pines.
As much as TV has been good to him, he is evidently delighted to be back making films, particularly when it's a project as high-profile as Fifty Shades.
The first film, based on E.L. James' hit erotic novel, was one of the most talked-about of last year. Being a part of the conversation, the zeitgeist, is thrilling. "There's still something about a film that can impact culture or have the culture pay attention for 15 minutes, in the way that even the best television doesn't quite achieve," says Foley.
He certainly won't have that issue with Fifty Shades Darker. When the trailer dropped last November, it was watched 114 million times in the first 24 hours, breaking the record held by Star Wars: The Force Awakens .
Seemingly, Darker has every chance of eclipsing the US$571 million grossed by its predecessor – despite the major change of personnel, with Grey's director Sam Taylor-Johnson and screenwriter Kelly Marcel both dropping out after reported clashes with author E.L. James (real name, Erika Mitchell).
At 63, the veteran Foley might seem like a strange choice for bringing this kinky chick-lit to the screen. Even he thought so at first. "I was certainly aware of the books. I hadn't read them. And it wasn't really on my radar. At first I thought, 'I don't think so'." But after reading the books, he got hooked. "It was enough for me to make a drama – because as you know making a straight-ahead drama is the last thing a studio wants to make these days."
It was, he says, the "great twisted psychological darkness" in the dynamic between former literary student Anastasia Steele (Dakota Johnson) and BDSM-loving billionaire Christian Grey (Jamie Dornan) that drew him in.
When the first film finished with an abrupt slam of an elevator door, Anastasia walked out on Christian, unwilling to be submissive. Darker continues the story, with Christian desperate to woo Anastasia back, this time on her terms.
"Essentially his new-found – and new for him – feelings of love are in conflict with some of his other desires to control things and to dominate everything," says Foley. "And so the journey becomes how he becomes more open emotionally and reveals vulnerability."
For Anastasia, it is about a woman taking control of a difficult relationship. "It's about her growing maturation, the acquisition of her own power and his acquisition of an emotional openness."
While Billions, the show he briefly worked on, touched on S&M via the Paul Giamatti character, Foley admits he didn't know a great deal about the BDSM scene until he started his research.
A couple of 'experts' helped out on set. "Each of them came in every once in a while when we were going to do the sex-play thing, and [showed] how to use the tools, what the body language would be and what the ritual would be. Because it is a big ritual each time."
Foley estimates Darker is more erotic than its predecessor. "It's definitely a lot sexier," he says. "In the course of the film, as the dynamic of their relationship changes, the sex play reflects their power balance and how she comes to be his equal. He's still the dominant one in the sex play but she's aggressively interested. So I wanted the sex scenes to be calibrated just right in terms of how much they are, how explicit they are. They get more intense as the film goes on."
With Foley hired to shoot both Darker and the third and final instalment Fifty Shades Freed (due in February 2018) back-to-back, the production would frequently be shooting scenes from both films in the space of any given day.
"Since the stories are directly continuous, I just looked at it as a 240-page script that we shot over six months. Everything I've ever shot has been out of sequence, of course, so it wasn't really that different. It's just that we went on for a longer period of time."
Certainly, the production was more harmonious than Fifty Shades of Grey, with Taylor-Johnson admitting she and E.L. James regularly clashed on set. Foley paints a different picture.
"As far as I'm concerned, me and Erika are tight. After six months of shooting, she was there all the time and she was impeccably respectful. Every once in a while, once or twice a day, she would come up and whisper something to me about something that was in the book that might be pertinent to the scene that we were doing."
With James' screenwriter husband Niall Leonard providing both the scripts for Darker and Freed, it's perhaps no surprise that there was less tension on set this time around. Reportedly, on Grey, one of the big issues came when Taylor-Johnson invited playwright Patrick Marber (Closer) to expand on the lead characters, something the author objected to.
But Foley claims he never had such problems. "I really feel that I made the film I wanted to make, and she was supportive of that, and she's seen the film now and likes it."
Foley is not a director who is simply a yes-man, though. He talks about wanting to put his own stamp on the films when he signed on. "I made sure how much leeway I had, because there were a lot of things I wanted to 'correct' from the first film," he says.
Take Rita Ora's hair; Foley objected to the "black helmet" worn by the singer, who plays Christian's sister Mia, from the first film and changed it to blonde.
He was also responsible for selecting Darker's new cast members, including Kim Basinger – who plays Grey's former business partner/lover Elena Lincoln. Of course, casting Basinger immediately recalls her seminal role in 1980s erotic tale 9½ Weeks, which similarly dealt with an S&M tinged relationship.
It wasn't deliberate, says Foley. "Obviously that was a different generation, but it'll be interesting to see if they ever wind up on a double bill!"
Fifty Shades Darker opens on February 9
Want more articles like this? Follow SCMP Film on Facebook
This article appeared in the South China Morning Post print edition as: Kinks in the tale