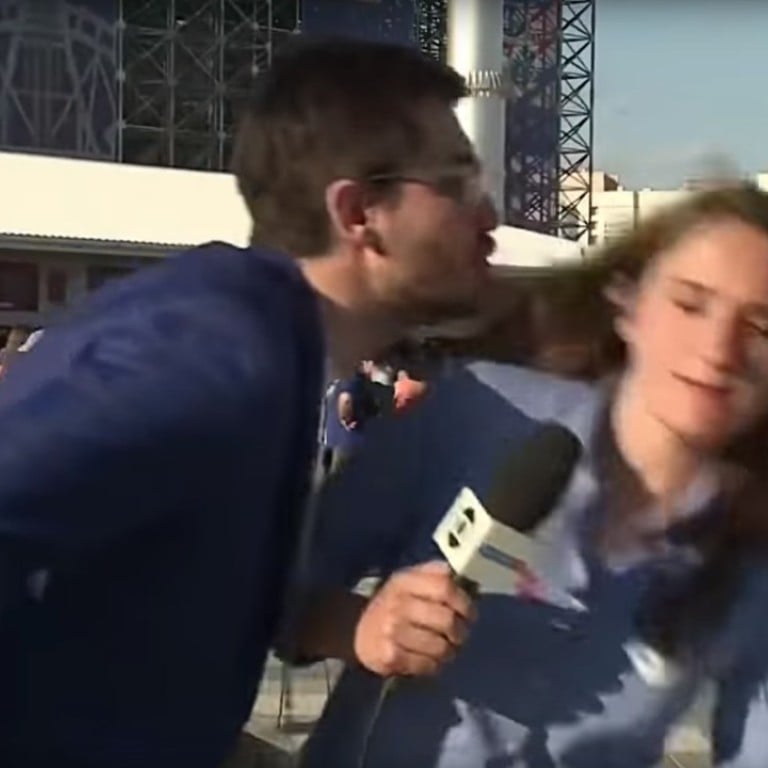 As third female World Cup reporter is sexually harassed on air, we look at similar past events and the reactions
Despite growing public awareness of sexual harassment in the workplace, it is still an everyday reality for female reporters. We look at recent incidents and the reactions that have accompanied them
In March this year, 52 female Brazilian reporters started the campaign #DeixaElaTrabalhar ("Let her do her job") to speak out against the sexual harassment they suffered on the job.
But despite an outpouring of support on social media, it has not put a stop to unwanted advances in the industry – as the ongoing soccer World Cup has shown.
A third female reporter was harassed on air this week while reporting on the tournament. The incident saw a man try to kiss Brazilian TV presenter Julia Guimaraes as she was speaking on camera in the Russian city of Yekaterinburg. After dodging the kiss, she rebuked him and shouted, "Don't do this! Never do this again!"
Early last week, Colombian reporter Julieth González Therán was groped and kissed by a man when broadcasting from Moscow.
Some social media users dismissed the action as "fans' excitement" and the reaction to it as "feminist hysteria" and "poorly judged action". But González later tweeted: "The violent act of a fan is sad. But what is even worse is the reaction of those who do not see it as harassment."
Despite growing public awareness of sexual harassment in the workplace, thanks in part to the #MeToo movement sparked by revelations about film mogul Harvey Weinstein, people still make light of such behaviour.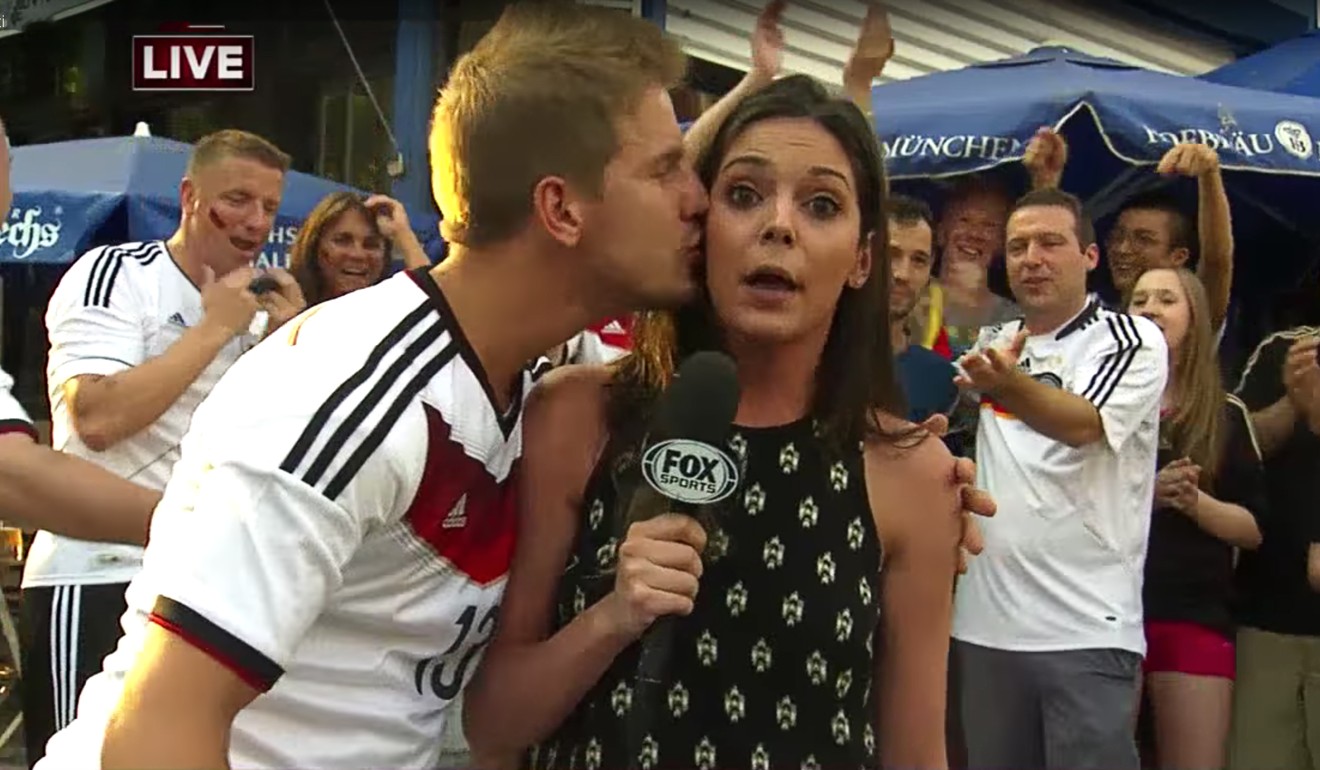 Diamond Kwok, a reporter for Hong Kong broadcaster i-Cable News, was kissed on both cheeks by two rugby fans while recording a segment at the Hong Kong Sevens rugby event this year.
i-Cable executive director Ronald Chiu Ying-chun played down the incident at the time. "Everyone understands the environment at the time – in the South Stand [of Hong Kong Stadium] it's basically a carnival. So even if it happened, everyone should just laugh about it," he told news website HK01 when questioned about the incident.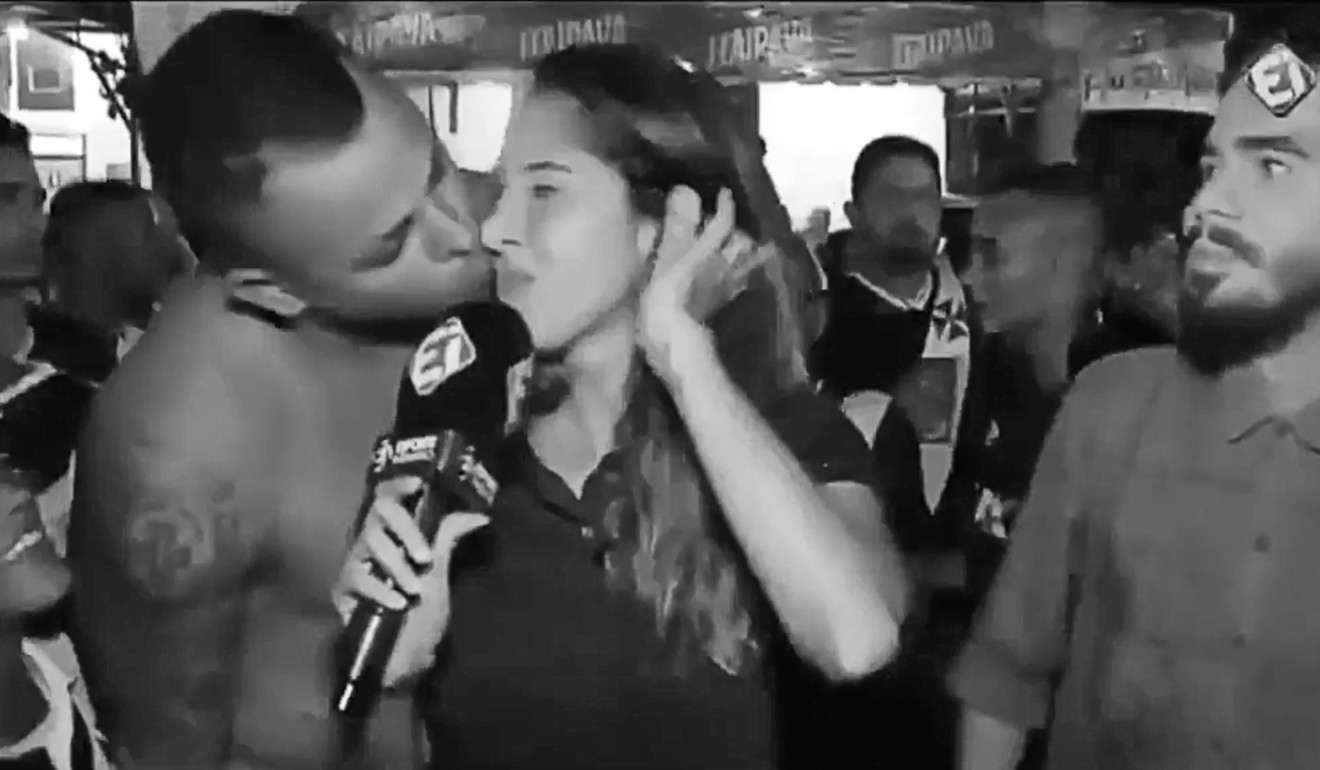 As reporters from the campaign #DeixaElaTrabalhar point out, sexual harassment is an everyday reality, especially for female sports journalists. Bibiana Bolson, from the EspnW sports network, described how fans tried to kiss, hug and touch her when she was broadcasting live from a European cup soccer match.
While reporters often carry on presenting is the face of such situations – seen as a professional way of handling such incidents – this can encourage the perpetrator to continue.
When sports journalist Katie Nolan was reporting from outside a German bar during the World Cup in 2014, a football fan approached and kissed her twice. At the end of the live-stream, another fan was seen lunging at Nolan in an attempt to hug her.
Some reporters fight back. When Mexican sports journalist Maria Fernanda Mora felt someone repeatedly groping her as she was reporting after a Concacaf champions league soccer match in April this year, she turned around and swung her microphone at the fans surrounding her.
She later released a statement on her Twitter account describing the incident and adding that women should never stay silent on the matter of sexual harassment.