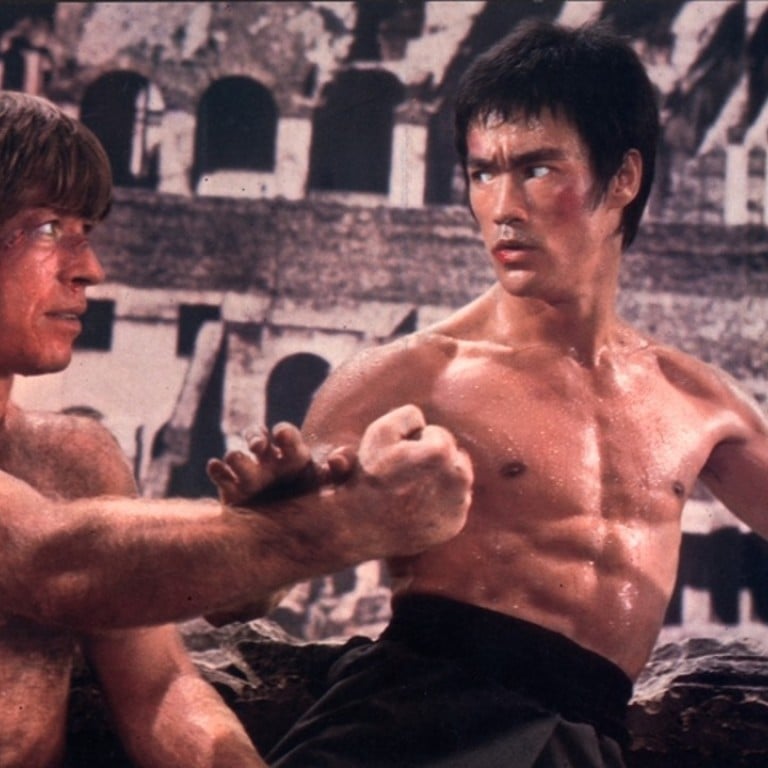 'New Yellow Peril' and 'the Fred Astaire of martial arts': Bruce Lee film reviews from American newspapers
Critics keen to make an Asian actor relatable likened Lee to Hollywood stars from Astaire to Burt Lancaster, James Cagney and Douglas Fairbanks, but were dismissive of his films, sometimes in terms readers would find crass today
Forty-five years after his death at 32, Bruce Lee is a legend, credited with ushering in an age of martial arts movies in the United States and elevating the Asian hero in Western pop culture.
Yet even Lee's Hollywood friends who sought out parts for him did not believe he had a shot at becoming a star in the US, says Matthew Polly, author of a new Lee biography.
The television series
Kung Fu
and the movie
Five Fingers of Death
helped "crack the door open" for American acceptance of Chinese martial arts, but Lee made it mainstream, Polly writes
in his biography,
Bruce Lee: A Life
.
Lee's final completed movie, Enter the Dragon, premiered in America at Grauman's Chinese Theatre in Los Angeles in August 1973, just weeks after the actor died in Hong Kong.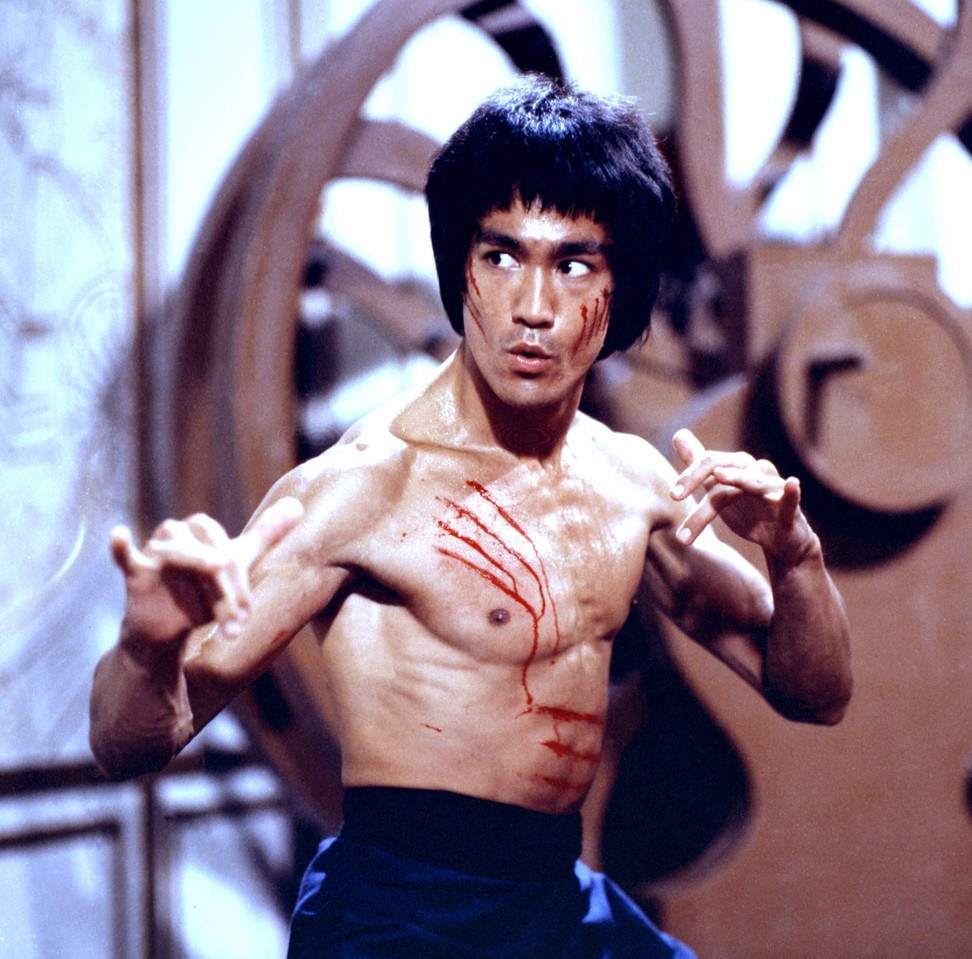 "It was Lee's performance in Enter the Dragon that blew it off its hinges – launching an entirely new genre of film in the west," Polly writes.
A remake of Enter the Dragon may be coming soon. Variety reported that Deadpool 2″ director David Leitch was in early talks to helm the movie. No actors are yet attached to the project, but it's unlikely they will face the kind of barriers that Lee did in his time.
Chinese actors were "mostly relegated to meek houseboy roles like Hop Sing in Bonanza", Polly writes, adding that "prior to Bruce, it was only Fu Manchu, the Yellow Peril villain, and Charlie Chan, the model minority."
As Lee appeared on television and in American cinemas in the 1970s, film critics from Louisville to New York and Boston were confronted with making sense of this new "Oriental" star and the burgeoning kung fu movie genre.
Most reviewers dismissed his films from Hong Kong, complaining they offered little plot and poor production values. (The Associated Press obituary said Lee's films were successful in New York "despite almost unanimously disapproving reviews".) One newspaper described martial arts movies as the "New Yellow Peril".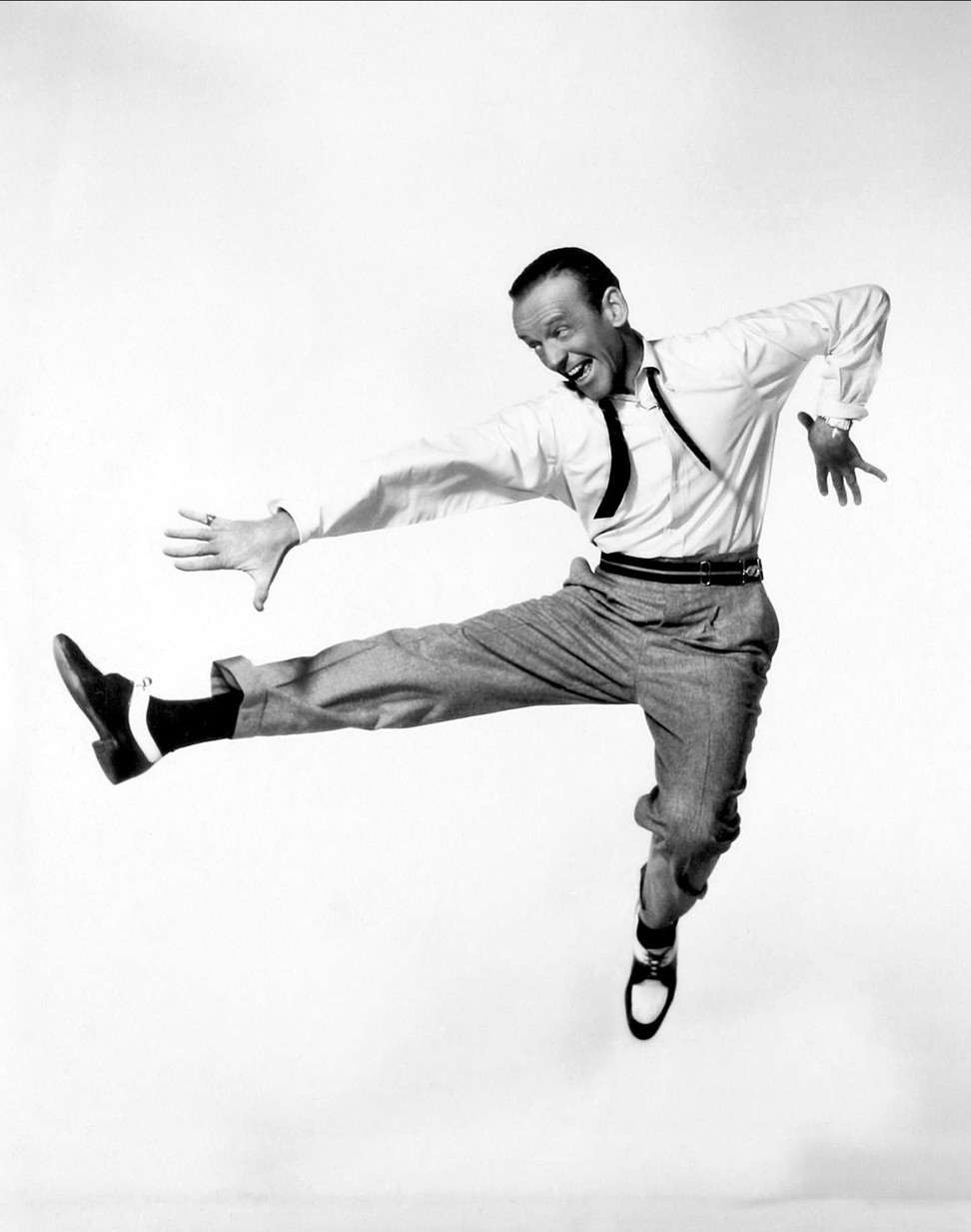 Still, most singled out Lee for praise, with some critics comparing him to Fred Astaire and Douglas Fairbanks.
Here are excerpts of the reviews, with some annotations in brackets providing context.
Fists of Fury (also known as The Big Boss)
The New York Times, May 13, 1973
Vincent Canby writes:
" … According to Variety, there hasn't been such a comparably profitable movie fad since the early days of the Italian Western about 10 years ago. … kung fu movies began as a local phenomenon in Hong Kong a couple of years ago, began to win audiences in Latin America two years ago, and in the last year have scored remarkable financial successes in Europe, especially Italy and Germany.
"The two I've just seen, Fists of Fury and Deep Thrust, make the worst Italian Westerns look like the most solemn and noble achievements of the early Soviet cinema."
The Philadelphia Inquirer, June 10, 1973
William B. Collins writes:
"The first of the Kung Fu movies was fun. It was exotic and absurd but it was the kind of thing which once is enough."
" … The Kung Fus are no longer fun. They have become a trend and the film industry is wondering anxiously whether they are here to stay or whether they are just a flash in the moo goo gai pan. This new Yellow Peril has made a phenomenal impact."
" ... That brings us to Bruce Lee, whose stellar vehicle, Fists of Fury, has helped the movie industry see the glint of gold in Kung Fu. Bruce Lee is the Adam West of Kung Fu. … Lee made an indelible impression four years ago by walking into a movie called Marlowe and smashing up James Garner's office with his bare hands."
Tampa Bay Times, June 12, 1973
J. Oliver Prescott writes:
"Bruce Lee is the fastest foot in the East. He is in the film Fists of Fury now playing at the Tyrone theatre, anyway.
"The characters are certainly simple: These are just plain Chinese country folk whose little disagreements develop overnight into Oriental rumbles equivalent to the Sharks and Jets in West Side Story.
"Now back in Hong Kong, he has become the hottest international movie star since Clint Eastwood. Unlike Eastwood's anti-hero, Bruce Lee is giving the American audiences what they apparently want now: A hero."
" … Lee is Rex Allen, Lash Larue, Tom Mix, Roy Rogers and Gene Autry all rolled into one."
[According to Polly's book, Lee told his good friend, the screenwriter Stirling Silliphant, that he would one day be "a bigger star than [Steve] McQueen and [James] Coburn", to which Silliphant replied: "You are a Chinese in a white man's world. There's no way."]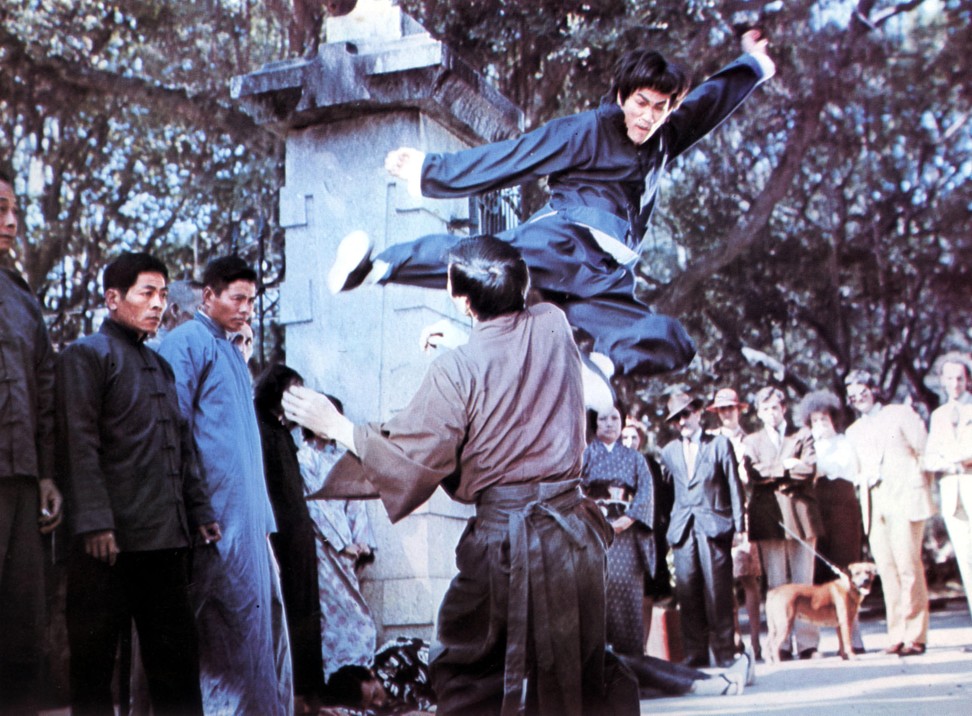 The Chinese Connection (also known as Fist of Fury)
The New York Times, November 8, 1972
A.H. Weiler writes:
"Fist of Fury landed with a bang and quite a few whimpers yesterday at Chinatown's Pagoda Theater to illustrate that some Orientals aren't particularly inscrutable."
Lee "is decidedly eye-catching figure as he takes on all comers, singly or in whimpering groups, in stylized, Karate-like bouts with swift, balletic moves, baleful stares, deadly flying fists and legs and, of course, all the necessary eerie shouts."
The Pittsburgh Press, July 16, 1973
Edward L. Blank writes:
"The Chinese Connection at the Fulton is an Oriental action drama drawing raucous laughter."
" … Bruce Lee, who is either a master buffoon or the world's worst actor …"
The Courier-Journal, July 20, 1973
David Cooper writes:
"The story is a trite melodrama about a young man avenging the death of his karate teacher. The plot is adolescent but the dialogue is childish."
"The Chinese Connection is probably the best karate flick that has been made to date. It is, of course, ridiculous, but no more ridiculous than James Bond or Shaft. And I have a sneaking suspicion that karate movies, like Watergate, are here to stay."
The Atlanta Constitution, August 12, 1973
Scott Cain writes:
"What is especially sad about Lee's death is that The Chinese Connection indicated that he could singlehandedly lift the kung-fu movies out of their rut with the same assurance that he beat up hordes of bad guys in these sukiyaki westerns."
Enter the Dragon
The New York Times, August 18, 1973
Howard Thompson writes:
"Although they have made a mint at the American box office, those bone-crunchers from China – adventures pegged on karate, hapkido, kung fu and judo – were essentially shoddy productions. Now Hollywood has muscled into the act, dispatching a unit to Hong Kong and vicinity. The result is Enter the Dragon, opening yesterday at four theaters. Now brace yourself.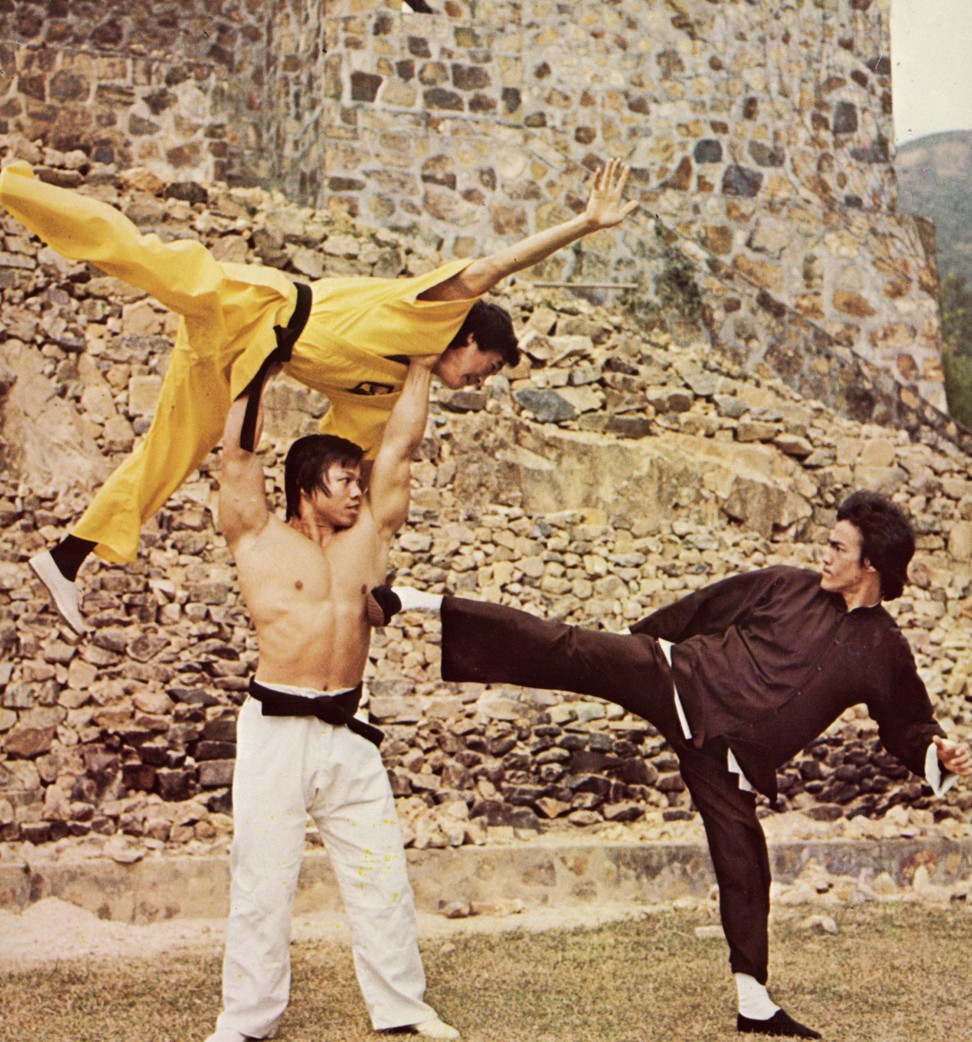 " … the three tough agents invading the place are white (John Saxon), black (Jim Kelly) and yellow (Bruce Lee)."
[Lee only appears after 216 words in the 302-word review].
"On an adventure level, the performances are quite good. The one by Mr. Lee, not only the picture's supermaster killer but a fine actor as well, is downright fascinating. Mr. Lee, who also staged the combats, died very recently. Here he could not be more alive."
[According to Polly's book, Elvis Presley watched Enter the Dragon dozens of times and VHS tapes of the movie were smuggled into Eastern Europe in the 1980s.]
Boston Globe, August 23, 1973
Patrick McGilligan writes:
"Lee is the Fred Astaire of the Martial Arts, an analogy not altogether wry, and he moves so gracefully, yet so militantly, that he is the best example of locomotive movement to be seen on the screen for years.
"Enter the Dragon, currently at the Savoy, is a silly, little film, produced by Warner Bros., who should know better."
" … Consider, instead, Bruce Lee, who might have been a genuine star had he lived beyond his 32 years, and encountered a director or two with talent, and skipped hackneyed stories."
[Polly: One of the great tragedies of Bruce's early demise is he never had the chance to break down other barriers by expanding the type of roles Asian males could play in Hollywood films. He would have been a compelling romantic leading man."]
The Washington Post, August 25, 1973
Gary Arnold writes:
"It remains to be seen if another personality can achieve what Lee might have been on the verge of achieving: A revival of the athletic movie tradition of Douglas Fairbanks, Errol Flynn and Burt Lancaster in a slightly novel context – the martial arts or Kung fu melodrama – with himself as the first authentic athletic star since Lancaster."
" … his Cagney-esque cockiness and humor and his early Steve McQueen nonchalance.
" … John Saxon and Jim Kelly. These guys are rather superfluous, and fitting them in keeps Lee off the screen for long stretches."
[Polly: "Fred Weintraub, who produced Enter the Dragon, was one of Bruce's biggest patrons and supporters, but even he didn't believe an Asian actor could carry a Hollywood movie all by himself – casting Jim Kelly and John Saxon as co-heroes of the movie."]
Return of the Dragon (also known as Way of the Dragon)
Chicago Sun-Times, August 8, 1974
Roger Ebert writes:
"At 8 a.m. Friday, an hour before opening time, the crowds were lined up in front of Chicago's Oriental Theater. By midafternoon, more than 4,000 had paid to get inside. Louis Marks, who books the theater, said it looked like an all-time record."
" … Bruce Lee had been called in from Hong Kong by some Chinese friends who were trying to start a chop suey joint in Rome. But the Mafia was trying to muscle in. Lee's assignment, if he chose to take it: Protect the restaurant from the mob.
"This sort of stuff is magnificently silly, and Lee, to give him credit, never tried to rise above it."
Detroit Free Press, September 19, 1980
"A year after his death in 1973, actor Bruce Lee's last film, Return of the Dragon, was the unexpected summer movie hit, breaking attendance records around the country. It still draws standing-room-only crowds in cities where the late actor's name remains magic."
" … Return of the Dragon is more than an exercise in raw violence; it is a stunning demonstration of how life's most basic and elementary acts can be dignified through ritual and grace."