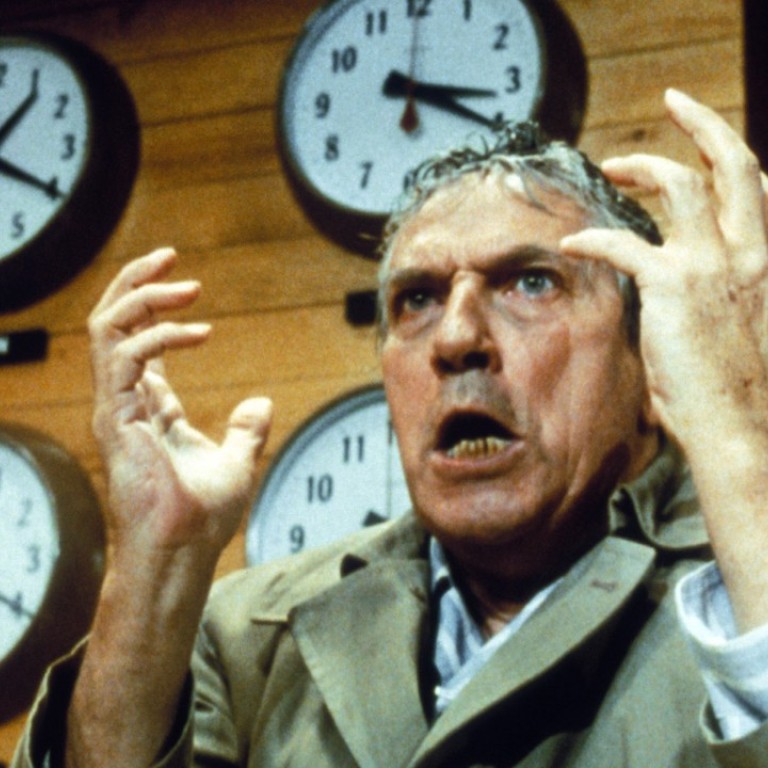 Classic American films: Network – Sidney Lumet's news satire as relevant today as in 1976
A news anchor announces he will kill himself on air in his final show after being pushed out because of low ratings
The story of the power of ratings resonates in this age of click bait, fake news and a reality-TV American president
In this regular feature series on some of the most talked-about films, we examine the legacy of classics, re-evaluate modern blockbusters, and revisit some of the most memorable lines in film. We begin this week with the controversial 1976 film Network .
"I'm as mad as hell, and I'm not going to take this any more!" So decides veteran news anchor Howard Beale (Peter Finch) live on air, when faced with his impending retirement due to declining ratings. He's not the only one.
Based on Paddy Chayefsky's Oscar-winning screenplay, Sidney Lumet's salty satire is furious in just about every respect. Beginning with a cacophony of TV voices – CBS, ABC, UBS, all the same, all meaningless – it tells the story of how Beale, "the grand old man of news", loses the plot and threatens to kill himself during his final show.
Though his boss, Max Schumacher (William Holden), thinks the poor man needs help, the network suddenly has a hit on its hands, and thanks to Machiavellian newbie Diana Christensen (Faye Dunaway), Beale is turned into a kind of truth-telling televangelist. You don't need be a prophet to see that things are not going to end well.
The director of Serpico (1973) and Dog Day Afternoon (1975), Lumet, who died in 2011, was one of cinema's most consummate craftsmen. He made his name with the 1957 courtroom drama 12 Angry Men – and there's a whole lot more than 12 of them here. Among a cast of 1970s heavy-hitters, watch out for Robert Duvall as Frank Hackett, Christensen's cold-hearted boss, and Ned Beatty as Arthur Jensen, the near-demonic head of UBS's parent corporation CAA.
Apparently major stars such as Henry Fonda, James Stewart and Paul Newman were considered for Finch's role, until he offered to audition, even paying the fare to New York himself. He won an Oscar for his troubles, as did Dunaway and Beatrice Straight, who has a dignified – if minuscule – part as Schumacher's wife.
It's Schumacher who gets the most screen time, looking on in bemusement as his drunken prediction comes horribly true. "I love it," he tells Beale of his plan. "Suicides, assassinations, mad bombers, mafia hitmen, automobile smash-ups: The Death Hour. A great Sunday night show for the whole family!"
But this is Chayefsky's show and no mistaking. His dialogue, whether snarled into soon-to-be-slammed-down phones or spat out in Altman-esque overlaps, is dense (when was the last time you heard the word "sibilant" in a script?), whirlwind fast, and so tough talking it practically bruises.
And there's a real message beneath it all. At one point Jansen unleashes a diatribe so apocalyptic it could have come from The Omen.
"There is no America, there is no democracy!" he bellows at Beale (everyone in Network bellows, it's that kind of film). "The world is a business."
Slowly it becomes clear that we are not watching a battle for Beale's sanity, but a battle for the soul of America: one that is already lost. And the chances are, if Beale – or Chayefsky – were alive today in the era of click bait, fake news and reality TV presidents, they'd be madder than ever.
Want more articles like this? Follow SCMP Film on Facebook