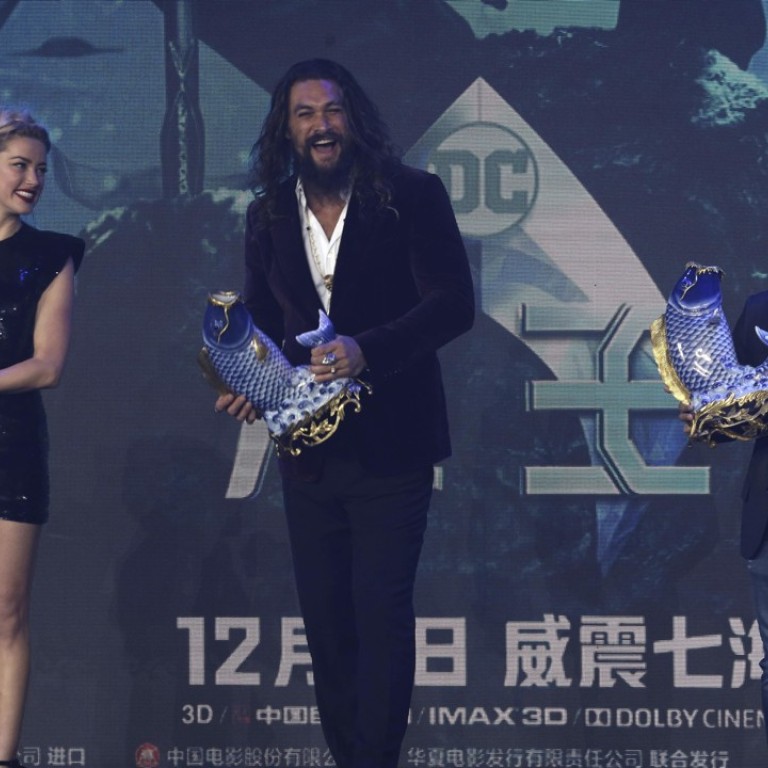 Aquaman, starring Jason Momoa, makes huge splash on its opening weekend in China
James Wan-directed live-action DC Comics tale, in which Amber Heard also stars, takes US$93.6 million at Chinese box office
Seventeen of every 20 Chinese cinema-goers watched the Warner Bros. release at the weekend; China was the only market in which it was showing
The Disney hit Ralph Breaks the Internet may have won the weekend in North America, but it was far from the biggest movie in the world.
That honour goes to WB/DC's Aquaman, which won't even open in the United States for nearly two weeks yet.
Aquaman, which sees Jason Momoa return to the title role for his first solo film in DC Comics' cinematic universe, grossed a whopping US$93.6 million even though it opened in only one market: China.
The film, directed by James Wan, not only enjoyed the biggest Chinese opening ever for a Warner Bros. film, but also secured 85 per cent of the market share, according to Box Office Mojo.
Momoa's previous turn in the marine suit, 2017's
Justice League
, grossed only US$50.6 million in its Chinese debut.
Aquaman
, on the other hand, now sits right alongside Marvel's
Captain America: Civil War
for the top 20 biggest openings ever in China, not adjusting for inflation.
It certainly didn't hurt Aquaman that Wan's work has soared in China before; in 2015, his Furious 7 opened to US$182.4 million – the fourth biggest debut there.
Aquaman will spread to more than 40 overseas markets this weekend before opening in North America on December 21.
In the US, Ralph Breaks the Internet (US$16.14 million) nudged Illumination's The Grinch (US$15.18 million) out of top spot over the weekend.