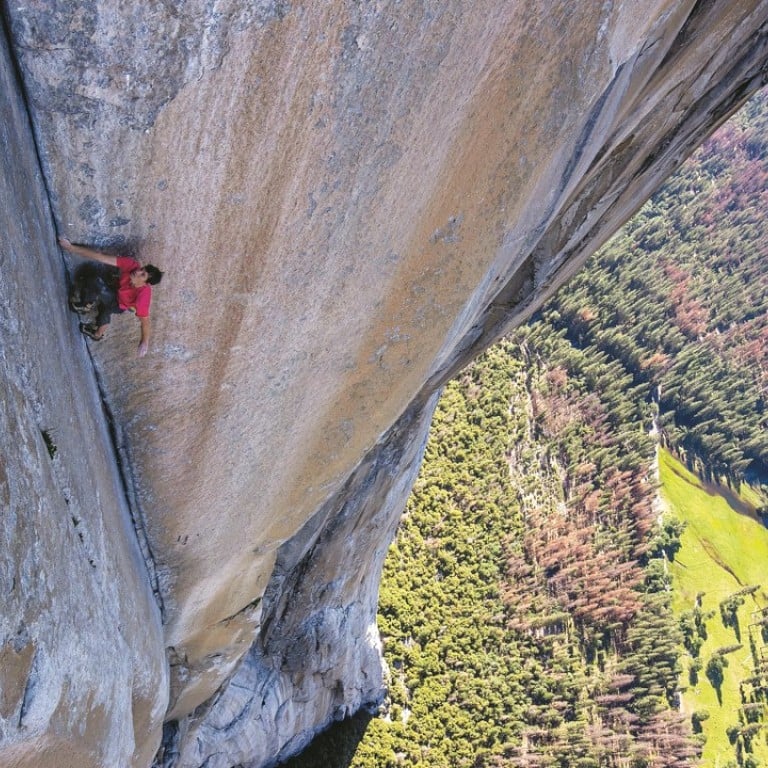 Free solo climber Alex Honnold on first Yosemite National Park ascent that made him a rock star
The unassuming 33-year-old who was first to scale 900-metre rock wall of El Capitan without ropes finds it hard to watch parts of the film of his feat
'To be able to do a climb like that, it's easier if I … assume it's not having any impact on anybody else,' he says, as he ponders his next challenge
It takes a certain kind of madness to try to climb a 900-metre (3,000ft) rock wall without a rope, then agree to the potentially fatal distraction of a camera crew shadowing your every move.
If you saw the June 2017 headlines about the first "free solo" ascent of El Capitan – the granite giant that looms over California's Yosemite National Park – you may remember this particular lunatic's name: Alex Honnold.
Free soloing refers to rock climbing alone and without ropes or safety equipment. To fellow climbers and outdoor enthusiasts, the 33-year-old is nothing less than a demigod, having pulled off the gutsiest climb in the history of the sport to cement his place in the sport's pantheon.
Yet in person, Honnold appears impressively sane, and rather less superhuman than his reputation as the world's greatest free solo "big wall" climber suggests.
Lanky and soft-spoken, the baby-faced athlete exudes a down-to-earth amiability. And there seems little vanity in the man, although there is an unmistakable glint of steel.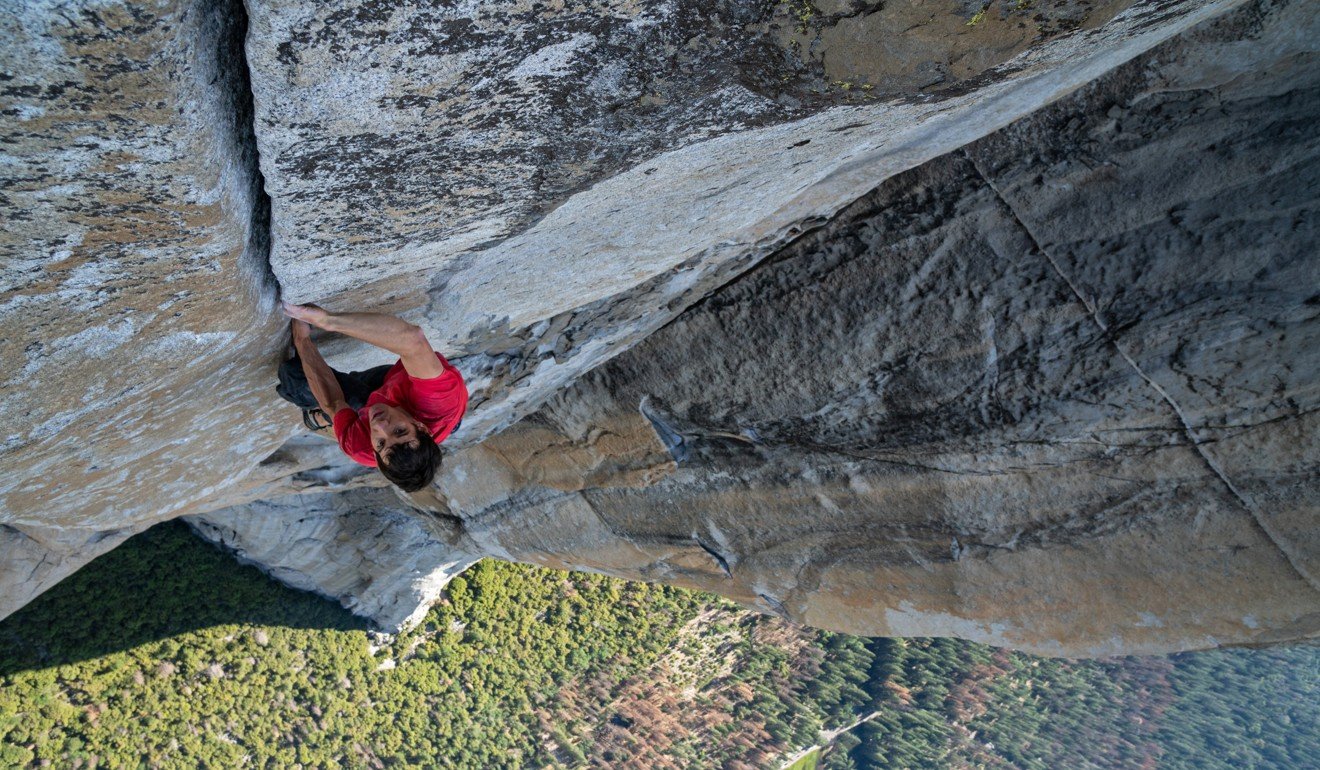 The Post spoke to Honnold following the recent Los Angeles premiere of Free Solo, a heart-stopping documentary chronicling his spectacular climb up El Capitan and the emotional toll it took on those around him.
The film, by Asian-American directors Elizabeth Chai Vasarhelyi and Jimmy Chin, which airs on the National Geographic channel in Hong Kong early next year, makes its star appear almost alien in his fearlessness, sometimes comically so.
He seems immune to the concerns for his safety etched on the faces of the film crew, his training partner and his new girlfriend, Sanni McCandless, although the footage captures the moment that begins subtly to shift. Honnold freely admits he was more afraid than he looked.
"I don't know if you can find a single climber out there that doesn't think climbing is scary. Nobody wants to fall to their death, you know. That's such a constant part of climbing that I think any climber has to have that," he says.
At the same time, he has made a clear-eyed assessment of the risks and rewards of his chosen profession, which has earned him lucrative endorsements from top brands such as sport and climbing apparel and equipment retailers North Face and La Sportiva – although Clif Bar, a manufacturer of organic food and drinks, dropped its sponsorship of him and other free solo climbers in 2014, saying it was no longer comfortable with the extreme risks they were taking.
Honnold offers a compelling, if controversial, defence of rock climbing – at least of the kind that used ropes and safety harnesses. He argues it is far safer than mainstream sports such as mountain biking or American football – especially the latter, where the chance of traumatic brain injury is well documented but largely ignored.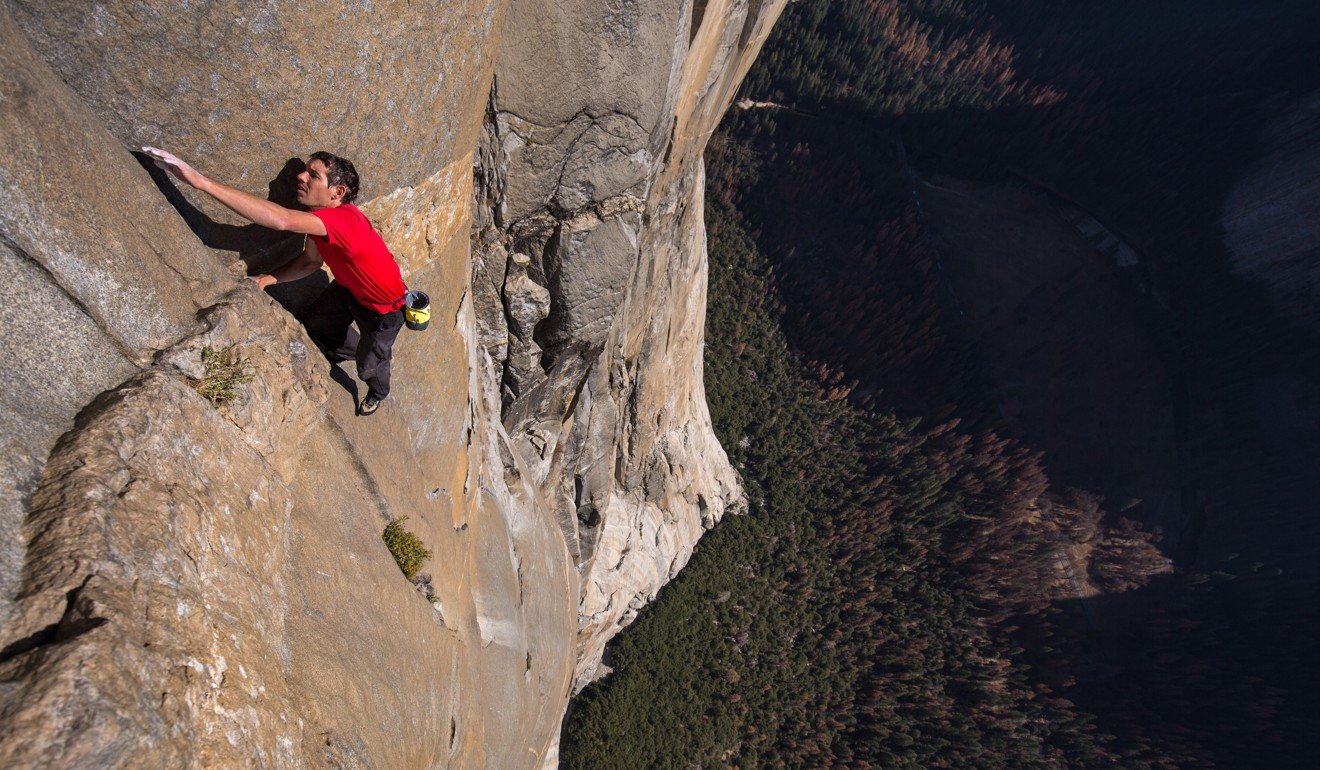 He is unmarried and has no children, but says if he does become a father, he would not stop his children rock climbing given they receive the right training and take the necessary precautions.
"If my kid wanted to play [American] football, in some ways, there's more of a guarantee of injury because you're hitting your head a bunch. And if my kid were to ride mountain bikes, you're pretty much guaranteed to break bones somewhat regularly," he reasons.
"It's kind of worse than having a small chance of catastrophic injury [while rock climbing]. It's how you balance the odds."
If a child of his wanted to free-solo climb – which, as the film points out, has claimed many lives – Honnold says: "I wouldn't necessarily have any problem with it if they put in the appropriate time and preparation. But I'd be, like, 'You'd better frickin' train and prepare. And know what you're doing and take your time and be safe.'"
Honnold does walk the talk here. The documentary captures his extraordinary dedication to training before attempting El Capitan; he kept a handwritten journal detailing every single handhold, foothold, gymnastic contortion and potential trouble spot on the ascent, which he finished in an astonishing three hours and 56 minutes.
Despite concerns about how he might be affected by the camera crew – a team of experienced climbers led by Chin, a long-time friend – Honnold says it probably helped in the end.
"There've been a lot of questions about whether the film put a lot of pressure on me, and if it made it more dangerous. But I think overall it probably made it safer just because it forced me to be more prepared, and I wound up putting more work into it."
Still, it did not fully sink in just how worried everyone else was until he viewed the film for the first time and saw their stricken faces.
"That's part of what makes it slightly hard for me to watch. Just seeing the impact it had on my friends and the impact it had on Sanni, my girlfriend. Because I think for me to be able to do a climb like that, it's easier if I sort of assume it's not having any impact on anybody else, and it's just my own thing."
The other revelation watching the film: just how much of himself and his personal life, including his budding romance with 26-year-old McCandless, ended up on screen.
"Just watching yourself talk on screen for an hour-and-a-half, and watching all the scenes of my relationship with Sanni and our time together, it was, like, 'Oh no, this is so horrendous'," he says.
Still, he is glad he gave the directors free rein to shape the movie in that direction. "I knew they were good filmmakers and I just trusted that they would do a good job of it."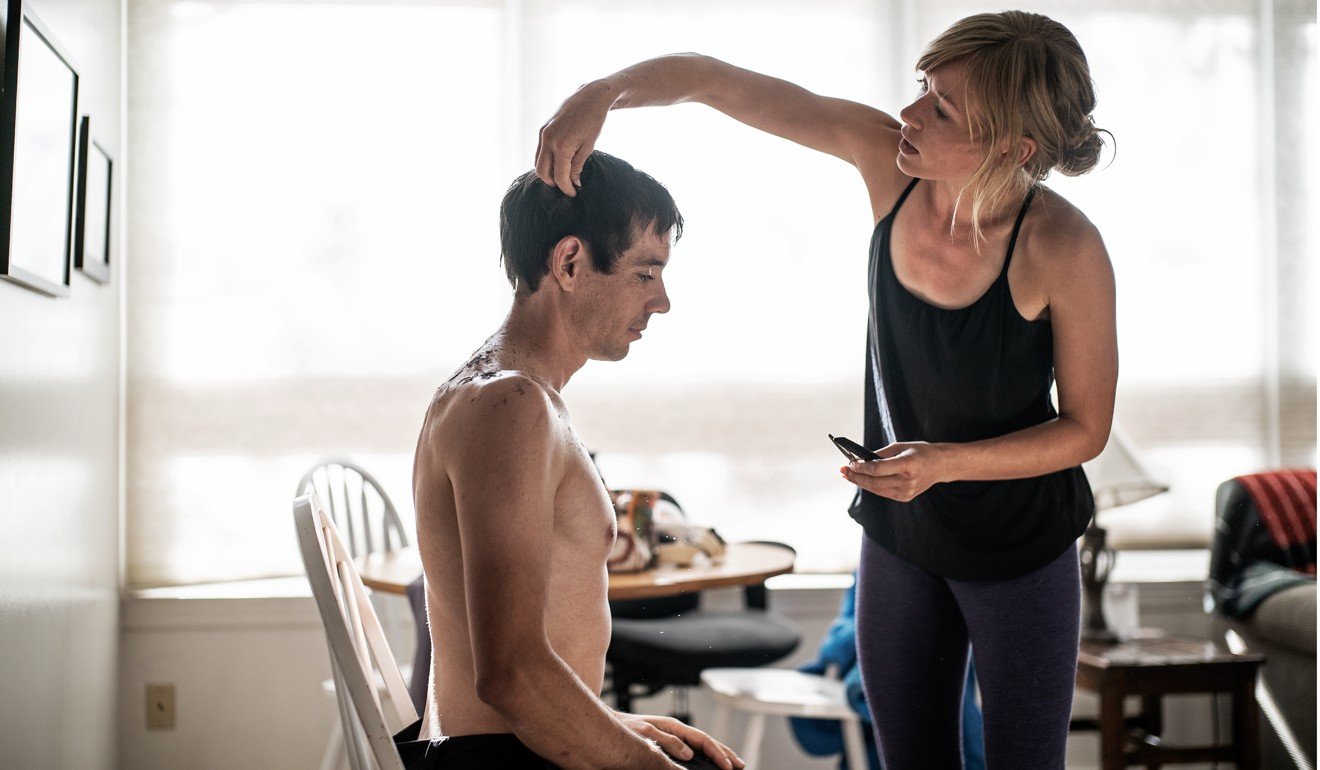 Also unexpected was the warm reception from audiences at early screenings (the film had a limited cinematic run in the United States this year, and will be broadcast globally on the National Geographic channel early next year).
"The thing I've been surprised at is everybody takes a slightly different lesson from the film," Honnold says. "Some people talk about the preparation and the dedication, some people talk about fear and mortality. They seem to pull whatever lesson seems appropriate for their own lives, which I think is great."
The last 10 minutes of the film – which Honnold ends up rewatching whenever he attends a screening – have been a wellspring of joy for him personally because it shows the jubilant last stretch of his climb.
"That was one of the best days of my life. The film really does justice to the climb and puts me back into that feeling and that place, and it's beautiful," he says.
El Capitan was his white whale for so long that he has had to recalibrate his life after the climb. "The biggest change is that I don't think there's anything in the world as big or as difficult or inspiring as El Cap."
He has since gone back to his regular training and climbing routine. "I'm sort of doing all the things I always was – climbing all the time, improving as a climber, working on other types of climbing projects, focusing on my foundation [the Honnold Foundation to promote solar energy], focusing on my relationships. And then once anything grabs me the way El Cap did …"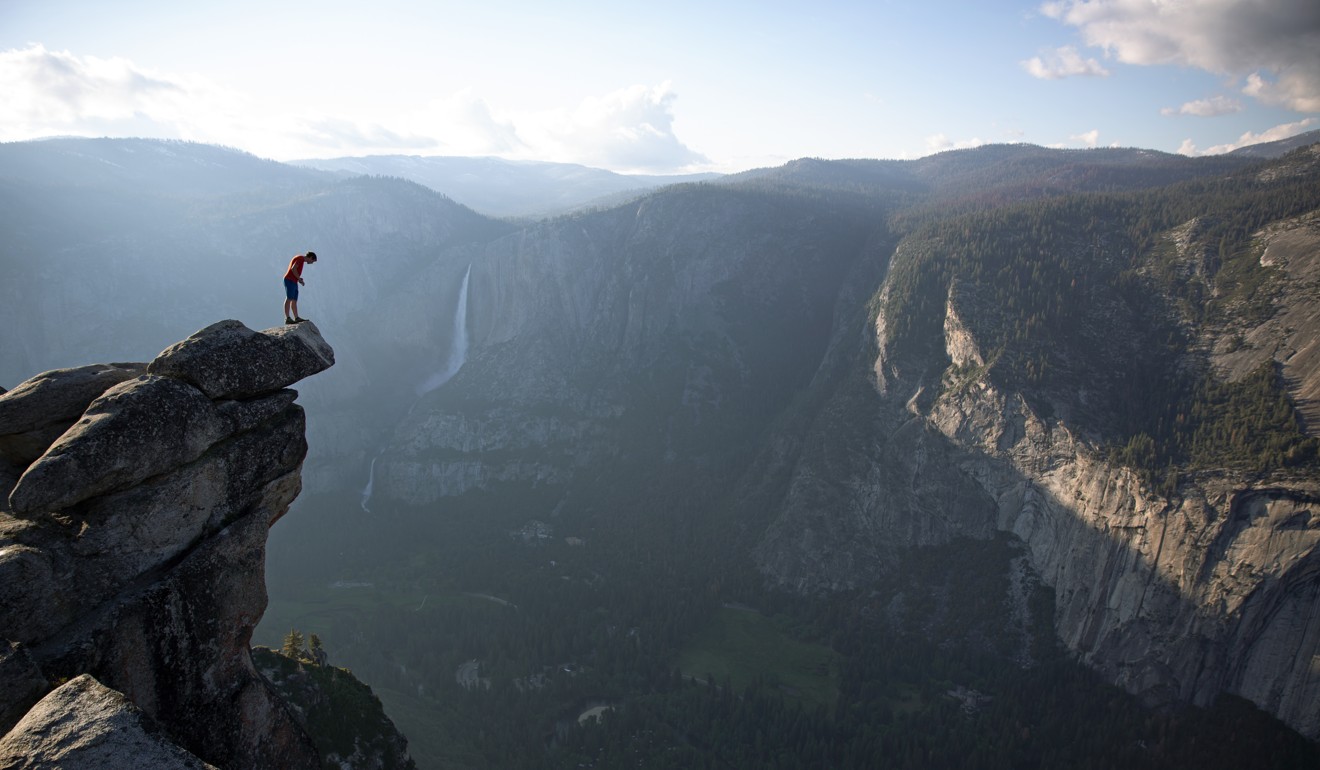 Perhaps he will find his next big wall in China, which is fast emerging as a rock-climbing destination. Honnold has already been drawn to hotspots such as the Getu Valley in Guizhou province and Yangshuo county in Guangxi province.
The Great Arch in Getu, a spectacular limestone structure that has become a mecca for the sport, almost made it into the movie, in fact.
"As part of the film, we spent two or three weeks training in Getu climbing this enormous limestone arch that's this natural wonder, but the footage did not make it [to the final cut]," Honnold says.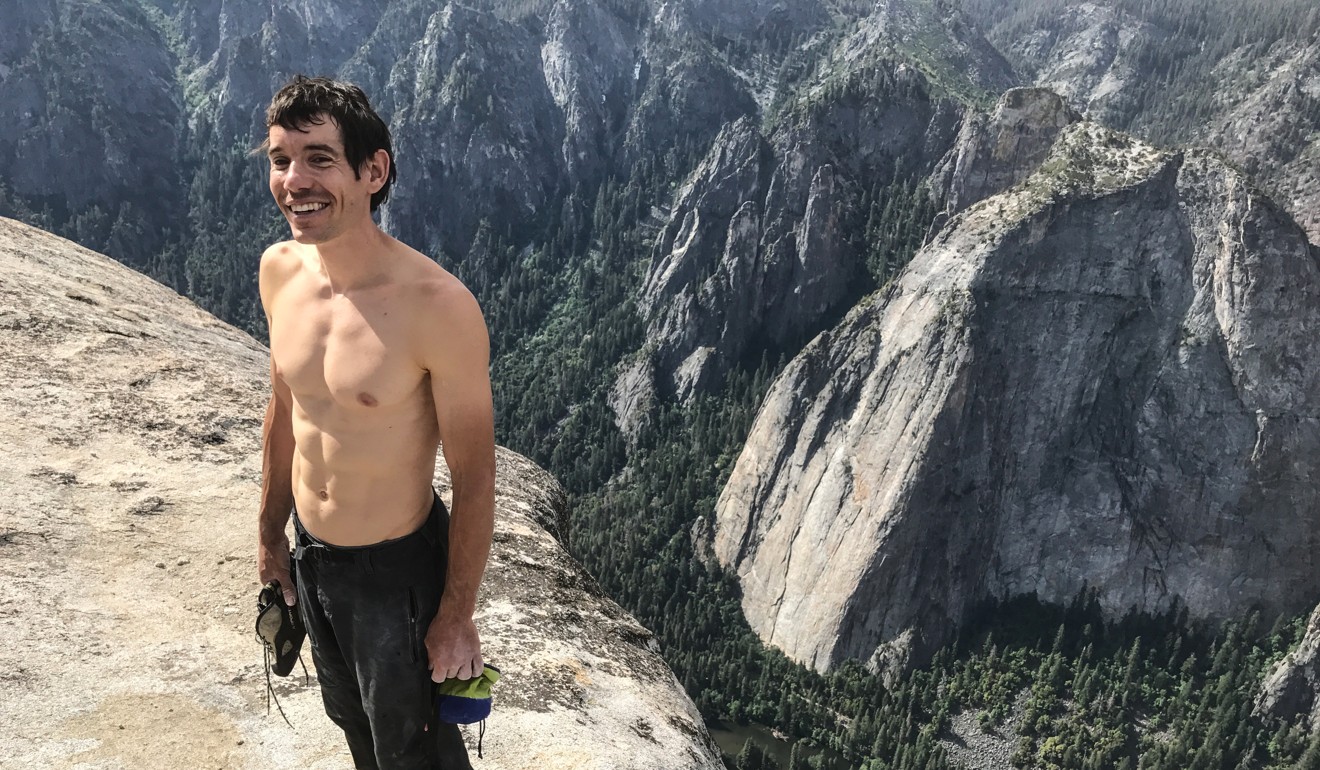 This article appeared in the South China Morning Post print edition as: The rise of a rock s tar