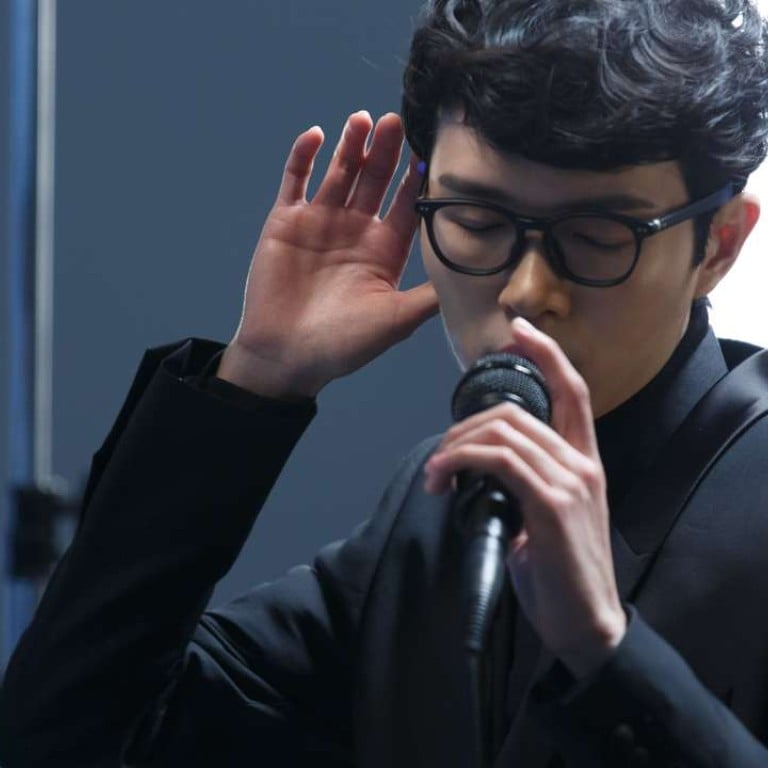 Hong Kong star Khalil Fong out to turn world of Chinese pop upside down
By starting his own label, with a little help from his fans and a global crowdfunding platform, the singer-songwriter hopes to change the landscape of an ailing, institutionalised industry
Khalil Fong wants to start a revolution. Eleven years into a music career that has been unusual for the local music scene, the 32-year-old singer-songwriter is pursuing a new venture aimed at turning the Chinese pop music world upside-down.
"The traditional framework of the [music] industry isn't working any more," says the Hong Kong-based artist.
"Albums have become promotional tools instead of artworks that can sustain themselves. We need to break away from this vicious cycle, bringing value back to music production. We must not be afraid in investing in the arts and taking risks."
Fong is determined to make a change, so he's reinventing himself as a cultural entrepreneur by founding his own independent label FU Music. He is also turning to the public for HK$10 million in funding through FringeBacker, which would make it one of the first music labels in the region to be backed by crowdfunding.
If Fong's crowdfunding campaign succeeds, his start-up label could change the landscape of the Chinese music industry. Music fans will no longer be supporting an institutionalised industry dominated by record companies, but funding directly the music he makes.
"It is very difficult for someone to support an artist directly," he says. "I want to produce quality content that is accessible to people and reaches an international standard, blending the Chinese and Western cultures I grew up with. As an artist, this label can truly represent who I am."
Fong says FU Music will be an experiment for independent artists – albeit an expensive one. He has already invested an eight-digit sum in building the label over the past two years. "I'm my own seed money," he quips.
But this is not enough, so Fong is asking fans to back him to the tune of HK$10 million. "If my fans back me, they are not just backing my work but also my philosophy," says Fong.
"It would be interesting to see where my brand new label will lead me and how this will open new possibilities for independent artists in Hong Kong, Taiwan and mainland China. I'm curious and nervous at the same time."
Crowdfunding has become a global phenomenon with the rise of the start-up culture and platforms such as Kickstarter. More creative projects, such as film ventures at Sundance Film Festival, and independent art projects at Art Basel, are raising capital through crowdfunding.
"Crowdfunding, however, has been an untapped resource in the Chinese music scene," says Fong.
The local music industry has long been dominated by major record companies. However, the music released, as Fong points out, isn't about the music itself most of the time – they are the tools to promote the images of the singers so that they can earn fame and make money elsewhere, such as at concerts and through celebrity endorsement.
But the emergence of platforms and business models such as iTunes and Spotify has turned the music distribution business upside-down. Record companies are not making as much money as they did in the past.
The latest IFPI Global Music Report indicates that after nearly two decades of continuous decline, global music revenue was up 3.2 per cent in 2015 to account for 45 per cent of industry revenue, overtaking the 39 per cent from physical sales for the first time.
Despite the growth, record labels haven't recovered from the shake-up. IFPI chief executive Frances Moore says despite an increase in music consumption, the "value gap is the biggest constraint to revenue growth for artists, record labels and all music rights holders".
For a musician like Fong who only has producing quality music in mind, this isn't what he signed up for. But the latest industry trends show that there is hope for his new venture.
Despite releasing his acclaimed debut Soulboy through Warner Music 11 years ago, followed by a successful career stemming from fusing R&B, soul and funk with Chinese pop – primarily Mando-pop, as the Hawaiian-born Fong grew up in Shanghai from the age of six – as well as composing and producing music for top singers such as Andy Lau Tak-wah and Kay Tse, Fong decided to go independent two years ago.
Fong says his yet-to-be announced new album, which is scheduled for release in September, is the first major release under his label. He is also considering a film project, on which he is collaborating with a friend to develop a script and planning to produce music for children.
The label, he says, is a project that will last for at least 10 years, and HK$10 million can help him keep it going. He is also prepared to call in other investors to finance different projects.
But is the HK$10 million goal too ambitious? "Crowdfunding is still a new concept and it might not be accepted here. It is a kind of social experiment," Fong says.
"I hope that people who have the ability can try to move things forward and I hope I can be one of those people to test the waters and create a ripple effect. This is a risky thing, but sometimes we just have to take a little risk."