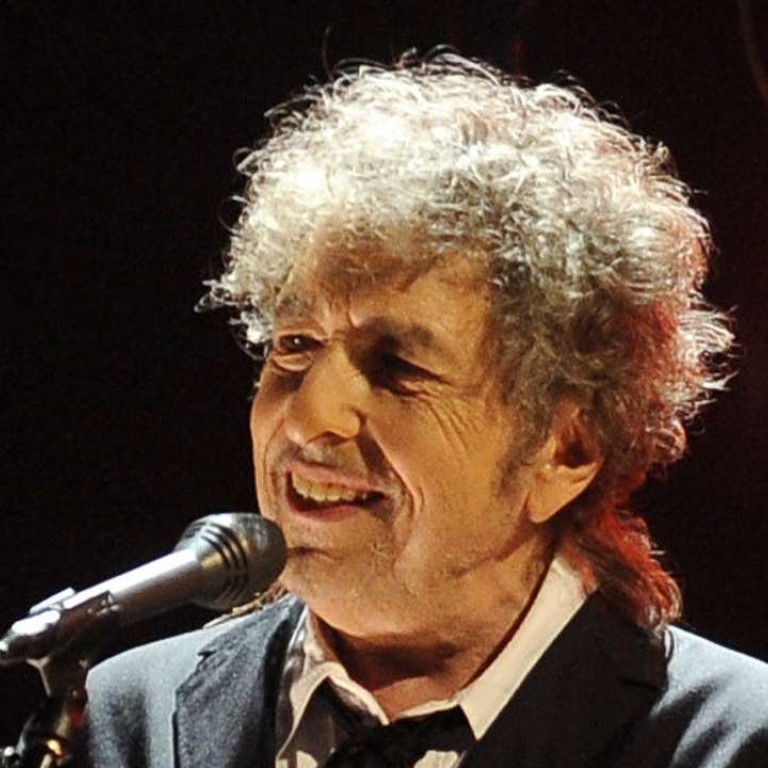 Album review: Bob Dylan's Fallen Angels is his second release of Sinatra standards
Dylan returns with a cover album of reimagined Sinatra tunes
Frank Sinatra enjoyed such adulation that he was called simply "The Voice", but Bob Dylan has been virtually the opposite, a legend famous in spite of his gritty timbre.
But on his new album, Dylan is pursuing an unlikely late-career incarnation as a 21st-century Sinatra, interpreting songs made popular by the late singing icon and remoulding the tunes with a rugged intimacy that is classically Dylan.
Fallen Angels, which was released on Friday, is the 37th studio album by the folk rock legend and his second in a row devoted to Sinatra's pop standards.
Dylan, who turns 75 on May 24, opens the album with Young at Heart – the title track from Sinatra's 1954 film with Doris Day that has since been frequently covered. But whereas Sinatra's version, with its orchestral backdrop, was sunny and light – the lyrics, after all, contemplate living up to age 105 – Dylan's disposition is moodier, with the song sounding like a lonesome cowboy's reflections backed by the effect of the steel guitar.
The sombre yet steamy feel of Fallen Angels is even more apparent on Melancholy Mood, one of the more obscure tracks in Sinatra's vast collection, which Dylan chose as the album's first single.
Dylan's previous album, Shadows in the Night, followed much the same format with the towering force of 1960s rock counterculture plucking from the back catalogue of Ol' Blue Eyes.
Yet Dylan did not simply pick Sinatra hits. If the tracks on Shadows in the Night had underlying themes of life transition, Fallen Angels revolves more around feelings of longing, as with the track On a Little Street in Singapore.
Despite a backup band, Dylan throughout the album is spare and direct, the delicacy of his guitar taking on a touch of Django Reinhardt on Polka Dots and Moonbeams. And then there is Dylan's singing, reaching nasal heights on Skylark, a pop standard that is the only track on Fallen Angels not recorded by Sinatra.
Dylan became a voice of his generation with seminal tracks such as The Times they Are A-Changin' and Blowin' in the Wind, but his voice in the literal sense has been much more contested.
The late David Bowie, in a song in homage to Dylan, credited him with delivering "words of truthful vengeance" – but "with a voice like sand and glue".
Dylan, known for his reticence when not singing, stunned the music industry when he delivered a lengthy, unscheduled speech at a ceremony ahead of the Grammy Awards last year – and he took aim at detractors.
"Some of the music critics say I can't sing. I croak. Sound like a frog. Why don't these same critics say similar things about Tom Waits?" he says, also charging that Leonard Cohen did not face the same level of scrutiny over his voice.
Cover albums are increasingly commonplace for artists in mature stretches of their career. Yet Dylan remains active as an artist, releasing his last album of new material, the dark and experimental Tempest, in 2012 – and, two years later, a boxed set of his legendary 1967 "basement tapes" with The Band.
Dylan, in a rare interview last year to the magazine of AARP, the US association of seniors, said he had always wanted to record his own takes of songs from his childhood. He voiced disappointment at interpretations by other stars, naming Rod Stewart, who he said relied too much on modern studio techniques and orchestration.
The rock icon acknowledged that he was performing "the same songs that rock 'n' roll came to destroy".
But he credited Sinatra, who died in 1998 but whose birth centennial was celebrated with fanfare in December, with his great staying power. "Certainly nobody worshipped Frank Sinatra in the '60s like they did in the '40s. But he never went away," Dylan said.
"All those other things that we thought were here to stay, they did go away. But he never did."
Agence France-Presse