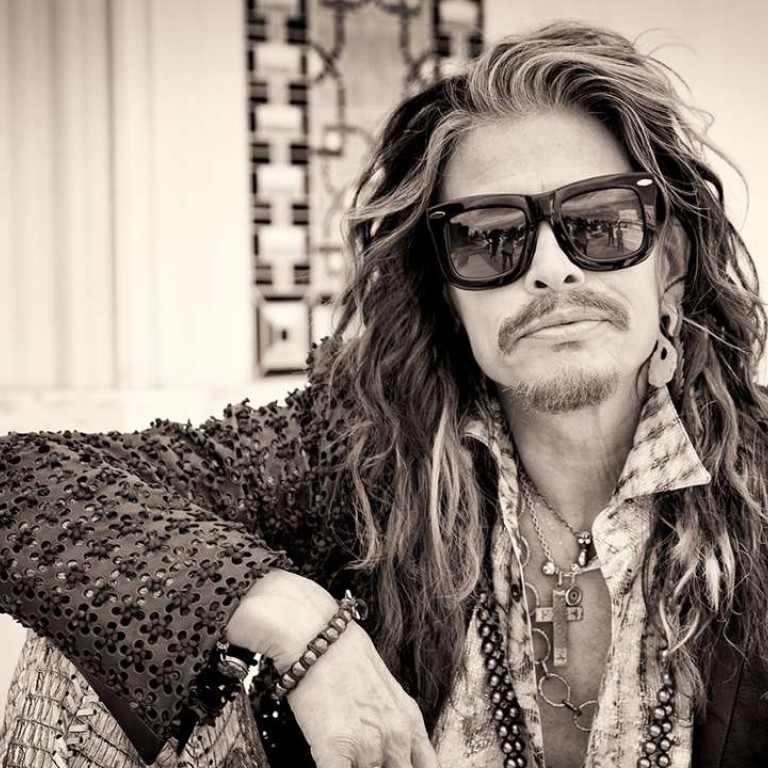 Steven Tyler says he still loves Aerosmith like a child, as he releases his debut solo album
Tyler's been rocking for almost five decades now, but he's gone a little country on his first solo album
He's led the bad-boy rock band Aerosmith for decades, written a book, learned to parasail, and is the father of four children. But Steven Tyler had at least one more goal before hitting 70: his first solo album.
"I just thought, 'Instead of [an] Aerosmith album, why don't I just write something here and see what I get?"' Tyler says by phone from his new home in Nashville, Tennessee. "It was something I've always wanted to do."
"If I could achieve one thing," he says, "it would be that I opened the door to country being allowed to rock a little bit more. As you know, no great story ever started off with 'I had a salad last night'. It is sex, drugs and rock 'n' roll."
Tyler co-wrote the majority of the radio-friendly tunes, from the boot-stomping Sweet Louisiana to the unabashed flag-waving Red, White & You to the power ballad What Am I Doin' Right? (The album also has two song covers – Piece of My Heart and his own Janie's Got a Gun.)
The 68-year-old Tyler also leaves the world of pick-ups and cut-off jeans to belt out the pro-immigration title song, singing: "Some white, yellow, black, or red/ We're all somebody from somewhere."
Might he be getting a little political in his old age?
"How do you like that?" he asks, laughing. The song, he says, is about developing empathy and understanding other people's pain. "We're all getting so caught up in our phones and texting. You've got to remember who people are. I've never been one to go political. It's been more about life and spirituality."
Jaren Johnston, singer and lead guitarist for The Cadillac Three who helped produce the album, says he found Tyler eager to work with different songwriters to create songs organically, not trying to fit a genre.
"For where he's at in his career and what he's done, who he is and what band he's in, and every enormo-dome he's played all over the world, over millions and millions of records, he still has an extreme passion for whatever it is he's doing. He's not scared to start a new journey," Johnston says.
The album doesn't mean the end of Aerosmith, Tyler insists. "I love Aerosmith more than anything. My kids and Aerosmith are the two biggest loves in my life, short of an occasional girl in the front row who exposes her breasts," he jokes.
He lists his accomplishments – albums, sobriety, four children and recently becoming a grandfather for the third time. "Those great joys are in this solo record, too. I'm getting great joy out of playing with a new band and the love onstage."
There's a tinge of frustration in Tyler's voice when he discusses what he sacrificed for Aerosmith, writing and performing songs that range from the classic Sweet Emotion to the hard rock strut of Walk This Way.
"I think I've been very co-dependent with Aerosmith," Tyler says. "I was married and had kids but I couldn't go home to my family every night because I had to save my voice for Aerosmith. And I couldn't go eat dinner with my kids every night because I had to finish the chorus line and write the goddamn melody."
His relationship with Aerosmith guitarist Joe Perry is clearly strained. Though Perry recently collapsed during a performance with his band The Hollywood Vampires, several days later Tyler still hasn't yet spoken to Perry, his wife or managers despite being concerned. Even so, Tyler insists: "He's my brother."
Whatever happens to Aerosmith, Tyler is excited to be on the road supporting his own album. He might be looking at turning 70 in the near future, but he's proved old dogs can learn new tricks.
"One of the things that I learned was maybe I can be an executive producer of a great television show. Maybe get a part in a movie, become a movie star," he says. "I don't know yet. But I can take a risk and be whatever I want. I am Peter Pan."